The 2018 Eminent Scholar Lecture Series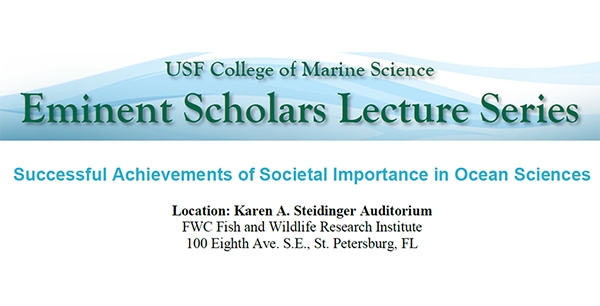 ST. PETERSBURG, Fl - The Eminent Scholar Lecture Series (ESLS) is a two day lecture series held annually during the Spring semester. The ESLS is presented by the USF College of Marine Science, and the
US Geological Survey, and sponsored by, David Fanciullacci of Raymond James Financial, Marine Exploration Center, The Tampa Bay Times. The ESLS brings in four speakers from institutions across the United States and abroad to address a given marine science topic. All lectures are open to the public.
Spring 2018 ESLS: Successful Achievements of Societal Importance in Ocean Sciences

Join the event on Facebook - April 5, 2018
Join the event on Facebook - April 6, 2018
Watch Live 4/5/18 & 4/6/18 on our YouTube channel
SciCafe Event - Title: Preparing for Our New Climate: Resist, Mitigate, Adapt
Where: Dali Museum
1 Dali Blvd, St. Petersburg, FL 33701
Moderator: Rob Lorei, News Director WMNF 88.5
Featuring: Kim Cobb, PhD, Georgia Tech
Sharon Wright, Sustainability and Resiliency Director, City of St. Petersburg
When: Thursday, April 5, 2018
Time: Reception at 6:00 PM, Conversation at 6:30 PM
Event Contact: H. Rutherford, 727-553-3355