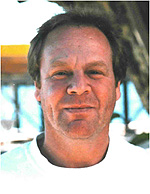 David Hollander
Associate Professor
Chemical Oceanography
Ph.D. Swiss Federal Institute of Technology (ETH), Zürich, 1989
Office Phone: (727) 553-1019
Email: davidh@usf.edu
Visit Lab Website
Research Interests
Isotopic biogeochemistry and organic geochemistry; Paleoenvironmental reconstructions; Origin of organic-rich deposits, Chemical Sedimentology, Archeometry
My research program focuses on evaluating the influence that anthropogenic and natural climate and environmental change have on the biogeoChemical cycling of carbon, nitrogen, and other biolimiting elements in both modern and ancient lacustrine and marine settings.
This research couples state-of-the-art analytical techniques in stable isotope and organic geochemistry in order provide a detailed characterization of organic matter. The goals of his research are to understand how biological, Chemical and physical processes in modern environments control the production, composition, alteration, decomposition and preservation of organic matter. The results of his studies in modern settings are applied to the analysis of ancient organic-rich sediments in order to reconstruct the environmental and climatic factors controlling the accumulation of organic matter throughout the geologic record.
Selected Publications
Hollander, D.J. and. Smith, M.A., 2001, Microbially-mediated carbon cycling as a control on the d13C of sedimentary carbon in eutrophic Lake Mendota (USA): New models for interpreting isotopic excursions in the sedimentary record, Geochim. Cosmochim. Acta., V. 65/23, 4321-4337.
Werne, J.P., Hollander, D.J., Lyons, T.W., and Peterson, L.C., 2000, Climate-induced variations in productivity and planktonic ecosystem structure from the Younger Dryas to Holocene in the Cariaco Basin, Venezuela Paleoceanography, v. 15, no. 1, pp. 19-29.
Murphy, A.E., Sageman, B.B., Hollander, D.J., 2000, Eutrophication by decoupling of the marine biogeoChemical cycles of C, N, and P: A mechanism for the Late Devonian mass extinction, Geology, v. 28, p. 427-430.
Rich, J., Hollander, D.J., and Birchfield, E.G., 1999, The role of regional oceanic bioproductivity in atmospheric pCO2 changes, Global BiogeoChemical Cycles, In Press. v. 13/2, p. 531-553.
Gong, C. and Hollander, D.J., 1999, Evidence for differential degradation of alkenones under contrasting bottom-water conditions: Implication for ocean paleotemperature reconstructions using Uk37, Geochim. Cosmochim. Acta, v. 63, p. 405-411.
Hollander, D.J., Huc, A.Y., McKenzie, J.A. and Hsu, K.J., 1993, Application of an eutrophic lake model to the origin of ancient organic-carbon-rich sediments, Global BiogeoChemical Cycles, v. 7, 159-179.