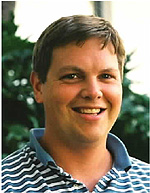 David Mann
Associate Professor
Biological Oceanography
Ph.D., MIT/Woods Hole Oceanographic Institution, 1995
Office Phone: (727) 553-1192
Email: dmann@usf.edu
CV: View PDF
Visit Lab Website
Research Interests
My laboratory studies marine bioacoustics with a focus on hearing and sound production in fishes and marine mammals. Laboratory studies utilize neurophysiological techniques to investigate the neural mechanisms of hearing and sound production. We also use SCUBA diving with underwater video to identify and study sounds produced by fishes during courtship and spawning. Recent work has focused on sound production by sciaenids (croakers and drums) in the estuaries of Florida. New research is aimed at studies on spawning aggregations of groupers. One major thrust over the next few years is the deployment of a large, sparse passive acoustic array on the West Florida Shelf to track the location of cetaceans relative to physical oceanography. We are also involved in studies of the hearing abilities of manatees and dolphins with both captive trained marine mammals, and wild and stranded cetaceans.
Selected Publications
Mann, D., Hill-Cook, M., Manire, C.A., Greenhow, D., Montie, E., Powell, J., Wells, R.S., Bauer, G., Cunningham-Smith, P., Lingenfelser, R., DiGiovanni Jr., R., Stone, A., Brodsky, M., Stevens, R., Kieffer, G., and Hoetjes, P. (2010) Hearing loss in stranded odontocete dolphins and whales. PLoSONE.
Mann, D., Locascio, J., Schärer, M., Nemeth, M., and Appeldoorn, R. 2010 Sound production by red hind (Epinephelus guttatus) in spatially segregated spawning aggregations. Aquatic Biology. 10: 149-154.
Simard, P., Hibbard, A.L., McCallister, K.A., Frankel, A.S., Zeddies, D.G., Sisson, G.M., Gowans, S., Forys, E.A., and Mann, D.A. 2010. Depth dependent variation of echolocation pulse rate of the bottlenose dolphins (Tursiops truncatus) J. Acoust. Soc. Am. 127: 568-578.
Parmentier, E., Colleye, O., and Mann, D. 2009. Hearing ability in three clownfish species. J. Exp. Biol. 212: 2023-2026.
Casper, B., and Mann, D. 2009. Hearing in the sharpnose shark. J. Fish Biol. 75: 2768-2776.
Colbert, D.C., Gaspard, J.C. III, Reep, R., Mann, D., and Bauer, G. 2009. Four-Choice sound localization abilities of two Florida manatees, Trichechus manatus latirostris. J. Exp. Biol. 212: 2105-2112.
Harms, C.A., Eckert, S.A., Jones, T.T., Dow, W.E., and Mann, D.A. 2009. A Technique for Underwater Anesthesia Compared with Manual Restraint of Sea Turtles Undergoing Auditory Evoked Potential Measurements. Journal of Herpetologic Medicine & Surgery. 19: 8-12.
Wilson, M., Montie, E., Mann, K., and Mann, D. 2009. Ultrasound detection in the Gulf menhaden requires gas-filled bullae and an intact lateral line. J. Exp. Biol. 212: 3422-3427.
Mann, D.A., Wilson, C.D., Song, J., and Popper, A.N. 2009. Hearing in the walleye pollock, Theragra chalcogramma. Trans. Am. Fish. Soc.138: 1000-1008.
Parmentier, E., Lecchini, D., Frederich, B., and Mann, D. 2009 Sound production in four Dascyllus species: phyletic relationships? Biological J. of the Linnaean Society 97: 928-940.
Mann, D., Cott, P., and Horne, B. 2009. Under-ice noise generated from diamond exploration in a Canadian sub-arctic lake and potential impacts on fishes. J. Acoust. Soc. Am. 126: 2215-2222.
Walters, S., Lowerre-Barbieri, S., Bickford, J., and Mann, D. 2009. Evaluating Sciaenid Spawning Habitat in Tampa Bay, Florida using Passive Acoustics. Transactions of the American Fisheries Society.138: 88-98.
Mann, D.A., Grothues, T.M. 2009 Short-term upwelling events modulate fish sound production at a mid-Atlantic ocean observatory. Mar. Ecol. Prog. Ser. 375: 65-71.
Mann, D. A., Locascio, J. V., Coleman, F. C., and Koenig, C. C. 2009. Goliath grouper Epinephelus itajara sound production and movement patterns on aggregation sites. Endang. Species Res. 7(3), 229-236.
Mann, D., B. Casper, K. Boyle, and T. Tricas. 2007. On the attraction of larval fishes to reef sounds. Mar. Ecol. Prog. Ser. 338: 307-310.
Mann, D.A., P. Cott, B. Hanna, and A.N. Popper. 2007. Hearing in eight species of northern Canadian freshwater fishes. J. Fish Biol. 70: 109-120.
Casper, B., and D. Mann. 2006. Dipole hearing measurements in elasmobranch fishes. J. Exp. Biol. 210: 75-81.
Cook, M.L.H., R.A. Varela, J.D. Goldstein, S.D. McCulloch, G.D. Bossart, J.J. Finneran, D.H. Houser, and D.A. Mann. 2006. Beaked whale auditory evoked potential hearing measurements. J. Comp. Physiol. A. 192: 489-495. DOI 10.1007/s00359-005-0086-1.
Casper, B.M., and D.A. Mann. 2006. Evoked potential audiograms of the nurse shark (Ginglymostoma cirrautum) and the yellow stingray (Urobatis jamaicensis). Environ. Biol. Fish. 76: 101-108. DOI 10/1007/s10641-006-9012-9.
Mann, D.A., T. O'Shea, and D.P. Nowacek. 2006. Non-linear dynamics in manatee vocalizations. Mar. Mam. Sci. 22: 548-555.
Locascio, J.V, and D.A. Mann. 2005. Effects of Hurricane Charley on fish chorusing. Biol. Lett. 1: 362-365.
Mann, D.A., D.E. Colbert, J.C. III Gaspard, B.M.Casper, M.L.H. Cook, R.L. Reep, and G.B. Bauer. 2005. Temporal resolution of the manatee (Trichechus manatus) auditory system. J. Comp. Physiol. 191: 903-908.