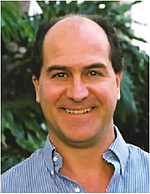 Frank E. Muller-Karger
Professor
Biological Oceanography and Remote Sensing
Ph.D., University of Maryland, 1988
Office Phone: (727) 553-3335
Lab Phone: (727) 553-1186
Email: carib@usf.edu
CV: View PDF
Visit Lab Website
Research Interests
Frank E. Muller-Karger is a biological oceanographer (Professor) at the College of Marine Science, University of South Florida, where he directs the Marine Remote Sensing Group. He is of Hispanic descent via Puerto Rico, and while born in the U.S. he grew up in Venezuela. Muller-Karger conducts research on marine primary production using satellite remote sensing, large data sets, networking, and high-speed computing. This research helps in the location and monitoring of large-scale phenomena, understanding climate control and climate change, and in the interpretation of numerical models of the ocean. The focus of his present work is to assess the importance of continental margins, including areas of upwelling, river discharge, and coral reefs in the global carbon budget, using satellites that measure ocean color and sea surface temperature. Muller-Karger has worked hard to educate K-12 teachers in the region about the use of new technologies in oceanography through targeted workshops sponsored by NASA. He has also given lectures at various national educator societies, and has served as the science advisor for the Florida Center for Ocean Science Education Excellence (COSEE). Muller-Karger was appointed by President George W. Bush to serve on the U.S. Commission on Ocean Policy. In 2005, he was appointed to the Ocean Studies Board of the National Research Council/National Academies. Muller-Karger previously received the NASA Jet Propulsion Laboratory Award for Outstanding Contributions and the NASA Administrator Award for Exceptional Contribution and Service for supporting development of satellite technologies for ocean observation. Most recently (August 2007-August 2009) he served as Dean of the School for Marine Science and Technology or SMAST at the University of Massachusetts Dartmouth. He has B.S., M.S. and Ph.D. degrees in marine science and a Masters degree in management and has authored or co-authored over 100 scientific publications. He speaks fluent Spanish and German.
Grants and Contracts 2008-2013
NASA: A Decision Support System for Ecosystem-Based Management of Tropical Coral Reef Environments ($1.2M)
NASA: Use of Oceanographic Data to Improve the Atlantic Bluefin Tuna Fisheries Management Decision Making (collaboration with lead organization: ROFFS, Inc.; $250,000)
NSF (National Science Foundation): The Cariaco Basin Oceanographic Time Series Program ($1.2M)
Selected Publications
Chen Zhiqiang, ChuanminHu, Frank E. Muller-Karger, Mark E. Luther. 2010. Short-term variability of suspended sediment and phytoplankton in Tampa Bay, Florida: Observations from a coastal oceanographic tower and ocean color satellites. Estuarine, Coastal and Shelf Science. Volume 89, Issue 1, 1 September 2010, Pages 62-72. doi:10.1016/j.ecss.2010.05.014.
Eakin, C. Mark, Carl J. Nim, Russell E. Brainard, Christoph Aubrecht, Chris Elvidge, Dwight K. Gledhill, Frank Muller-Karger, Peter J. Mumby, William J. Skirving, Alan E. Strong, Menghua Wang, Scarla Weeks, Frank Wentz, and Daniel Ziskin. 2010. Monitoring Coral Reefs From Space. The Oceanography Society Magazine, Special Volume: The Future of Oceanography From Space. December 2010. 119-133.
Hu, Chuanmin, Jennifer Cannizzaro, Kendall L. Carder, Frank E. Muller-Karger and Robert Hardy. 2010. Remote detection of Trichodesmium blooms in optically complex coastal waters: Examples with MODIS full-spectral data. Volume 114, Issue 9, 15 September 2010, Pages 2048-2058. doi:10.1016/j.rse.2010.04.011.
Hu, C., D. Li, C. Chen, J. Ge, F. E. Muller-Karger, J. Liu, F. Yu, and M.-X. He. 2010. On the recurrent Ulva prolifera blooms in the Yellow Sea and East China Sea, J. Geophys. Res., Volume 115, Issue C5, doi:10.1029/2009JC005561.
Martinez, N. C., R. W. Murray, R. C. Thunell, L. C. Peterson, F. Muller-Karger, L. Lorenzoni, Y. Astor, and R. Varela. 2010. Local and regional geochemical signatures of surface sediments from the Cariaco Basin and Orinoco Delta, Venezuela. Geology. 38; no. 2; p. 159–162; doi: 10.1130/G30487.1.
Max J. Moreno, Mohammad Al-Hamdan, Douglas Rickman, and Frank E. Muller-Karger. 2010. Using the Surface Reflectance MODIS Terra Product to Estimate Turbidity in Tampa Bay, Florida. Remote Sensing. 2010, 2(12), 2713-2728; doi:10.3390/rs2122713.
Muller-Karger, Frank. E., R. Varela, R. C. Thunell, M. I. Scranton, G. T. Taylor, Y. Astor, C. R. Benitez-Nelson, L. Lorenzoni, E. Tappa, M. A. Goñi, D. Rueda, and C. Hu. 2010. The CARIACO Oceanographic Time Series. In: Carbon and Nutrient Fluxes in Continental Margins: A Global Synthesis. JGOFS Continental Margins Task Team (CMTT). Editors: Kon-Kee Liu, Larry Atkinson, Renato Quinones, Liana Talaue-McManus. Springer-Verlag, Berlin/Heidelberg.
National Research Council. 2010. Division of Behavioral and Social Sciences and Education. Report of the Committee on "NOAA's Education Program: Review and Critique". National Academies press. John Farrington and Michael Feder, editors.
Wabnitz, Colette C., Serge Andréfouët, and Frank A Muller Karger. 2010. Measuring progress towards global marine conservation targets. Frontiers in Ecology and the Environment. 8(3): 124–129, doi:10.1890/080109.
To see a complete listing of Dr. Muller-Karger's publications.

Return to Faculty main page.