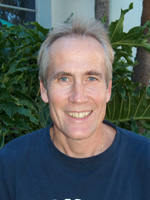 John H. Paul
Distinguished University Professor
Biological Oceanography
Ph.D., University of Miami, 1980
Office Phone: (727) 553-1168
Email: jpaul@usf.edu
Visit Lab Website
Research Interests
The common research theme in my lab is the measurement of gene expression as a means to understanding microbially-mediated processes in the oceans. This is divided into specific areas of research that include lysogeny, phytoplankton carbon fixation, and development of sensors. Lysogeny is the process whereby a virus establishes a stable symbiosis in its host. We are examining the genomes of temperate marine bacteriophages to understand the control of lysogeny in heterotrophic bacteria and picocyanobacteria in the marine environment. Our studies in carbon fixation have focused on the control of this process in oceanic river plumes. Such plumes have tremendous CO 2 drawdown, yet also behave as areas of high levels of recycled production. We are using our experience in measuring mRNA as a surrogate for microbial gene expression in the design of hand-held and autonomous sensors (in conjunction with the CMS Ocean Technology Group) for the detection of noxious microorganisms in coastal environments.
Selected Publications
John, D.E., B. L. Zielinski, and J. H. Paul. 2009. Creation of a pilot Meta-transcriptome library from eukaryotic plankton of a eutrophic bay (Tampa Bay, Florida). Limnol. Oceanog. Meth. 75:3379-3388.
Long, A., L. D. McDaniel, J. Mobberly and J.H. Paul. 2008. Differences in Prophage Induction Between Heterotrophic and Autotrophic Microbial Populations in the Gulf of Mexico. ISME J. 2:132-144
Mobberley, J.M., N. Authement, J.H. Paul, J. Koomen, and A.M. Segall, 2008. Complete genome sequence of ФHAP-1, a linear plasmid-like temperate marine phage of Halomonas aquamarina J. Virol. 82:6618-6630
Paul, J.H. 2008. Marine prophages: dangerous molecular time bombs or the key to survival in the oceans? ISME Journal 2:579-589.
McDaniel, L., M. Breitbart, J. Mobberley, A. Long, M. Haynes, F. Rohwer and J. H. Paul. 2008. Metagenomic Analysis of Lysogeny in Tampa Bay: Implications for Prophage Gene Expression. PLoS One 3:e3263
Paul, J.H., C. Scholin, G. van den Engh, and M.-Jane Perry. 2007. In situ instrumentation. Oceanography 20:70-78.
Casper, E.T., Stacey S. Patterson, Pragnesh Bhanushali, Andrew Farmer, M. Smith, David P. Fries, John H. Paul. 2007. A Handheld NASBA Analyzer for the Field Detection and Quantification of Karenia brevis Harmful Algae 6:112-118
Long, A.K., S.S. Patterson, and J.H. Paul. 2007. Macroarray Analysis of Gene Expression in a Marine Pseudotemperate Bacteriophage Aquatic Microbial Ecology 49:1-14
D.E. John, Z.A. Wang, X. Liu, R.H. Byrne, J.E. Corredor, J.M. López, A. Cabrera, D.A. Bronk, and J.H. Paul. 2007. Carbon fixation gene (RuBisCO) transcripts and CO2 flux in the Mississippi River plume The ISME Journal 1(6): 517-531
John, D.E., B. Wawrik, J.H. Paul, and F. R. Tabita. 2006. Gene diversity and organization in rbcL-containing genome fragments from uncultivated Synechococcus in the Gulf of Mexico. Marine Ecol. Progr. Ser. 316:23-33
Patterson, S.S., O. Neumann, A. Farmer, M. Smith, E.T. Casper, D. Huffman, L. Stark, D. Fries and J. H. Paul. 2006. A Nucleic Acid Sequence Based Amplification (NASBA) Assay for Real –Time Detection of Norovirus Genogroup II. Journal of Applied Microbiology 101:956-963.
McDaniel, L., DelaRosa, M. and J.H. Paul. 2006. Temperate and lytic cyanophages from the Gulf of Mexico. J. Mar. Biol. Assoc. UK 86:5280-5290.
Patterson, S.S., E. T. Casper, L. Garcia-Rubio, M. C. Smith and J. H. Paul. 2005. Increased Precision of Microbial RNA Quantification using NASBA with an Internal Control (IC-NASBA). J. Microb. Methods (in press)
Casper , E.T., S. S. Patterson, M.C. Smith, and J.H. Paul. 2004. Development and Evaluation of a Method to Detect and Quantify Enteroviruses Using NASBA and Internal Control RNA (IC-NASBA). J. Virol. Meth. (in press)
Wawrik, B., J.H. Paul, D. A. Bronk, D. John, M. Gray. 2004. High rates of ammonium recycling drive phytoplankton productivity in the offshore Mississippi River Plume. Aquatic Microbial Ecology 35:175-184.
Casper, E.T., J.H. Paul, M.C. Smith, and M. Gray. 2004. The detection and quantification of the red tide Dinoflagellate Karenia brevis by real-time NABSA. Appl. Environ. Microbiol. 70:4727-4732
L. McDaniel, L. Houchin, S. Williamson and J.H. Paul. 2002. Lysogeny in Natural Populations of Marine Synechococcus. Nature 415:496
Griffin, D.W., Donaldson, K.A., Paul, J.H., Rose, J.B. (2003) Pathogenic human viruses in Coastal waters. Clinical Microbiology Reviews Jan 2003 p. 129-143