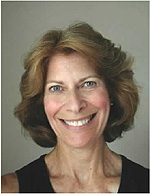 Kendra L. Daly
Associate Professor
Biological Oceanography
Ph.D., University of Tennessee, 1995
Office Phone: (727) 553-1041
Lab Phone: (727) 553-1207
Email: kdaly@mail.usf.edu
CV: View PDF
Visit Lab Website
Research Interests
My research interests focus on zooplankton ecology with the aim of understanding the physical and biological factors that control the abundance and distribution of zooplankton and the role of zooplankton in marine food webs and biogeochemical cycles. Towards this end I use a variety of methods and technologies, such as high-frequency acoustic systems. Recent projects include the Southern Ocean GLOBEC program, which aimed to understand the influence of climate change and physical forcing on variability in marine secondary production, and a program that investigated physical-biological interactions associated with regions of enhanced biological biomass and activity in Tampa Bay. Currently, I have a project to investigate the role of zooplankton in the production and transformation of particulate material in relation to suboxic waters in the eastern tropical Pacific. The objective of another project is to adapt sensor technologies for use on observatory platforms. Profiling moorings are anticipated to be a primary element of the NSF's Ocean Observatories Initiative (OOI), which will be deployed over the next few years in coastal and deep-water regions.
Selected Publications
Deibel, D. and K.L. Daly. 2007. Zooplankton processes in Arctic and Antarctic polynyas. In: Smith, W.O., Jr. and D. Barber (Eds.), Polynyas: Windows into Polar Oceans. Elsevier Oceanography Series 74.
Marrari, M. C. Hu, and K. Daly. 2006. Validation of SeaWiFS chlorophyll a concentrations in the Southern Ocean: A Revisit. Remote Sensing of Environment 105:367-375.
Daly, K.L., R. H. Byrne, A. G. Dickson, S. M. Gallager, M. J. Perry, and M. K. Tivey. 2004. Chemical and biological sensors for time-series research: Current status and new directions. Marine Technology Society Journal 38 (2):122-144.
Ju, S.-J., K. Scolardi, K. L. Daly , and H. R. Harvey. 2004. Understanding the trophic role of ctenophore Callianira antarctica in an Antarctic ecosystem using lipid biomarkers. Polar Biology 27: 782-792.
Daly, K.L. and J. Zimmerman. 2004. Comparisons of morphology and neritic distributions of Euphausia crystallorophias and Euphausia superba furcilia during autumn and winter west of the Antarctic Peninsula. Polar Biology 28(1): 72-81.
Daly, K.L. 2004. Overwintering growth and development of larval Euphausia superba : An interannual comparison under varying environmental conditions west of the Antarctic Peninsula. Deep-Sea Research II 51: 2139-2168.