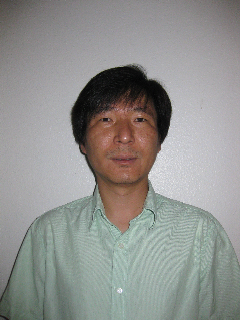 Sang-Ik Shin
Assistant Professor
Physical Oceanography
Ph.D. University of Wisconsin-Madison, 2002
Office Phone: (727) 553-3356
Email: sangikshin@usf.edu
CV: View PDF
Research Interests
In recent years, the concept of climate system as an integrated system of strongly interacting components has gained maturity. In this perspective, observed or projected climate changes are considered as the cumulative outcome of interactions among the hydrosphere, atmosphere, cryosphere, biosphere, and lithosphere. With this view of integrated climate system, my own research is devoted to connecting these individual system components to transcend the boundaries among traditional climate disciplines, by using mathematical models of varying complexity ranging from simple analytical models to fully coupled climate system models.
Current research in progress includes:
The seasonal and longer time-scale atmospheric responses to ENSO-related and ENSO-unrelated sea surface temperature variability in the past, present and future climates
Diagnosing local and remote coupling errors in the tropics
Selected Publications
Solomon, A., S. Shin, M. A. Alexander, and J. P. McCreary, 2008: The relative importance of tropical variability
forced from the North Pacific through ocean pathways. Clim. Dyn., 31, 315-331.
Shin S., P. D. Sardeshmukh, R. S. Webb, R. J. Oglesby, and J. J. Barsugli, 2006: Understanding the mid-Holocene climate. J. Climate, 15. 2801-2817.
Barsugli, J., S. Shin, and P. D. Sardeshmukh, 2006: Sensitivity of global warming to the pattern of tropical ocean warming. Clim. Dyn., 27, 483-492.
Shin, S., Z. Liu, B. L. Otto-Bliesner, J. E. Kutzbach, and S. J. Vavrus, 2003: Southern Ocean sea-ice control of the glacial North Atlantic thermohaline circulation. Geophys. Res. Lett., 30, DOI:10.1029/2002GL015513.
Shin, S., Z. Liu, B. Otto-Bliesner, E. C. Brady, J. E. Kutzbach, and S. P. Harrison, 2003: A simulation of the Last Glacial Maximum climate using the NCAR-CCSM. Clim. Dyn., 20, 127-151.
Otto-Bliesner, B. L., E. C. Brady, S. Shin, Z. Liu, and C. Shields, 2003: Modeling El Niño and its tropical teleconnections during the last glacial-interglacial cycle. Geophys. Res. Lett., 30, DOI:10.1029/2003GL018553
Shin, S. and Z. Liu, 2000: Response of the equatorial thermocline to extratropical buoyancy forcing. J. Phys. Oceanogr., 30, 2883-2905.
Liu, Z. and S. Shin, 1999: On thermocline ventilation of active and passive tracers. Geophys. Res. Lett., 26, 357-360.