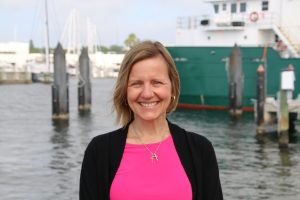 Executive Administrative Specialist
Education: M.Ed.
Office Phone: 727.553.1634
Email: rjurden@usf.edu
A short paragraph or two describing what you do at the college
In the role of Executive Administrative Specialist to the Dean of the College of Marine Science, I am the first point of contact for the Dean's office. I answer inquiries from students, staff, faculty, visitors, and the general public.
I manage the Dean's calendar, coordinate travel, and organize large meetings and events for the college. Acting as the liaison with other colleges, and collaborators in federal and state agencies, I serve as a central resource person for information, referral, and assistance.
My responsibilities also find me overseeing the college's USF foundation accounts and working with the college's development officer and the Oceanography Camp for Girls director.
Four Quick Facts:
I was born and raised in Toronto, Ontario
Prior to coming to CMS, I lived in NH
I love running and hiking
I love to travel