Written by Savannah Hartmann
Honolulu, Hawaii – OceanObs '19 ended with a bang! As a community we created a living action plan from the recommendations of the conference, community white papers, sponsors, and foundational documents like FOO and GOOS-2030.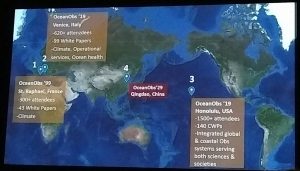 The conference statement states our objectives for the action plan over the next decade:
Engage observers, data integrators, information providers, and users from the scientific, public, private, and policy sectors in the continuous process of planning, implementation and review of an integrated and effective ocean observing system.
Improve uptake of ocean data in models for understanding and forecasting of the Earth system.
Harness the creativity of the academic and engineering communities, and work in partnership with public and private sectors to evolve sensors and platforms, better integrate observations, revolutionize information products around the ocean, and increase efficiency and reduce costs at each step of the ocean observing value chain.
Promote investments in ocean observing and information delivery and sustained support.
Advance the frontiers of ocean observing capabilities from the coast to the deep ocean, all aspects of the marine biome, disease vectors, pollutants, and exchanges of energy, chemicals and biology at the boundaries between the ocean and air, sea floor, land, ice, freshwater, and human populated areas.
Focus the ocean observing system on addressing critical human needs, scientific understanding of the ocean and linkages to the climate system, real time ocean information services, and promotion of policies that sustain a healthy, biologically diverse, and resilient ocean ecosystem.
Ensure that all elements of the observing system are interoperable and that data are managed wisely, guided by ocean data policies and that data are shared in a timely manner.
Involve the public through citizen-engaged observations, information products, outreach, and formal education programs.
Use best practices, standards, formats, vocabularies, and the highest ethics in the collection and use of ocean data.
Evolve ocean observing governance to learn and share, coordinate, identify priorities, increase diversity, promote partnerships, and resolve conflicts, through a process of continuing assessment to improve observing.
The indigenous delegates at the conference also issued a statement which states that they want the ocean observing community to formally recognize the traditional knowledge of indigenous peoples worldwide, and they wish to work with the ocean observing community to advance the UN's Sustainable Development Goals and the goals of the UN's Decade of Ocean Science for Sustainable Development.
Early career scientists further echo the sentiments stated by the ocean observing community and indigenous people, but care heavily about community engagement and science communication in a sustainable world. The list put forth by the early career scientists state their topics of interest for the next decade:
indigenous knowledge and science
sustainable systems
social science as a part of the solution
climate change adaptation
science communication: ocean science for and by the public
community engagement
increasing the impact of science