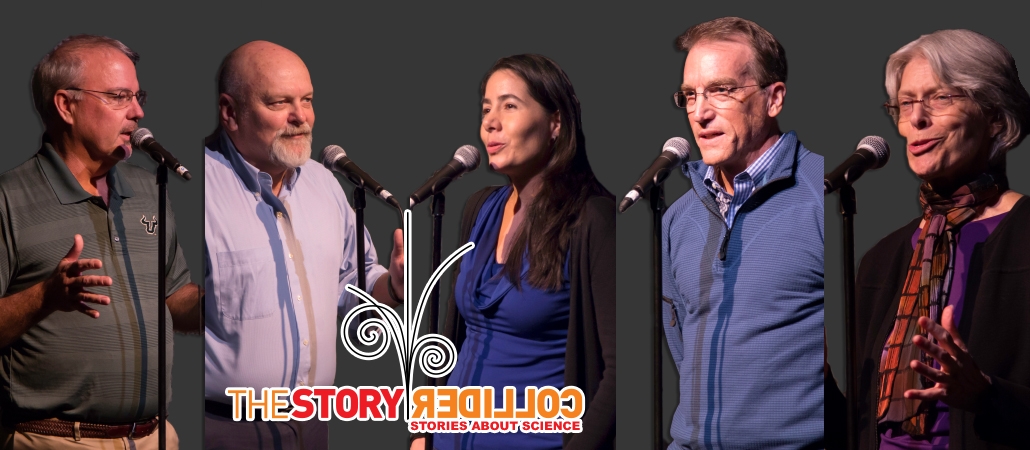 Story Collider with C-IMAGE!
The Gulf of Mexico Oil Spill & Ecosystem Science Conference condensed four February days with nearly 500 scientific presentations and posters (C-IMAGE hosting 70 of these, and co-chairing eight of 18 sessions), making a busy week for all involved. The C-IMAGE Story Collider allowed the public to hear our researchers speak, but in a personal tone, connecting their own motivations with the work they do.
Hosted by Ari Daniel Shapiro and Erin Baker, the Story Collider featured five personal tales: four researchers from the University of South Florida-College of Marine Science, and one editor for the Tampa Bay Times. Each story was focused around the Deepwater Horizon oil spill. Which parts of their childhoods lead to their wonder of science? How has the 2010 oil spill affected their perspectives on the Gulf?
Jim Verhulst, Perspectives Editor, Tampa Bay Times
Beginning with Jim's wonder and awe of space, strapped into his makeshift cockpit of a lawn chair and a seat belt, going through his imaginary liftoff in his Illinois backyard, science gives Jim a way to ask and learn about the natural world. While taking a scientific track in college, he found that his ability to explain science to others gave him a unique advantage over his classmates. He changed his academic focus from science to journalism but still kept his inclination towards science.
For the 5th anniversary of Deepwater Horizon, Jim and his staff produced a two-page Perspectives piece breaking down five years of GoMRI & C-IMAGE research into a dynamic 4-page spread. 'The Dirty Blizzard' used to describe flocculated materials sinking to the sea floor, improving the public's understanding of how oil, clays, and algae sink to the sea floor.
Full Tampa Bay Times Perspective article featuring C-IMAGE researchers: Page 1, Page 2
Dr. Kendra Daly, Professor, University of South Florida-College of Marine Science, C-IMAGE Co-PI
Kendra studies the basis of the marine food web: phytoplankton and zooplankton. Understanding these foundations of the food chain led to discovery of a MOSSFA, or 'Dirty Blizzard' following an oil spill. Kendra has spent years of her life at sea including relief efforts during the Ixtoc I spill. Her experiences in the southern Gulf of Mexico and Ixtoc I brings back memories of constant oil fumes and headaches, heat from the burning oil slicks, and soot in the air.
Thirty years after the Ixtoc-1 spill, Kendra begins researching the base of the food web in the Gulf in oil impacted areas by planning several research expeditions into the northern Gulf. Her research has opened up a new discovery of oil attaching to sinking plankton on its way to the sea floor.
Dr. Ernst Peebles, Professor, University of South Florida-College of Marine Science, C-IMAGE Co-PI
From his childhood in Louisiana, miles from oil refineries and memories of his teen-age brother coming home from oil-field work with his teeth black from oil, Ernst draws a personal motivation towards studying oil spills as reprisal for the industries destruction of his home environment.
Dr. Steven Murawski, Professor, University of South Florida-College of Marine Science, C-IMAGE Director
The audience learns how this mid-western boy grew up with a love of fish.  Steve takes us on his journey that begins with carving out fish in a frozen lake in Kansas as a child to his role as one of the top science advisors during the Deepwater Horizon spill.
Isabel Romero, Researcher, University of South Florida-College of Marine Science
Isabel's perspective on the impact of oil spills on communities and the environment is initially through the eyes of a six year old in conflict-laden Colombia.  As a child, she remembers seeing images of spilled oil flashing on the TV and vows to one day be part of the solution.
---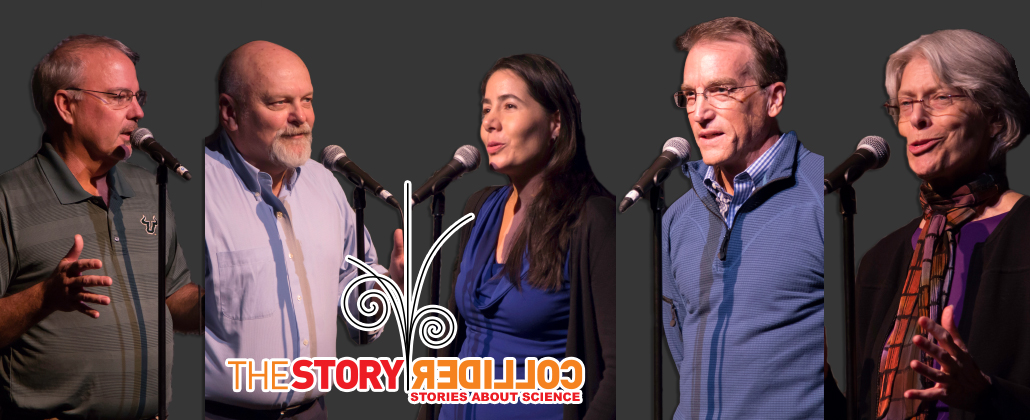 In case you missed it…
Many other scientists will offer unique perspectives on their research next year in New Orleans during the GoMOSES 2017 Conference.  Stay tuned!
Photo album of the event is available on our Flickr page, here.