ST. PETERSBURG, FL – A team of oceanographers, led by CMPS Director Mark Luther, recovered and replaced the NOAA wave buoy from Egmont Channel outside of Tampa Bay.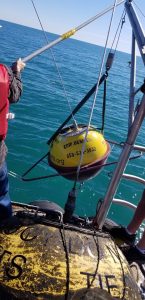 The buoy provides real-time data on wave height, period, and direction, which are critical to safe and efficient maritime operations in the region. Tampa Bay hosts the largest port in Florida by cargo tonnage. These buoy data are also used in scientific studies of air-sea interaction.
Participating in the operating were Rick Cole, Jeff Kinder, Garrett Miller, Laura Azevedo, and Libby Howlett.