Programs for Graduate Students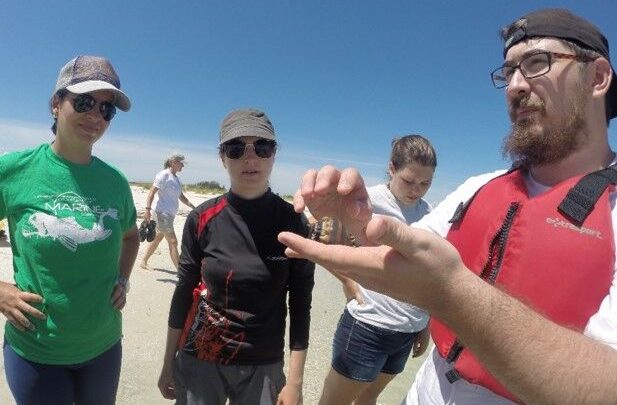 Graduate students learn how to teach and practice communicating about the Ocean through a series of field and classroom-based courses, including a Graduate Certificate Program
Graduate Certificate Program: Teaching & Communicating Ocean Sciences
The education and outreach staff from the USF College of Marine Science offer graduate courses that help graduate students develop or improve their skills in teaching and communicating science. Courses include:
Certificate Courses and Objectives:
OCE 6949C Developing and Teaching an Ocean Sciences STEM course
OCE 6048 Scientists in the Classroom
OCE 6940C Experiential Learning in Marine Sciences
OCE 6050 Teaching Ocean Sciences
Note: OCE 6934 Professional Development I may substitute for OCE 6050
Teaching and Communicating Ocean Sciences Broader Impacts Graduate Certificate – How to Apply
Visit the semester schedules to see when each class is offered. Contact Teresa Greely, Ph.D., Education & Outreach Director, with questions (greely@usf.edu).
My favorite activity during Staff Training was our day at Shell Key. Before we launched from shore, we were given a clipboard, sheet of paper, and small painting palette. After we had paddled away from the island, we turned the bows of our kayaks towards the shores. As our last activity of the day, we dipped our paintbrushes into the ocean water and created a watercolor painting of how Shell Key looked from our boats. It was a nice opportunity to really take in and appreciate our surroundings after scurrying around looking for shells and birds. I appreciate everyone's unique embellishments and personalized details. For example, earlier in the day we spotted a manatee and numerous cow nose rays so I incorporated those into my painting. I think this will be a really awesome memento that the campers and staff can both hold on to and look back on while connecting our science lessons to art.

-Kyle, Science Mentor & USF College of Marine Science Master's Student