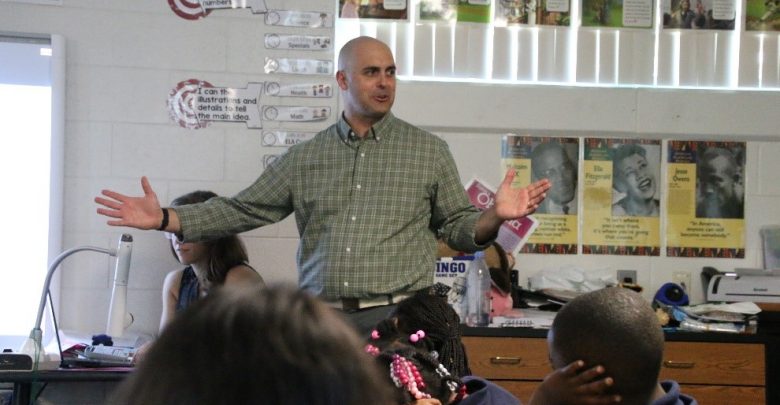 ST. PETERSBURG, FL – Two polar researchers from USF College of Marine Science visited Campbell Park Elementary school in St. Petersburg, Florida to show 1st graders how science is conducted in Antarctica. Murals depicting sea creatures in their natural habitat cover the walls of the lobby in Campbell Park Elementary, and a large mural of a spotted eagle ray, the school's mascot, adorns the front of the building. The glass tiles that make up the murals were fired by local artists at hot shops here in St. Petersburg.
Professor Brad Rosenheim and Ph.D. student Ryan Venturelli have visited several schools in the past two years on behalf of a project funded by the National Science Foundation and with additional support from the U.S. Antarctic Program government contractor (Leidos), who furnished them with a spare set of adult-size polar gear: hooded jacket, goggles, long mittens, and even boots–which the students took full advantage of, hopping around with two legs to a boot.
In addition to Campbell Park, the Antarctic classroom lesson was given at magnet schools such as Baypoint Elementary, Ridgecrest Elementary, and Douglas Jamerson Elementary. The motivation for the school visits stems from the idea of introducing young students to scientists living in their community, where they can see them as normal people, not as hermits, introverts, or secluded masterminds out to destroy the world, as often portrayed in entertainment. More specific to the cause, this educational outreach program connects people in Florida to Antarctica through explaining the concept of 'one ocean' and the impacts of sea level rise on low lying regions.
The NSF funded SALSA program (Subglacial Antarctic Lakes Scientific Access) employs scientists, engineers, and skilled machine operators to traverse the icescapes of Antarctica and explore the highly-inaccessible lakes hidden below the glacial surface. Building on discoveries of past projects like WISSARD, which uncovered microbial ecosystems surviving below the ice without any source of light, the SALSA project hopes to provide breakthroughs regarding the importance of subglacial water on ice sheet stability.
In the classroom, Rosenheim and Venturelli tackled the challenge of retaining 1st graders' attention by using a mix of verbal instruction, videos, hands-on activities, and something no scientific presentation would be complete without – a PowerPoint slideshow. Students stayed engaged throughout the one-hour class, and hands shot up at every question the presenters asked. Many were surprised to learn that polar bears don't live in Antarctica, but, at least in this particular classroom, none of the children were visibly distraught by learning this often core-shattering polar factoid.
Some of the students shared as much as they received, whether it be through reciting their knowledge of nearly every animal that lives on the Serengeti or explaining what part of the ocean seals and sea lions prefer. School visits like this demonstrate the positive effect of introducing first-hand accounts of scientific research and remind us all of the thirst for knowledge that exists in young minds.
Written By: Sean Beckwith