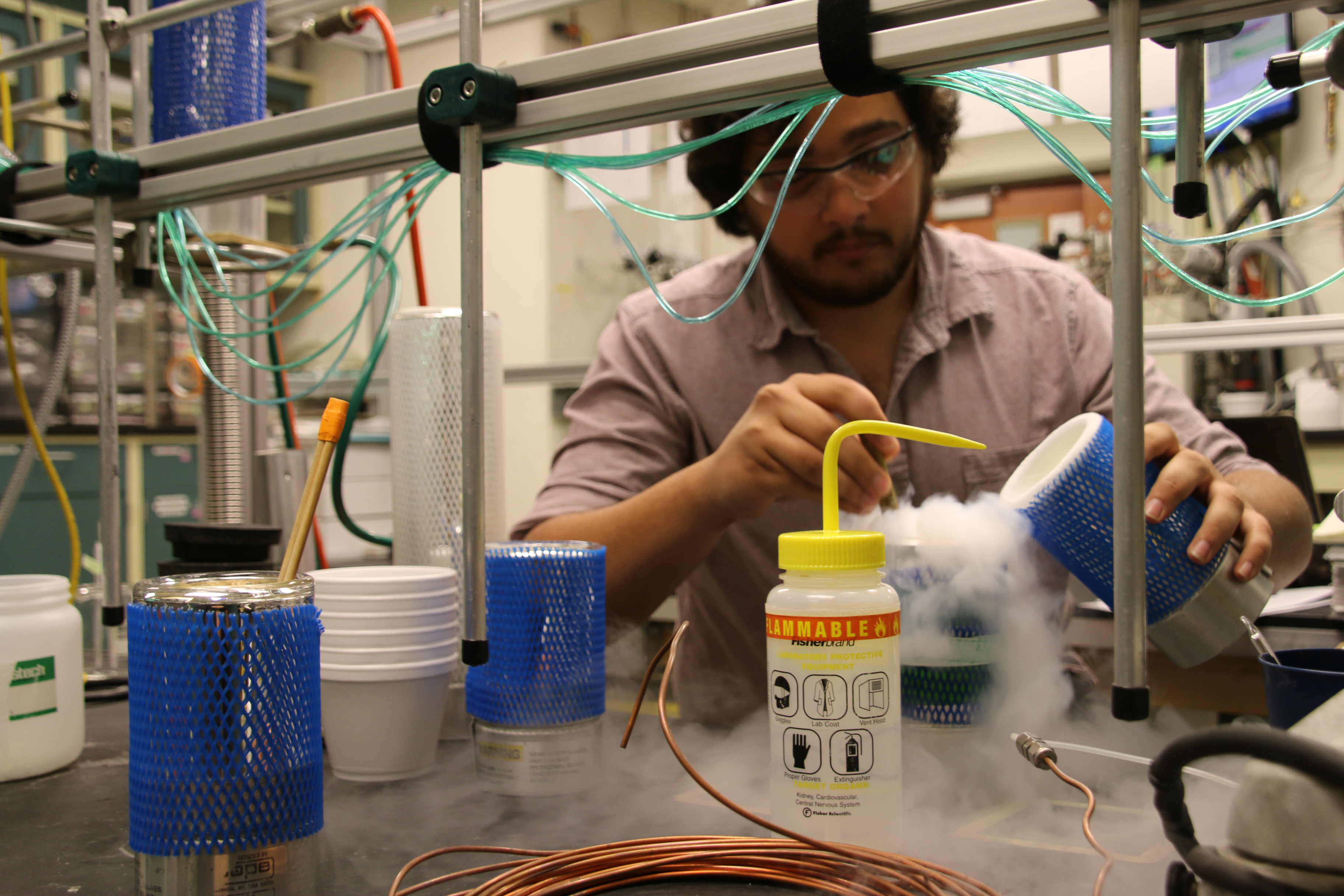 Course Schedule

Registration Notices
How to Register
Non-Marine Science Majors & Requesting Permits
Students wishing to enroll in our courses who are not USF Marine Science majors may request a permit by emailing the professor teaching that course. Please included your transcripts, University ID number (U#), and the course subject, number, and CRN (see course schedule above for details) in the email requesting a permit.
Non-Degree and Certificate Students
Immunization Requirements For Registration
You will need to prove your immunization records with health services in order to register for any in-person class. Contact Student Health Services to ensure your immunization requirements are fulfilled. The Immunization forms and requirements needed before you can register for classes are available on the Student Health Services website.
Course Catalog
Course Number

Course Title

Professor

Typically Offered

Required

OCB 6626
Dynamics of Marine Ecosystems
Daly/Luther
Spring, Odd years
MRA
OCB 6068
Fish Biology
Stallings
Fall, Off years
MRA
OCE 6934
Foundations of Biological and Fisheries Oceanography
Daly/Hallock-Muller
Spring, Even Years
OCE 6934
Marine Microbiology
Paul
Fall, Even Years
OBC 6714
Population Dynamics
Ainsworth
Fall, Even Years
MRA
OCE 6934
Zooplankton Ecology
Daly
Fall, Odd Years
Course Number

Course Title

Professor

Typically Offered

Required

OCC 6050
Chemical Oceanography
Core Course
Buck/Byrne/Conway/Hollander
Spring, Odd Years
Core
OCE 6934
Biogeochemistry of the Periodic Table
Buck
Fall, Odd Years
OCE 6934
Physical Chemistry of Seawater
Byrne
Fall, Even Years
OCE 6934
CO2 System Analytical Technique
Byrne
TBD
OCC 6057/L
Methods in Chemical Oceanography
Buck
TBD
OCE 6934
Organic Geochemistry
Hollander/Shevenell/ Rosenheim
3 Year Interval
OCE 6934
Sediment Geochemistry
Hollander/Shevenell/Rosenheim
3 Year Interval
OCE 6934
Principles Applications ICP-MS
Deister
Every Spring
OCE 6934
Stable Isotope Geochemistry
Hollander/Shevenell/Rosenheim
3 Year Interval
Course Number

Course Title

Professor

Typically Offered

Required

OCG 6051
Geological Oceanography

Naar
Every Spring
Core
OCG 6080
Plate Tectonics & Marine Geophysics
Naar
Spring, Odd Years
OCE 6934
Sediment Stratigraphy
Spring, Odd Years
OCG 6664
Paleoceanography
Rosenheim/Shevenell
Fall, Odd Years
OCE 6934
Regional Geology Field Trips
Faculty
Spring, Even Years
OCG 6656C
Micropaleontology
Rosenheim/Shevenell
Spring, Even Years
OCE 6934
Continental Margins
Fall, Odd Years
OCE 6934
Carbonate Geology
Rosenheim/Hallock Muller
Fall, Odd years
OCE 6934
Geochronology
Rosenheim
Fall, Even years
OCG 6668
Evolution and Ecology of Reefs
Hallock Muller
Spring, Even years
Course Number

Course Title

Professor

Typically Offered

Required

OCE 6565
Applied Multivariate Statistics
Kilborn
Every Spring
MRA
OCE 6934
Advanced Data Analysis
Mitchum
Fall, Odd Years
OCE 6934
Biometry
Kilborn
Every Fall
MRA
OCE 6609
Data Analysis Methods
Chambers
Every Spring
OCE 6609L
Data Analysis Programming
Chambers
Every Spring
OCE 6934
Developing & Teaching a STEM Course
Greely
Every Spring
OCE 6934
Ecosystem Modeling
Ainsworth
Fall, Odd Years
OCE 6934
Estuarine Ecology
Peebles
TBD
OCG 6668
Evolution and Ecology of Reefs
Hallock Muller
Spring, Even Years
OCE 6940C
Experimential Learning in Marine Science
Greely
Every Summer
OCE 6934
Fisheries Reading
Stallings
TBD
OCE 6934
Marine Resource Remote Sensing
Hu
Fall, Even Years
OCE 6085
Ocean Policy
Muller-Karger / Luther
Spring, Even Years
OCE 6934
Operational Oceanography
Luther
TBD
OCE 6934
Practical IDL Programming
Hu
Spring, Even Years
OCE 6921
Prof Development I
Breitbart
Every Fall
OCE 6934
Prof Development II
Breitbart/Buck
Fall, Even Years
OCE 6934
Remote Sensing
Muller-Karger
Spring, Odd years
OCE 6934
Scientific Writing
Hallock Muller
Fall, Odd Years
OCE 6048
Scientist in the Classroom
Greely
Fall, Even Years
OCG 6551C
Scanning Electron Microscopy: Theory/Tech (4 cr.)
Greco
As Needed
OCE 6950
Teaching Broader Impacts of Ocean Sciences
Greely
Every Fall & Spring
OCE 6934
TEM
Greco
Course Number

Course Title

Professor

Typically Offered

Required

OCP 6050
Physical Oceanography

Luther, Mitchum (alternating years)
Every Fall
Core
OCE 6934
Fluid Dynamics
Mitchum
Every Spring as needed
OCE 6934
Geophysical Fluid Dynamics
Liang
Every Fall as needed
PO
OCE 6934
Global Water and Energy Cycle
Chambers
Fall, Odd Years
OCE 6934
Introduction to Climate Change & Climate Variability
Liang
Spring, Odd Years
OCE 6934
Ocean Circulation
Weisburg
Every Fall as needed
PO
OCE 6934
Ocean Waves
Mitchum
Spring, Odd Years
OCE 6934
Optical Oceanography
Hu
Fall, Odd Years
OCE 6934
Satellite Altimetry & Gravimetry
Chambers
Fall, Even Years
OCE 6934
Turbulence & Boundary Layers/Geophysical Turbulence
Galperin
Spring, Odd years as needed
Course Number

Course Title

Professor

Typically Offered

Required

OCE 4930
Adv. Undergrad Oce I
Luther/Naar
Every Fall – Tampa
OCE 4930
Adv. Undergrad Oce II
Stallings/Naar
Every Spring – Tampa
OCE 4930
Coral Biology and Reef Ecology
Arellano
Fall, Even Years
OCE 4930
Death from the Sea: Realized Public Health Hazards
Spring, Odd Years
OCE 2001
Introduction to Oceanography
Greely/Arellano
Every Semester Online
OCE 4930
Marine Ecology Field Methods
Stallings
Every Winter Session X 2
OCE 4930
Marine Aquaculture
Kevin Maine
Every Fall Online
OCE 4930
Port Sustainability
Luther
Every Fall Online
OCE 4930
Geologic History of Florida
Arellano
Every Semester Online
OCE 4930
Fish Biology
Stallings
Fall, Odd Years
OCE 4930
SEM & SEM Lab
Greco
As needed
OCE 4930
Marine Microbiology
Kevan main (Mote)
Fall, Even Years