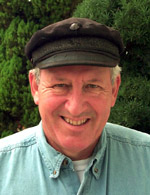 Retired-Emeritus, Professor
Biological Oceanography
Ph.D., University of Rhode Island, 1972
Email: normjblake@yahoo.com
Dr. Norman J. Blake, 74, of Dade City, passed away on December 26, 2018. Norm was born in Haverhill, Massachusetts to Vaughn W. Blake and Beatrice M. Blake. The family moved to St. Petersburg when Norm was 3, and he was a member of the Northeast High School class of 1962. He graduated from Florida Presbyterian (now Eckerd) College, in 1966, where he cultivated many true and abiding friendships. In 1972, he received a Ph.D. from the University of Rhode Island and embarked on a 33-year career on the faculty of the University of South Florida's School of Marine Science. He specialized in shellfish ecology and reproduction, with a focus on the restoration of Florida's native scallop populations. His work will continue into the future through the efforts of the many graduate students he mentored.
Research Interests
The general area of research is marine invertebrate ecology. The laboratory presently focuses on aquaculture of commercially important bivalves, especially the Florida Bay Scallop. The shellfish hatchery in the college is the only hatchery in Florida dedicated to the aquaculture of bay scallops. The larvae produced are utilized by graduate students for thesis and dissertation research as well as for restoring bay scallop populations to the west coast of Florida. Other research interests involve bivalve histopathology, reproductive control mechanisms, and human health and safety issues involving marine bivalves.