Written by Kristen Kusek, Science Communication Strategist for USF CMS
ST. PETERSBURG, FL – The Oceanography Camp for Girls, which turns 30 next year, was a special highlight of a three-day US Department of State program managed by World Partnerships, Inc., called "Hidden No More: Empowering Women Leaders in STEM."
Started in 2017, this year's program welcomed eight women leaders – considered "hidden talent" in their home countries – and introduced them to ideas and programs that advance women and girls in STEM. The program was inspired by the "Hidden Figures" film that shares the story of three African-American women who rocketed into reality NASA's mission to send John Glenn into orbit.
The OCG: It's about more than science
"The Oceanography Camp for Girls makes a difference in the lives of young women – not just intellectually but emotionally, socially and otherwise," said long-time former OCG leader and social worker Dr. Angela Lodge, who co-directed the program with Dr. Teresa Greely, who manages CMS's education and outreach portfolio and serves as Camp Director. Lodge is widely celebrated by Camp alums for her mentorship, warmth, and natural ability to spice up a packed day's events with spunk and meaning.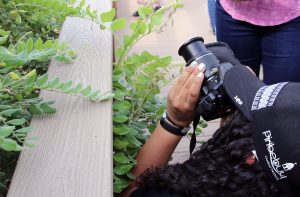 The OCG is a three-week summer academic STEM program that engages teen girls from Pinellas County in learning about all things ocean. But it's about so much more than saltwater.
"We realize that not every girl may excel in science or math but maybe she can raise the roof with her voice. We design the Camp to facilitate all kinds of growth in the participants," Lodge said. "We want the girls to leave better – more aware, more self-confident, more connected – than when they came in."
Lodge's legacy and commentary was underscored by testimony from Camp mentors who participated in the "Hidden No More" program as well. Many who serve as mentors were former campers themselves.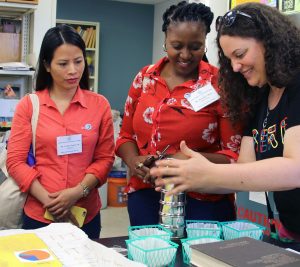 "Camp has been a part of my life for so long and on so many levels," said Annie Dowling, a camper in 2001 who's now a fisheries biologist. "I've carried forward the leadership training I received as part of training to be a mentor," she said. "It really has given all of us so much back."
Kaboodles of kudos were also paid to former USF CMS dean Dr. Peter Betzer, the brainchild behind the OCG. His leadership in helping to establish an endowment to support the Camp is one main reason for the camp's longevity.
"To kick of a great education program like this is one thing," said one of the participants, "but to turn it into a 30-year program is pretty astounding."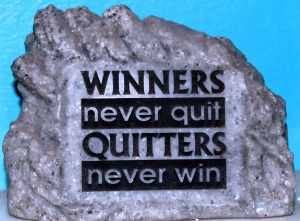 After an exploration of the Clam Bayou education facility – home base for the OCG – the participants headed over to the USF CMS where they received an overview of the CMS by Dr. Gary Mitchum, followed by a few words from Dr. Pamela Hallock Muller, who has been at the CMS for 36 years and seems to be "failing at retirement," she said. When the OCG first started, Hallock Muller was the sole female faculty member – a detail pointed out by an OCG camper in those early years. "It was a problem and held us back from getting some really great graduate students," Hallock Muller said, and one that was remedied. Today more than a quarter of the CMS faculty are female; the majority of its graduate students are female as well.
The "Hidden No More" STEM participants included researchers, teachers, managers and officers from Argentina, Egypt, Estonia, Malta, Paraguay, South Africa, Vietnam and Zambia.