Written by Sean Beckwith, Web Content Developer for USF CMS
ST. PETERSBURG, FL – After a warm introduction by Dr. Bill Hogarth, former Dean of the College of Marine Science, Dr. Masanori Miyahara presented a Japanese fisheries state-of-affairs to the crowd gathered in the main conference room of the Marine Science Laboratory at the USF College of Marine Science.
Dr. Miyahara is President of the Japan Fisheries Research and Education Agency (FRA), which was established on April 1, 2016. The FRA is the only comprehensive fisheries R&D organization in Japan.
On his listening tour, which has included stops in the European Union, Dr. Miyahara seeks input and opportunities to collaborate with scientists abroad who have combated steep declines in fishery stocks and have worked through, or continue to work through, the monumentally challenging process of assessing and improving fishery stocks.
The status of fisheries in Japan is generally poor and declining, not unlike the situation in the United States in decades past. In 1976, U.S. legislators enacted the Magnuson–Stevens Fishery Conservation and Management Act to promote optimal exploitation of U.S. coastal fisheries. The Act became more effective in 1996 when amendments were made to increase requirements on catch limits.
Japanese fisheries saw a meteoric rise in fish catch after World War II, due to improved technologies, before the productivity peaked in the 1980's and sharply declined.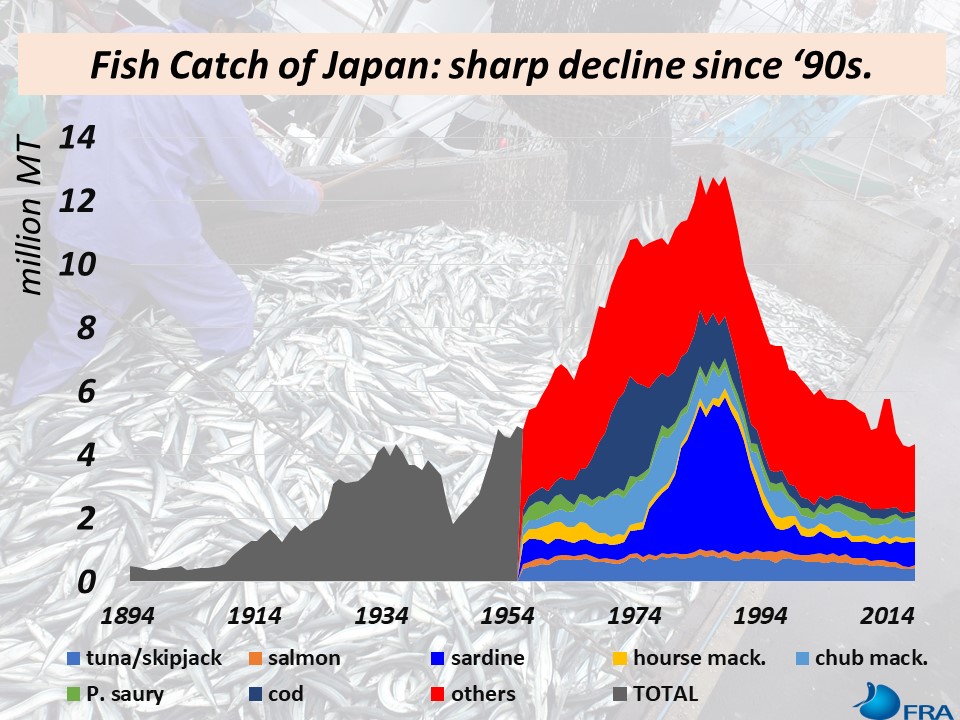 As the downward trend continues, the Japanese government is taking strides to improve the situation, spurred on by support from Prime Minister Shinzo Abe, who enabled formation of the FRA. In December of 2018, fishery policy reform occurred in Japan as relevant amendments to Japanese laws passed the Diet (the legislature equivalent to the U.S. House of Representatives and U.S. Senate). This followed a 70-year absence of major law amendments—the largest review of fishery policy, laws, and regulations since 1949.
Following are five takeaways from Dr. Miyahara's seminar:
The first axiom of reform is to rebuild Japan's fishing resources based on the best available science.
The second axiom of reform is to develop sustainable aquaculture through the introduction of new technologies.
The FRA will conduct stock assessments meeting the global standards for all 200 major target species by 2023 (currently, 50 species assessed).
The FRA hopes to disrupt the "vicious cycle" that is an obstacle to stock assessment—delayed stock status, delayed conservation measures, fisher's doubt of assessment results, low compliance—by enhancing the data collection system with new technologies.
FRA is collaborating with Global Fishing Watch, the University of Wollongong Australia, and the Australian National Centre for Ocean Resources & Security (ANCORS) to investigate illegal fishing in the North Pacific Ocean.
At the end of his talk, Dr. Miyahara implored the crowd of fishery scientists and resource managers, "we cannot do it alone. We need your help, and that is why I'm visiting."