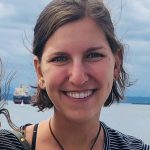 An opinion piece by Carey Schafer, camp mentor and USF CMS graduate student.
ST. PETERSBURG, FL –
From east to west, OCG is the best
To an outsider, the final night of the three-week-long Oceanography Camp for Girls (OCG), which ended the last week of June, might seem more like a rock concert than a series of scientific presentations. The night began with music from the campers, proudly singing the camp song and emphasizing the line, "OCG is the best!" The room had a palpable and excited buzz as parents waited to see what their girls had been up to over the past few weeks. After each presentation, the crowd erupted in cheers. This much excitement over girls doing science? You betcha. For OCG director, Dr. Teresa Greely, and OCG co-founder and former Dean of the College of Marine Science, Dr. Peter Betzer, celebrating girls doing science is a necessity. When Betzer first came to the college in 1971, there were only five male faculty members and the graduate student population was dominated by men. The first female faculty member, Dr. Pamela Hallock-Muller, didn't arrive until 1983. By 1991, the graduate student population was still largely made up of men, with women only comprising 29% of the student body. It was at this point, the inaugural year of OCG, Betzer decided to turn his focus to addressing the gender-based inequality at the college. But it wasn't simply a matter of recruiting more female graduate students and faculty. The issue largely lay in the lack of females in the marine science pipeline—and it needed to be fixed from the ground up, Betzer said. He knew the trick was to encourage girls to pursue careers in science from a young age. When asked about their experiences this year, many of the campers said they were more likely to pursue careers in science. Yet, when asked whether men and women were equally likely to succeed within the sciences, a few campers answered negatively. Camper Ani thought women were less likely to succeed in the sciences because, "women face more challenges [despite being] just as smart," and another camper, Lauren, mentioned the "obstacles" preventing women from succeeding. While enormous strides have been made since Betzer first co-founded OCG with two Pinellas County science teachers, the sentiments shared by campers highlight the ongoing need for progress. The narrative related to gender-based equality was especially relevant this past June during the celebration of World Oceans Day. This year, the theme was "gender and the ocean." In an article published in Eos, the author notes: "the United Nations writes that the empowerment of women and girls is 'still needed' in all aspects of ocean-related sectors, including marine scientific research." OCG science mentor, Kelly Vasbinder, agrees saying, "While we've been making good progress including women in marine research over the past few decades, we've still got a long way to go, especially in female representation in higher positions in scientific or science-related organizations. In addition, the general attitude towards women in science has shifted in recent years, but there are still times when women are seen as unequal or incapable."
Rock star progress
The question remains: has OCG succeeded in recruiting more female scientists? In short, yes. But more importantly, why has the camp been successful? Several factors contribute to the camp's success. According to Greely, one important piece of the puzzle is reaching girls at the right age, which is why OCG specifically targets girls going into 9th grade "when many career aspirations are formulated." Second, the emphasis on experiential learning allows girls to learn science in the way science is done, rather than in traditional formats. These hands-on experiences foster enthusiasm and help campers to develop the critical thinking skills necessary for careers in science. In addition, the endowment that has been created as a result of private donations makes the camp one-of-a-kind. A free three-week camp of this caliber is not only an impressive accomplishment, but allows all girls to participate in the camp, regardless of socioeconomic status.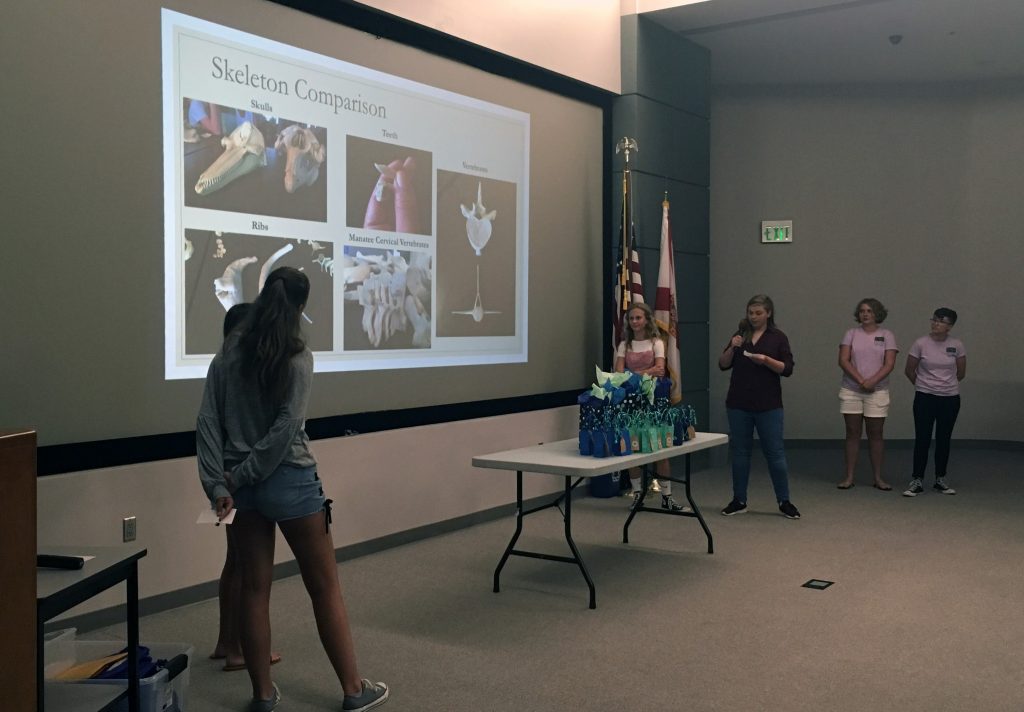 Throughout the 29 years of OCG, Greely has witnessed positive change firsthand. Each summer, campers are asked to draw a scientist. "Through the years we have noticed that the image of a scientist has evolved from a guy with wild-looking hair in a lab coat and often in a lab, to a gal in a lab or in the field using scientific instruments. Some girls have even drawn self-portraits of themselves," Greely said. Not only are perceptions changing of who can do science, but OCG campers are actively pursuing scientific opportunities. A 2016 national study found about 15% of men who graduated from college pursued degrees in STEM, while only 7% of women who graduated pursued STEM degrees. This study emphasizes not only the low numbers of STEM majors, but how few females are pursuing science degrees. In comparison, surveys from former campers have shown approximately 20% of former OCG campers go on to pursue STEM-related majors in college, highlighting the disproportionate impact OCG has had on influencing the trajectories of these young women. To see the impact it has had on the graduate student population, we need to look no further than College of Marine Science graduate students Kelly Vasbinder and Makenzie Burrows. Both attended the camp as 9th graders and have now ended up pursuing graduate degrees in marine science and serving as science mentors for the camp. "Science mentors show girls that their dreams are possible," said Vasbinder. "As someone who went through camp and then went to grad school here at USF, seeing awesome science mentors rock at and love their research was a big part of why I always wanted to go to graduate school." Burrows echoed a similar sentiment: "The camp not only taught me about marine science, but it taught me what I wanted to do for a career."
A model for success
The College of Marine Science looks drastically different since OCG began in 1991. Female graduate students now comprise 59% of the student body versus 29%. Yet, only 7 of the 25 faculty members at the college are female. This is a move in the right direction but may also highlight what many call the "leaky pipeline," which describes the loss of women from academia and the reason for a lack of women in leadership roles within scientific institutions. Current College of Marine Science Dean, Dr. Jacqueline Dixon, acknowledges the progress women have made and the improvements that still need to be made.
"Women in STEM have made great strides over the past 50 years. When I started in marine science, it was still thought of by the crew as bad luck to have a woman on a ship," she says. "Fixing the leaky pipeline requires more than just training more women in STEM fields, it requires political will to improve family leave and to provide affordable daycare, preschool, and elder care."
In addition, many, including science mentor Savannah Hartman, are quick to point out the "huge racial disparity in the field of marine science." The college has taken note, ramping up its efforts in recent years to increase racial diversity and how we can make marine science more reflective of the society that surrounds us. For Greely, this lack of inclusivity, whether it be gender or race-based is to the detriment of the academy.
"Marine science professionals should be intentional and inclusive in selecting and supporting female and minority students and professionals," Greely says. "We are missing valuable scientific perspectives and social collateral in the marine sciences when diversity of students, faculty and staff are not present."
While few would argue the field of marine science is perfect, it is hard to ignore the progress that has been made over the past few decades as a result of discussions regarding gender equality and programs like Oceanography Camp for Girls. I am proud to be part of a college and a camp that is working to remedy many of the issues facing marine science today and feel hopeful that I, and my peers, will continue to work towards a more equitable future for all marine scientists. As we look to make the field increasingly diverse and inclusive into the future, OCG can serve as a model for future progress. It is a successful format that can be replicated across the country to get girls, regardless of race, socioeconomic status, ability, or confidence level, excited about science, and that is worth celebrating.