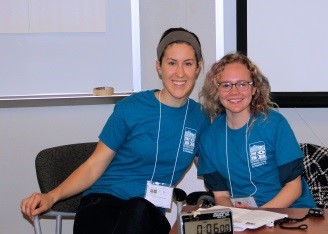 Volunteers who join the event each year are from the Fish and Wildlife Research Institute, USGS Coastal & Marine Science Center, Florida Marine Science Educators Association, USF Marine Science, USFSP, Eckerd College, Clearwater Marine Aquarium, Florida Aquarium, Mote Marine Labs & Aquarium, Lowry Park Zoo, Oceanography Camp for Girls Alumnae, Ocean Optics and NOAA Fisheries. Follow the links below for details on Volunteer Roles including, Moderators, Science Judges, Rules Judges, Scorekeepers, Timekeepers, Runners and Expert Science Judges.
Spoonbill Volunteering
– One of 25 regional NOSB Sites
– Sponsored by Consortium for Oceanographic LEADERSHIP
– 1-day academic bowl focusing on disciplines in oceanography
– Teams of 5 High School students compete for regional title
– Regional winners move onto the National Competition in April
Who: Teams of 4 students, an alternate, and a coach from high schools from the west coast of Florida.
What: The Spoonbill Bowl consists of a round-robin/single-elimination format for teams of high school students; teams consist of four students plus one alternate and a coach. The format involves a timed competition of multiple-choice or short-answer questions within the broad category of the oceans. Questions are drawn from the scientific and technical disciplines used in studying the oceans (physics, chemistry, geology, atmospheric science, biology, etc.) as well as from topics on the contributions of the oceans to national and international economics, history and culture.
Why: The overlying goal of this competition is intended to increase knowledge of the oceans on the part of high school students, their teachers and parents, as well as to raise the visibility and public understanding of the national investment in ocean-related research.
How to register: Please e-mail TERESA GREELY for information about registration. Registration will open on October 1st. Teams will be registered for competition on a first to return completed paperwork, first registered basis. All applications must be received no later than November 15th.
West Coast, Florida
College of Marine Science University of South Florida
140 7th Ave. South
St. Petersburg, FL 33701
Fax: 727-553-1189
Phone: 727-553-3921 OR 727.552.2281
Important Dates to Remember
Sign-up for Training December – January
Regional Competition

February each year
Training dates:
January and February
Interested in Volunteering?
Contact Angela Lodge at alodge@usf.edu
Sign up here to be a Volunteer
Volunteer Responsibilities and Rules
Moderator Documents
Rules Judge Documents
Room Runner Documents
Science Judge Documents
Scorekeeper Documents
Sportsmanship Scoresheet New Version
Scoring Matrix for Scorekeepers
Timekeeper Documents