ST. PETERSBURG, FL – The Gulf of Mexico Red Snapper Count is underway, and the large-scale effort, funded by NOAA, involves a number of universities including: Louisiana State University, the Harte Research Institute at Texas A&M – Corpus Christi, Texas A&M – Galveston, the University of Florida, the Florida International University, and the University of South Florida's College of Marine Science (USFCMS) among a myriad of additional partnering Universities. All involved parties are executing various research projects including modeling, tagging studies, ROV surveys, hook-and-line depletion studies, and acoustic-video surveys.
The study is Gulf-wide, extending from Texas to the Dry Tortugas west of the Florida Keys, and seeks to combine technologies and survey approaches to better estimate the size and structure of Red Snapper populations throughout the Gulf of Mexico.
The USFCMS team is currently engaged in their second survey aboard the RV Weatherbird II as part of the red snapper count, where they are performing acoustic and optical surveys from July 5 to 20th. For acoustics, they are employing a pole-mounted Reson 7125 multibeam sonar system to map the portions of seabed being studied, as well as a hull-mounted EK60 scientific echosounder system to examine fish and plankton signatures in the water column. For the optics, they are towing the Camera-Based Assessment Survey System (C-BASS) along several randomly chosen transects. The C-BASS has six video cameras which provide near-180° coverage, LED lighting for deeper tows, a fluorometer, a CTD and an altimeter.
For their part in the survey, the USFCMS team is concentrating their survey efforts on oil and gas (O&G) pipeline infrastructure to determine how it may contribute to the Red Snapper population. The group will also be completing some work on natural seafloor habitats, including unconsolidated sediments and hard bottom areas along the Alabama, Mississippi, and Louisiana coasts. In 2019, the group will be completing their work with surveys off of the western Louisiana and Texas coasts.
On their second day of study, the USFCMS team was surveying some very interesting geological features including the Alabama Alps Reef, located within the Pinnacles Region in the northern Gulf of Mexico. This area consists of a series of calcareous outcrops extending up to 30 meters from the seafloor in depths of around 100 meters. The Pinnacles' high relief is quite different relative to the flat, unconsolidated sediments that are more prevalent in the surrounding area.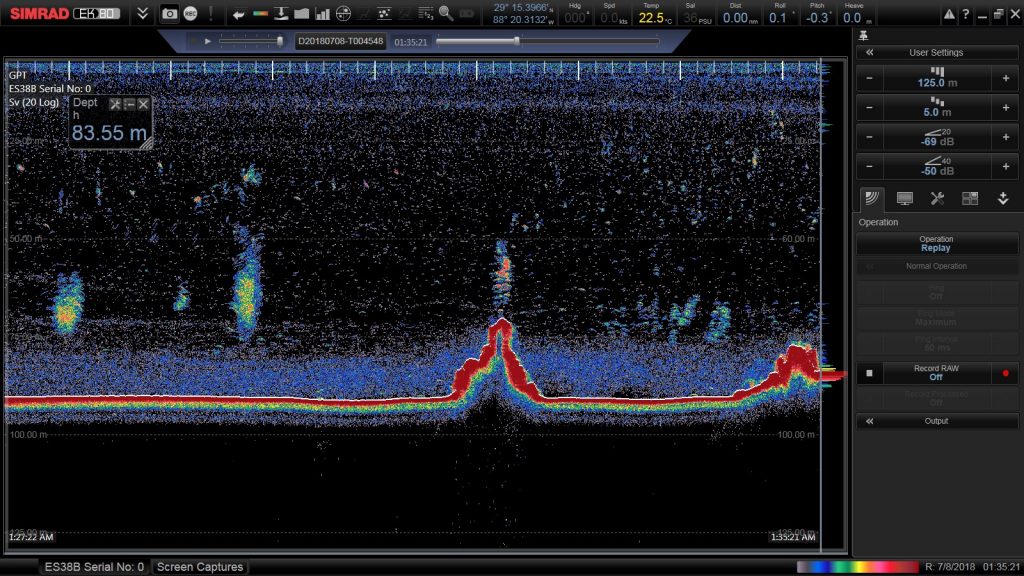 The surveys along the pipelines and over mud/sand bottom have also proven to not be without some excitement; the group was encouraged to see some large Red Snapper and several groupings of cutlass fish as they towed throughout the day.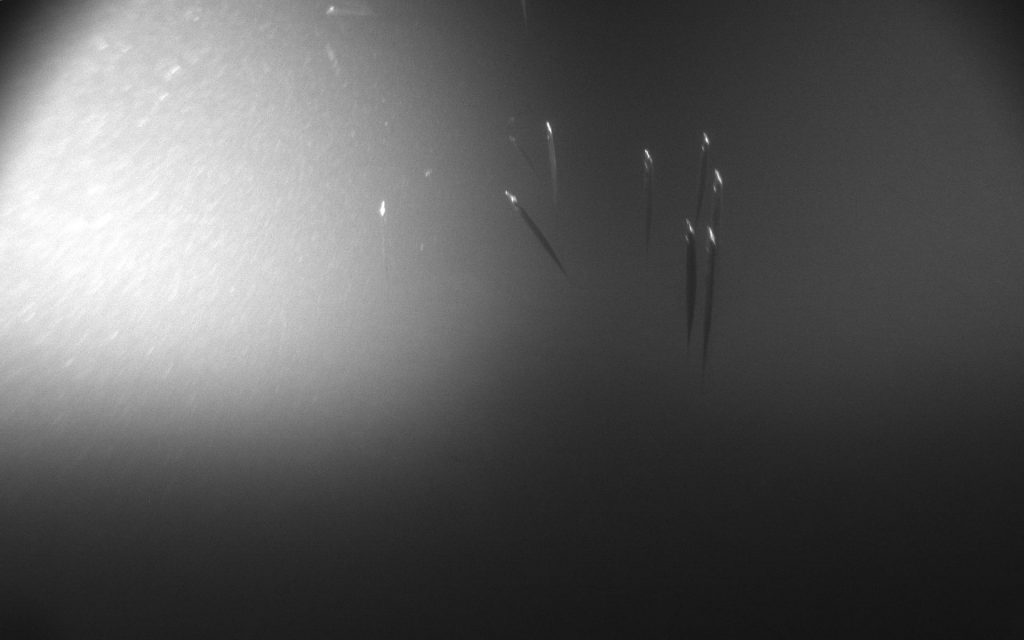 Though the visibility is not ideal for visual-based survey approaches in this area (somewhat akin to towing through pea soup), the footage collected of these specimens was encouraging that towed video data collection will yield some useful information.