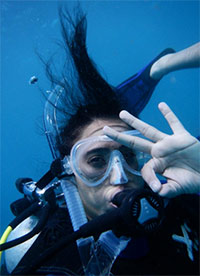 Maria Vega-Rodriguez
Ph.D. in Biological Oceanography
Advisor: Dr. Frank Muller-Karger
Lab Phone: 727.553.1186
Email: mariavegarod@mail.usf.edu
imars.usf.edu/
http://www.mariavega.info/
About my research:
Coral reefs are unique and complex marine ecosystems that have experienced drastic declines worldwide especially in the last 30 years. Many environmental parameters have been linked to this decline, being extreme variability in water quality (e.g. water temperatures) one of the most important contributors. As a PhD candidate, I am currently working on a program at the Institute for Marine Remote Sensing (IMaRS) that intends to enhance the NOAA's Coral Reef Watch (CRW) decision support system. The NOAA CRW program produces sea surface temperature (SST) climatologies and temperature anomaly products with operational, near-real-time AVHRR data at 50 km spatial resolutions. This program helps assess and predict environmental stress in coral reef ecosystems by parameters measurable at synoptic scales from satellites. We are evaluating MODIS and AVHRR (4 and 1 km) satellite imagery with the intention to enhance current CRW products. I'm particularly interested in evaluating the influence of water quality variability on the stony coral diversity, specifically in the Florida Keys. I augment my research with field and laboratory based studies.
Research interests:Remote sensing, bio-optical oceanography, ecology of tropical marine ecosystems (e.g. corals & mangroves), climate change
Why USFCMS?
Our College is suited with really high-profile well-known scientists in all fields of Biological, Chemical, Physical and Geological Oceanography. In addition to this, we are centered in the middle of a unique network of marine scientists not only from academia but from governmental agencies as well. Our College is located just a few feet's away from the National Oceanographic and Atmospheric Administration (NOAA) and the US Geological Survey. The headquarters' of the Florida's Institute of Oceanography are within our College. Therefore, the collaborations between the CMS and these agencies are not only feasible but also encouraged thus providing plenty opportunities for research. Graduate students at CMS benefit greatly from this.