Breitbart Lab Mission Statement & Code of Conduct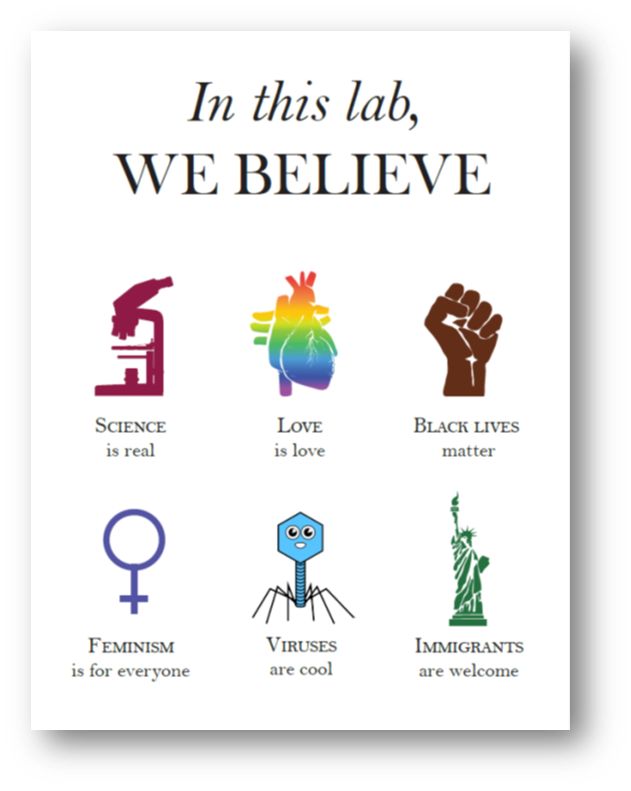 Mission Statement
The Breitbart Lab aims to answer environmental microbiology and molecular biology questions with creativity, expertise, and hard work. We strive to spread this knowledge to scientific and non-scientific audiences alike through effective communication and outreach.
Like the microbial communities that fuel our world, our lab's scientific power lies in our diversity
Consistent with the mantra of the University of South Florida College of Marine Science, the Breitbart Lab welcomes anyone with a passion for the oceans and for science, who values different perspectives, and who cherishes the opportunity to think critically and promote dialogue about the knowledge we create and disseminate.
Code of Conduct
This code is designed to provide all Breitbart Lab members with guidelines for appropriate professional conduct. It is intended to cultivate positive interactions and practices among lab members that will nurture a productive and friendly environment for optimal learning and working.
Communication
Everybody can and is expected to contribute to discussions, nobody dominates.
Our lab will be a supportive environment. Feedback is always encouraged but must be provided with a positive attitude and constructive intent.
Everyone in this lab comes from diverse backgrounds. You are expected to listen to, learn from, and empathize with their thoughts and experiences. While we are all in the same storm, we are not in the same boat.
Lab meetings are private, meaning what is said in lab meeting is to stay within our group unless otherwise stated. Lab meetings are safe spaces open to discussion of personal topics, discrimination, mental health, and more.
Lab and field work
Safety is paramount. Follow all lab and field safety protocols and maintain updated training.
If you see something, say something. This applies to lab and field work, social challenges, and school-wide issues.
No one is expected to work or respond to email messages outside of normal office hours (9-5 PM). If you prefer to set different working hours, this can be discussed so that the appropriate precautions/arrangements can be made. When exceptions to this rule arise (e.g., field work or deadlines), we will discuss safety precautions (such as the buddy system) and arranging time off to compensate for extra hours worked.
Expectations
Our lab is a community. Everyone should treat each other with respect.
Act responsibly and hold each other accountable. We must all strive to be our best selves and ensure a safe and respectful environment for everyone.
We will celebrate each other's successes and work together to overcome challenges. Do not compare yourself to others.
You are expected to work hard, gain independence, ask for help when you need it, read the literature, conceive new ideas, meet deadlines, and seek out new learning opportunities. Like many things in life, you will get out of this experience what you put into it. Open communication about your passions, achievements, struggles, and failures will ensure that the lab can help you succeed in your endeavors and achieve your goals!
If you contribute significantly to a research project, you will be a co-author on presentations or publications resulting from your work. This includes significant intellectual contributions, physical lab or field work, data analysis (e.g., bioinformatics or statistics), and writing.  The lab will openly discuss questions regarding authorship to ensure inclusion and equity. All authors will be expected to read manuscripts and provide feedback in a timely manner.
Lab Mission & Code of Conduct