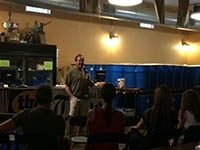 On May 20, 2015, Dr. David Hollander (USF) took part in Pint of Science at Southern Brewing in Tampa, FL.
Pint of Science brings in local experts in geology, astronomy, and marine sciences to speak with the public (no PowerPoints allowed) on topical science issues. David spoke to the crowd of over 100 for 45 minutes, and was later swarmed by audience members wanting to know more about oils, sediments, relief efforts.
Pint of Science has other chapters in Boston, Houston, San Diego, and Berlin.