What Have We Learned About the Deepwater Horizon Oil Spill
Over the Last 10 Years of Research?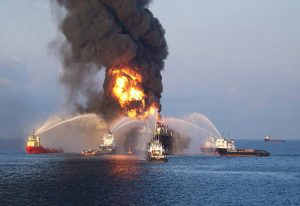 On April 20th 2010, one mile deep in the northern Gulf of Mexico, a surge of natural gas broke through the inadequate cement casing at the Deepwater Horizon site, breached the blowout preventer, and unexpectedly traveled to the rig's platform, resulting in a fiery explosion.
Ultimately, 11 workers were killed, 17 were injured, and two days later, the rig capsized and sank to the bottom, rupturing the riser and allowing a free-flowing blowout of oil and gas into the deep Gulf of Mexico for 87 days. One month after the explosion, BP (British Petroleum, one of the responsible parties) committed $500 million to create a 10 year independent research program to study the impact of the oil spill on the environment and public health in the Gulf of Mexico.
This research program, the Gulf of Mexico Research Initiative (GoMRI) was established to improve society's ability to understand, respond to and mitigate the impacts of petroleum pollution and related stressors of the marine and coastal ecosystems.
"The strength of our research is our partners and collaborators. Looking at a problem through several perspectives (biologists, chemists, geologists, engineers)."
Dr. Steven Murawski
Over the past decade, USF's College of Marine Science was awarded almost $37 million to advance understanding of the processes and mechanisms involved in marine blowouts and their environmental consequences through the development of the Center of the Integrated Modeling and Analysis of the Gulf Ecosystem (C-IMAGE).
THE GOALS OF THIS  RESEARCH WERE TO…
1. To inform the public and regulators of the short-, medium-, and long term consequences of the disaster to the environment and people.
2. To better understand the chain of events that lead to the spill and the consequences of response measures undertaken by the responsible parties and government responders to mitigate spill effects.
3. To evaluate the connectivity of the Gulf of Mexico and assess ecosystem resiliency.
C-IMAGE's approach was to, early on, gather expertise from across the globe to tackle the complex issues associated with this unprecedented deep blowout.  C-IMAGE organized an "all-hands-on-deck" approach to assessing the impacts of and, later, the factors that contributed to the disaster.
HOW DID THE OIL SPILL IMPACT FISH IN THE GULF OF MEXICO?
C-IMAGE researchers developed the first comprehensive baseline of oil contamination in fishes and sediments of the Gulf of Mexico, including all the waters off the United States, Mexico and Cuba.
Researchers spent almost 250 days at sea circumnavigating the Gulf of Mexico and sampled over 15,000 fishes and took over 2,500 sediment cores to develop these baselines.
Baseline data, which were not available for fish and sediment contamination pre-Deepwater Horizon, are critical for assessing impacts from a specific spill and for calculating how quickly the ecosystem can return to its pre-spill state.
An oil spill triggers a "Natural Resource Damage Assessment" or NRDA, to assess the injury to a natural resource and includes the restoration plan to make "the environment and public whole". It's difficult to asses how much something is injured without knowing the pre spill condition.
This condition is known as the BASELINE.
Repeated sampling of the region during 2011-2018 around the spill site has led to estimates of how quickly various species are able to detoxify oil pollution, impacts on the health of various species (e.g. "microbes to mammals") and how fast oil stranded on the bottom is becoming "landfilled" there due to subsequent sediment accumulation. Importantly, no fish from yet sampled has been free of hydrocarbons, emphasizing the chronic and ongoing pollution of the Gulf.
Researchers found a decline in skin lesion frequency in Red Snapper after the spill.
There are documented reports of increasing exposures to hydrocarbons over time in economically and environmentally important Gulf species, like Golden Tilefish, Red Snapper, groupers and hakes.
Yellowfin tuna have the highest reported exposure levels to hydrocarbons.
Increasing concentrations of hydrocarbons in liver tissues of some species (e.g, groupers) suggest these species have experienced longterm, chronic exposure to oil.
Chronic exposures have been associated with the decline of health indices in tilefish and groupers.
Comprehensive fish surveys in the Gulf of Mexico since 2011 have provided the basis for evaluating the resilience of species across the Gulf of Mexico. These data will identify species and/or subregions that are most vulnerable to the cumulative effects of fishing, climate change, habitat loss, invasive species and anthropogenic pollution, including oil spills.
An oil exposure test facility at the Mote Aquaculture Park was established to understand how contamination pathways (water, sediment, food) impact adult fishes. Southern flounder were exposed to oiled sediments for 35 days and showed evidence of oxidative stress, which can cause decreased fertility, increased cellular aging, and decreased survival.
Fish populations living  in the mesopelagic zone (200m to 1000m) were also impacted by the oil spill. These fish are especially important because they are a food source for larger pelagic, commercially relevant fish, as well as for marine mammals and birds. USF researchers with another GoMRI-funded center, DEEPEND, found an increase in PAH concentrations in mesopelagic fish tissue after the Deepwater Horizon oil spill, and PAH levels years later (in 2015-2016) still are elevated from pre-Deepwater levels. The distribution of concentrations in different tissues indicate that the main sources of this contamination is through diet and maternal transfers.
WHAT DO YOU MEAN "OIL SINKS"?
Through water column and sediment sampling, researchers from University of South Florida, Florida State University, Eckerd College, and the National Autonomous University of Mexico in Mexico City discovered that oil contamination not only occurred widely in surface waters, but that significant quantities of crude oil were deposited at the bottom of the deep sea.
Marine snow is found in all of the world's oceans and is made up of aggregations of organic and inorganic particles, like plankton, fecal pellets, biominerals, and land-derived erosion products. These aggregates settle in the water column, attaching to oil droplets as they descend. Researchers coined the term MOSSFA (Marine Oil Snow Sedimentation & Flocculent Accumulation) to describe this mechanism for the deposition of significant oil on the seabed.
Researchers speculate that the marine snow process has greatest impact on oil spills during spring and summer –plankton bloom seasons, especially during years of high river flow.
Adding to the complexity of these marine snow events is the increased toxicity of burned oil compounds. Crude oil is made of thousands of different arrangements of carbon that become more toxic after they are burned. These toxic compounds can be trapped in the marine snow where they can cover the seabed and harm the organisms living on the sea floor. These findings have led to the incorporation of MOSSFA in oil spill response models run by the government and USF researchers have also developed methods to predict the intensity of MOSSFA should a similar-sized oil spill occur anywhere in the Gulf of Mexico.
There is a 2 to 3 fold increase in oil compounds from background levels accumulated on the seafloor.
Declines in benthic foraminifera density (80-90%) and species diversity (30-40%) were documented in sediment cores around the Deepwater Horizon well-head.
In the three years following the spill, there was a decrease in the oxygen levels of the surface sediment.
Researchers are projecting that it will take 50-100 years for the deep ocean ecosystem to recover from the Deepwater Horizon.
"If you want to respond to this kind of spill, you have to know where the entire mass is, the amount of oil that came out of the well, and know that the footprint is not only on the surface, but in three dimensions."
Dr. Claire B. Paris-Limouzy
WHAT HAPPENS TO OIL AND GAS WHEN IT'S MIXED WITH DISPERSANT ONE MILE DEEP IN THE OCEAN?
During the DWH event, dispersants were applied directly into the stream of oil and natural gas coming out of the broken pipe 1500 meters below the water's surface. Typically, dispersants are applied after a spill on the surface slick to break up the oil droplets and to enhance biodegradation. The DWH event was notably the first time dispersants were applied at such extreme depths directly at the blowout site. C-IMAGE researchers from the Hamburg University of Technology, the University of Calgary and the University of Western Australia developed the first and most realistic high-pressure testing facilities to better understand processes associated oil well blowouts in water depths of one mile and deeper.
Oil, gas and water escaping from the broken well was under extreme pressure (over 200 times sea level atmospheric pressure) and the pressure drop at the well head was sudden and substantial. Tests conducted at the Hamburg facility conclusively demonstrated that oil was "atomized" into very small droplet particles that remained in deep water forming submerged plumes, in the absence of the use of chemical dispersants. Petroleum chemists at the University of Calgary discovered that high pressures resulted in the differential rates of partitioning of toxic substances contained in oil into seawater, increasing their toxicity to deep sea life. Today over half of the oil from the Gulf of Mexico comes from wells over one mile deep, and the deepest are nearly two miles. Thus, understanding the high-pressure world is key to more effective oil spill response.
TODAY, OVER HALF OF THE OIL FROM THE GULF OF MEXICO COMES FROM WELLS OVER ONE MILE DEEP, AND THE DEEPEST ARE NEARLY TWO MILES!
C-IMAGE's partner at the Hamburg University of Technology developed high pressure experiments to mimic environmental conditions and used oil saturated with methane gas. Until C-IMAGE, laboratory experiments did not consider "live" oil.
C-IMAGE researchers at the University of Miami, through their use of numerical models, show that small micro-droplets were created from the large pressure difference from the blowout preventor to the deep sea and not the direct application of dispersant, which was one of its purposes.
Pressure and dispersant application play important roles in how bacteria that live in the deep sea and the water column degrade the oil. Studies at Pennsylvania State University, Hamburg University of Technology and Georgia Tech show the complicated picture. The application of dispersant was shown to either enhance or inhibit biodegradation depending on the bacteria strain. It was also shown that elevated pressures can decrease biodegradation of oil. This area of research is not fully understood.
Toxic and invisible oil extended beyond the current satellite footprint at potentially lethal and sub-lethal concentrations to a wide range of wildlife in the Gulf of Mexico (right).
BUILDING PARTNERSHIPS
"The Gulf of Mexico is compromised of three countries and we need a much better plan to coordinate among the three countries. The oil policies are different. There is some coordination on the response side, but we should have a better understanding of the Gulf and as an entity and not, you know, I have a relatively good understanding, say for example, in the northern and not in the southern because we know that these oil spills do not respect territorial boundaries. And so we need a more integrated multinational approach to this. That's certainly important."
Dr. Steven Murawski
COLLABORATIVE RESEARCH
"The interdisciplinary research conducted in C-IMAGE has led to a better understanding of the physical, chemical, biological and geological functioning of the Gulf of Mexico. C-IMAGE researchers pioneered the development of high-pressure testing facilities, discovered the phenomena known as MOSSFA (Marine Oil Snow Sedimentation and Flocculant Accumulation) and quantitatively assessed many unforeseen ecologic impacts and long-term ecosystem consequences.."
Dr. David Hollander
THE NEXT GENERATION OF RESEARCHERS
"Over the past ten years, our team has pushed the boundaries of how academic research is executed. We've been able to provide continuous funding, training and professional development opportunities to students and early career researchers, and have connected them to a large interdisciplinary network of colleagues to support them deep into their careers. The future holds complex problems, and we've trained a team of scientists to tackle them with versatility and a broader view of their capabilities."
Sherryl Gilbert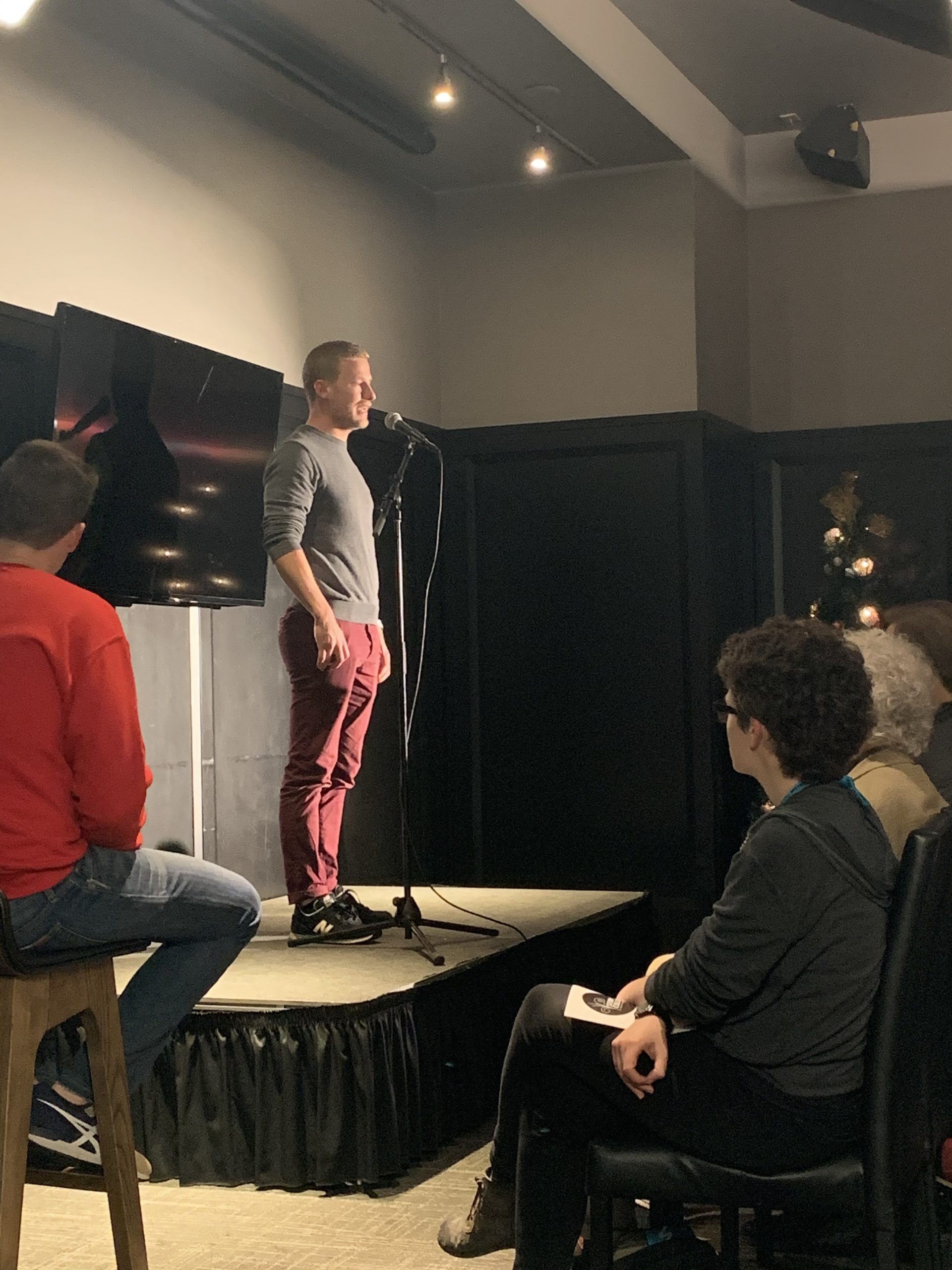 Simeon Pesch is a process engineer at Hamburg University of Technology in Germany. As a part of an interdisciplinary research group, he works on the investigation of physical processes during deep-sea oil spills. For his PhD he focuses on experiments in large-scale facilities and under high pressure. When not in the lab he spends much time outdoors or at the university's brewery plant.

The Loop is a series of podcasts which take an in depth look at C-IMAGE research. Partnering with Mind Open Media reporters Ari Daniel Shapiro and David Levin, our researchers share the importance of their studies and how they help our understanding of oil spills. David and Ari have produced 16 podcasts and our final episode can be accessed through Soundcloud.
An interactive website exploring the DWH and Ixtoc oil spills, as well as others, in the Gulf of Mexico and beyond.
C-IMAGE AND GoMRI SCHOLARS
Madison Schwaab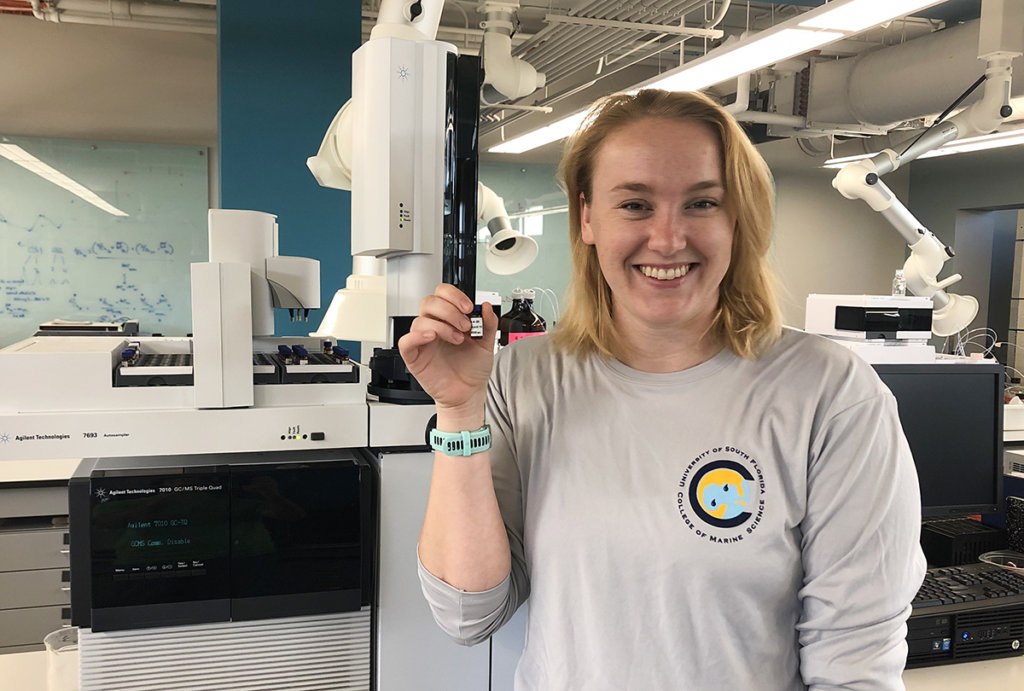 Quantifies and compares levels of toxic oil
compounds in the bile and tissues of
15 pelagic Gulf of Mexico fish species.
Madison is a master's student with the University of South Florida's College of Marine Science and a GoMRI Scholar with the Center for the Integrated Modeling and Analysis of Gulf Ecosystems III (C-IMAGE III).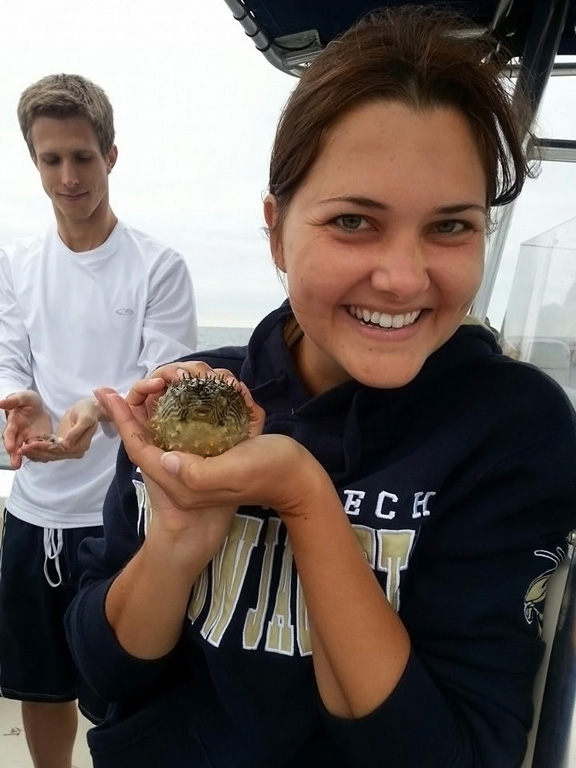 Emily Chancellor
Applies computer science to determine potential oil spill
impacts on larval fish populations.
Emily recently completed her masters in marine resource assessment at the University of South Florida (USF) and is a GoMRI scholar with the C-IMAGE Consortium. She discussed her journey from engineering to marine science and what she has learned along the way.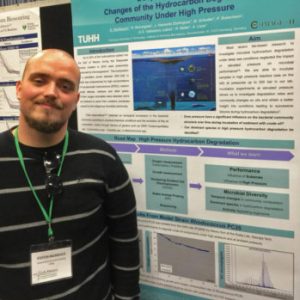 Steffen Hackbusch
Experimenting with microbes collected from deep-sea
Gulf of Mexico sediment.
Steffen received his Ph.D. in microbiology at the Hamburg University of Technology's Institute of Technical Biocatalysis.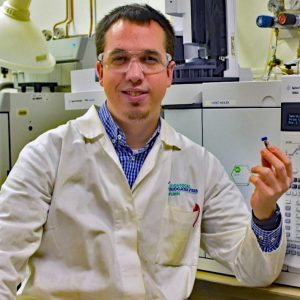 Juan Viamonte 
High-pressure research to observe microbial degradation and deep-ocean oil spill simulation.
Juan received his Ph.D. at the Hamburg University of Technology's Institute of Technical Biocatalysis.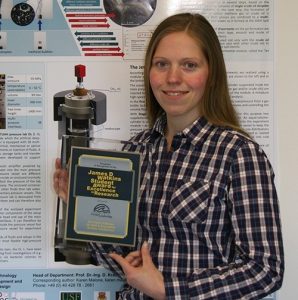 Karen Malone
Observed behavior of oil droplets in response to simulated pressure and temperature changes.
Karen received her Ph.D. at the Hamburg University of Technology's (TUHH) mechanical engineering program.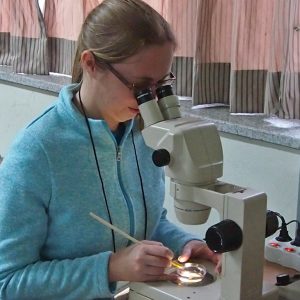 Melissa Rohal
Investigated how oiling affects deep-sea meiofauna and how quickly
their populations can recover.
Melissa received her Ph.D. in Coastal and Marine System Science at the Harte Research Institute for Gulf of Mexico Studies at Texas A&M University – Corpus Christi.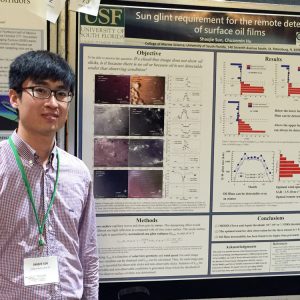 Shaojie Sun
Quantified "sun glint," to help assess oil seeps and spills
using satellite imagery.
Shaojie received a marine science Ph.D. at the University of South Florida (USF) College of Marine Science. Dr. Sun traveled from coastal China to coastal Florida to aid marine conservation efforts.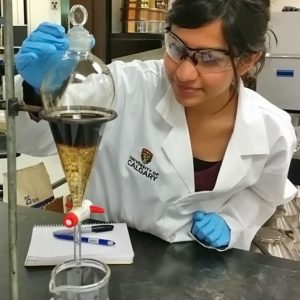 Aprami Jaggi
Combined geochemistry and geophysics to study oil mitigation and solutions to water pollution problems.
Aprami received her Ph.D. in geosciences at the University of Calgary. Her story describes her journey around the world to gain the knowledge required to help her homeland.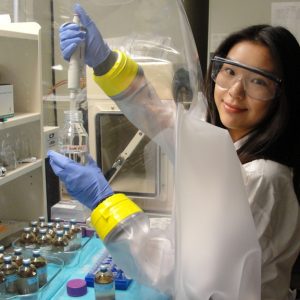 Boryoung Shin
Uncovered new research about microbial oil-eating bacteria in the Gulf of Mexico. Dr. Shin received her Ph.D. in Earth and Atmospheric Sciences (EAS) at the Georgia Institute of Technology.
Susan Snyder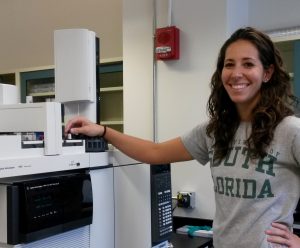 Studied metabolites in Gulf fish bile to determine if polycyclic aromatic hydrocarbons (PAHs)
were ingested.
Susan received her Ph.D.  at the University of South Florida and is currently an Environmental Scientist at the SE Regional Office for NOAA Fisheries.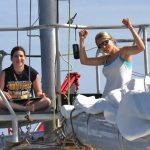 Kaitlin Frasier
Tracks Gulf marine mammal populations after the
Deepwater Horizon oil spill. 
Kait, earned her Ph.D. at the Scripps Institution of Oceanography at the University of California – San Diego and is a Project Scientist at the Marine Physical Laboratory.