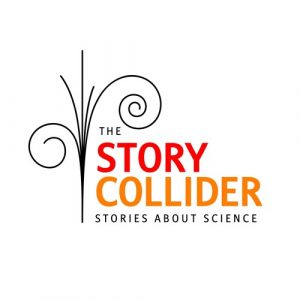 C-IMAGE is proud of its collaboration with Story Collider, a non-profit group dedicated to telling true, personal stories about science. Their mission is to empower both scientists and nonscientists alike with the skills they need to tell these stories and share them through their live shows and podcast, with the goal of exploring the human side of science. Since 2011, we have hosted three Story Collider events, all highlighting C-IMAGE and GoMRI researchers, and bringing their personal stories to the small stage. Please read on here, where you can access these stories.
---
Story Collider at American Geophysical Union, San Francisco, CA, December 2019
During the Fall 2019 AGU meeting, C-IMAGE and Mind Open Media teamed up again with Story Collider to host an evening of sharing and storytelling at the Table Top Tap House just across the street from the Moscone Center. Every day, scientists get up and go to work; what motivates them, and why? Where does that necessary drive to question and investigate come from? C-IMAGE PhD student and GoMRI Scholar, Simeon Pesch, and ECOGIG Director, Samantha (Mandy) Joye, joined scientists Jessica Moreman, Laura Guertin, and Paula Buchanan and shared their personal experiences at the 2019 American Geophysical Union's (AGU) Fall Meeting Story Collider event.
---
Simeon Pesch is a process engineer at Hamburg University of Technology in Germany. As a part of an interdisciplinary research group, he works on the investigation of physical processes during deep-sea oil spills. For his PhD he focuses on experiments in large-scale facilities and under high pressure. When not in the lab he spends much time outdoors or at the university's brewery plant.
Samantha Joye is a microbiologist, an educator, a deep ocean explorer, and a vocal ocean and environmental advocate. Samantha is a Regents' Professor and also holds the Athletic Association Professorship in Arts and Sciences at the University of Georgia; she is a Professor in the Department of Marine Sciences. After her first submersible dive to the Gulf of Mexico seabed in 1994, she was hooked on deep ocean exploration; she has been studying the microbiology of natural seepage of oil and gas in the Gulf of Mexico since then.
You can see the full story here and listen to each of their stories above.
Story Collider at Gulf of Mexico Oil Spill and Ecosystem Science Conference, New Orleans, LA, February 2017
While studying the mechanisms and impacts of oil spills on Gulf ecosystems, we sometimes lose our perspective of the impacts marine oil blowouts have on people; especially the families of the 11 men killed during the Deepwater Horizon rig explosion. The Story Collider kicked off the 2017 GoMOSES Conference with five stories from people who have a story about science and the Gulf to share…
Dealing with the Spill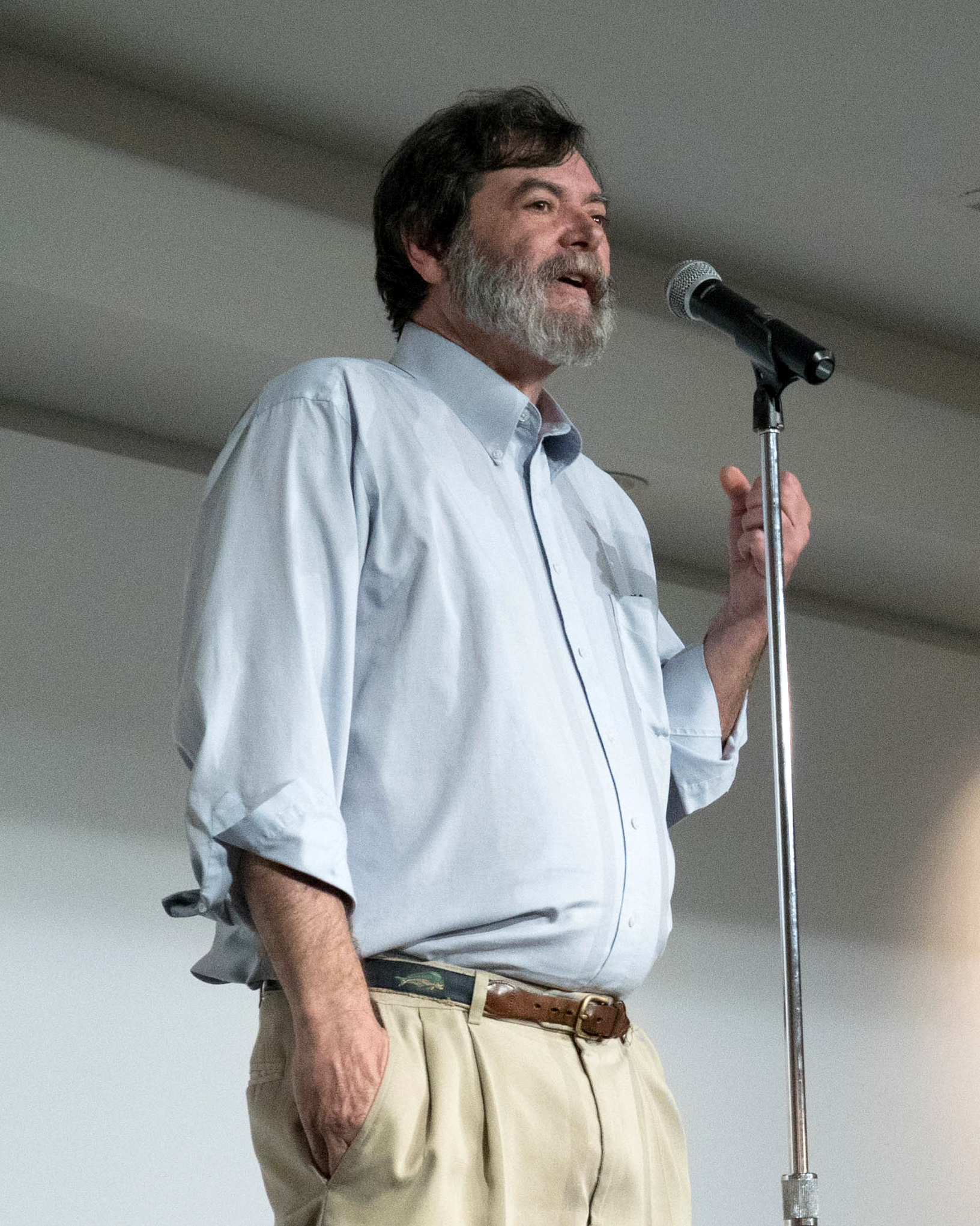 Charlie Henry, a Louisiana native, is the Director of NOAA's Gulf of Mexico Disaster Response Center in Mobile, AL. In addition oil spills, Henry works as a liaison of science into the disaster response to minimize the damage done by natural or man-made disaster.
His efforts with Deepwater Horizon began like any other oil spill with a phone call late at night from the Coast Guard, but as the spill progressed he and his colleagues had a feeling that this one was going to be big. Henry breaks down his job into five questions spill responders ask during a spill: (1) what was spilled (chemical, oil), (2) where is it going to go, (3) what is going to get hit and impacted, (4) how is it going to hurt (toxic or physical response), and (5) what can we do to make it better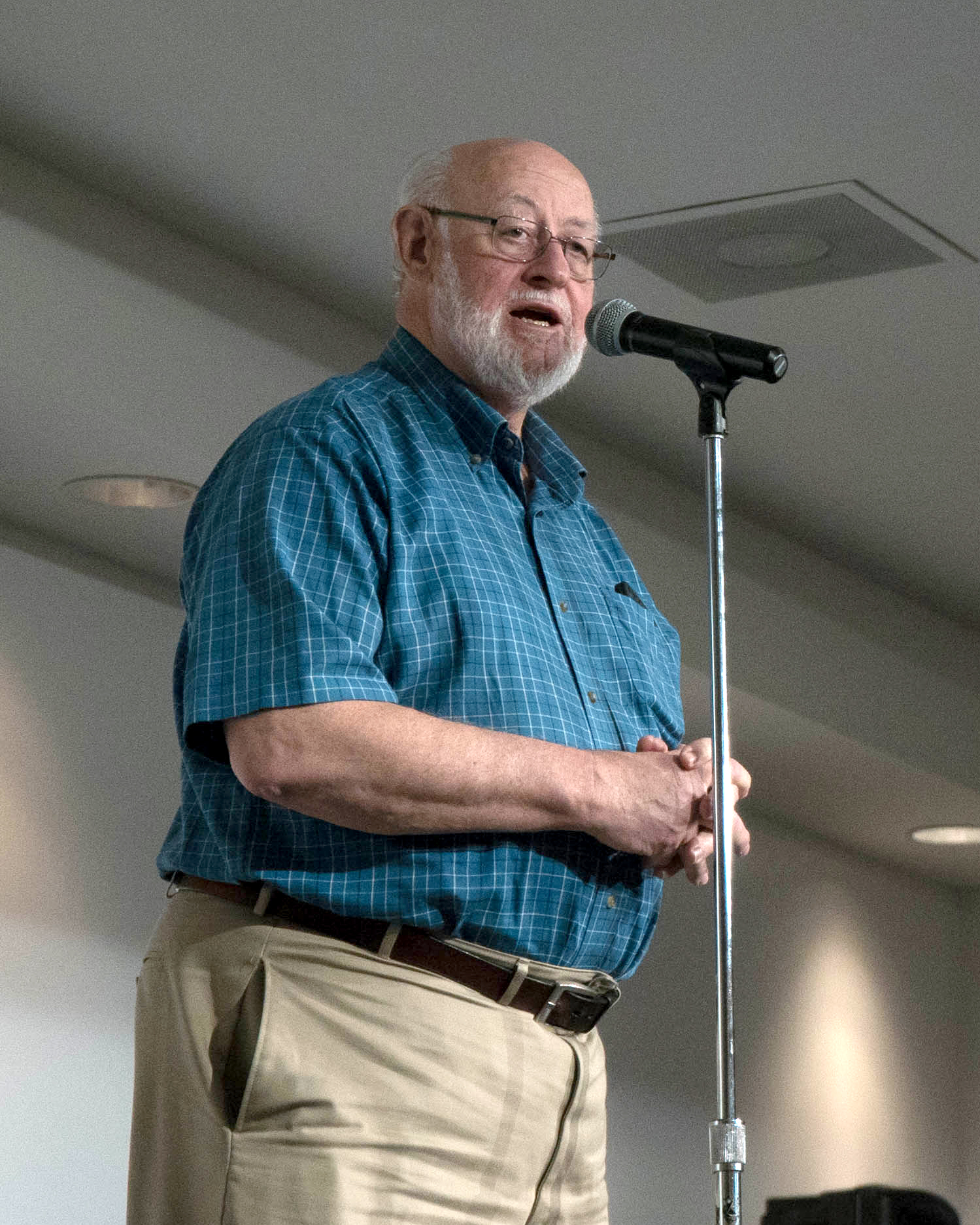 John Farrington, a chemical oceanographer, first heard of DwH from news headlines at home. After letting the tragedy of April 20th settle, he thought "Not again." Farrington experienced another mega Gulf spill in the late-1970s. While the Ixtoc I blowout in 1979 spread oil across the southern and western Gulf for 9 months, Farrington and colleagues collected samples from around the Campeche Bay to understand the chemical properties of the oil and what impacts it might have on different ecosystems.
This scientific response of Farrington's group provided vital context to the evolution of Ixtoc I, and even today helps C-IMAGE researchers study the impacts 35+ years later.
A Memorable Moment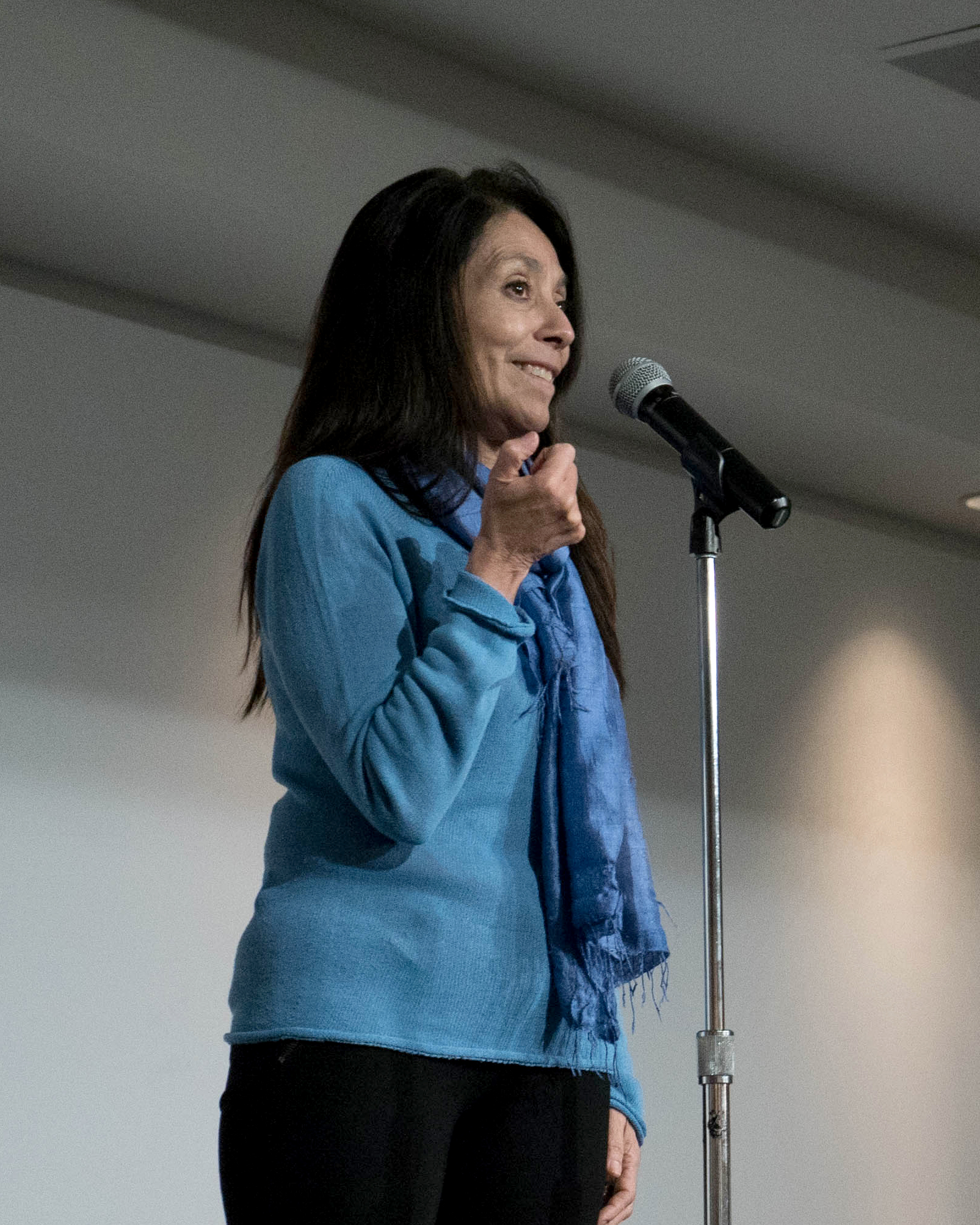 Elva Escobar is the director of the Instituto de Ciencias del Mar y Limnología at the Universidad Nacional Autónoma de México (UNAM). She studies organisms at the seafloor to understand nutrients traveling through the environement. Her story involved her first trip in a deep-sea submersible and the unexpected events waiting for her in the deep sea.
In the days preparing for the 8-hour dive to the sea-floor, reviewing science plans, planning meals and bathroom breaks, a nervousness was lingering for Escobar. Once inside the submersible with two French pilots, the calm of the ocean came over the crew on their way down to 2,500m. Rested on the sea floor, Escobar was ready to get to work, but the French had priorities. Lunch. From the sub's compartments comes salad, soups, cheeses, chocolates and a main course filet, all complete with a bottle of French wine. Research resumed after the meal and once back on the ships deck, Elva is greeted with an ice bath, to celebrate her first submersible dive.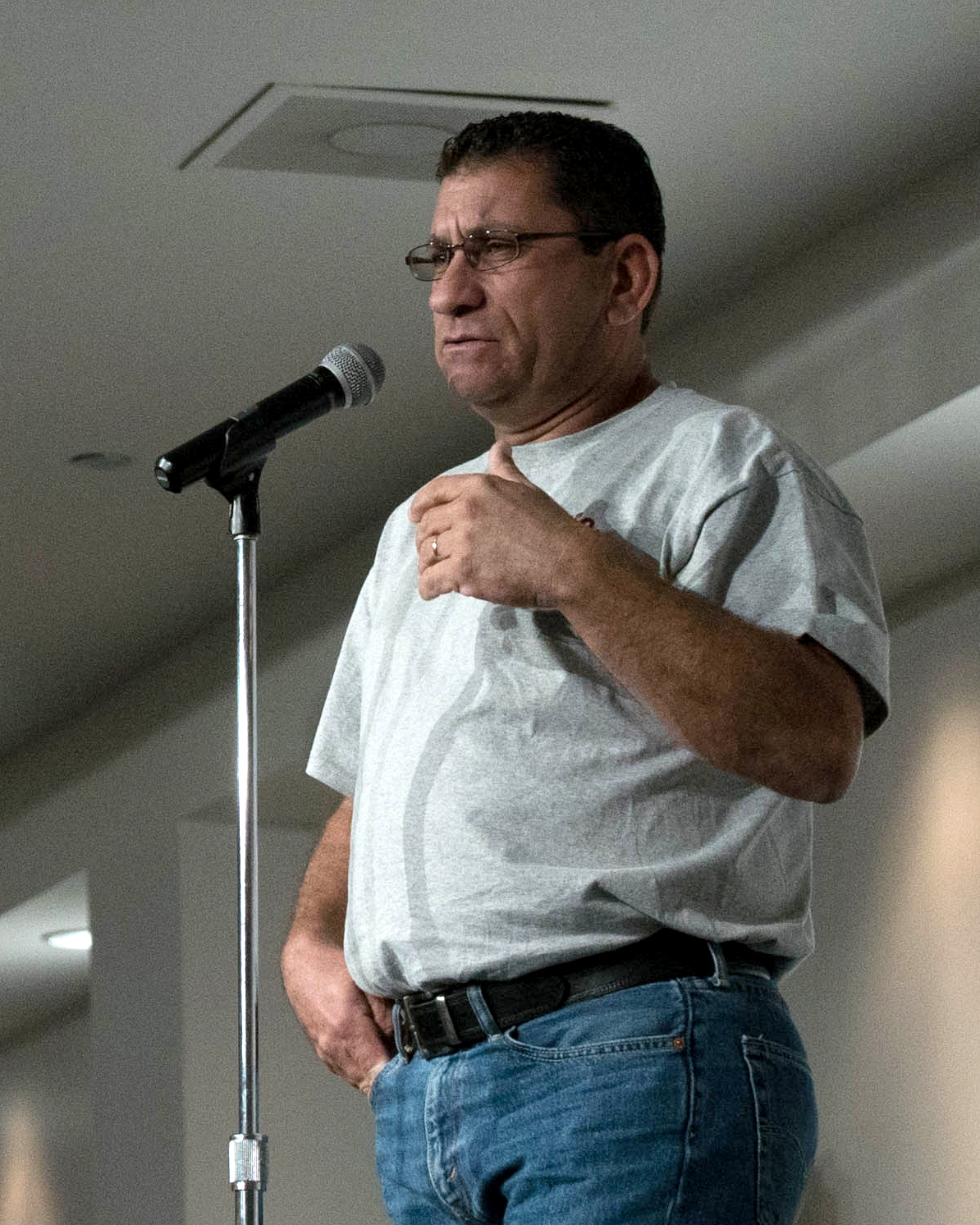 Robert Campo is a 4th generation Louisiana fisherman. For 117 years, the Campo family has known nothing but fishing. Campo was patrolling his oyster beds on April 20th, while the afternoon was like any other one before, 50 bags of oysters to call it a day. When back at the dock, he gets a call from a New York area code.
On the other line is Anne Thompson (NBC Nightly News), asking about the impacts of the spill on the family business, the rig exploding. "Woah, slow down!" Campo says. The Deepwater Horizon news broke to him over the phone and he immediately began thinking how the winds would impact his oyster beds. In the following weeks, fish kills washed ashore for miles along the Gulf coast. Campo's beds still have not recovered from the spill, he's moved into shrimping since and continues to fish in Gulf waters because it is his home, and he knows nothing else.
Path towards Recovery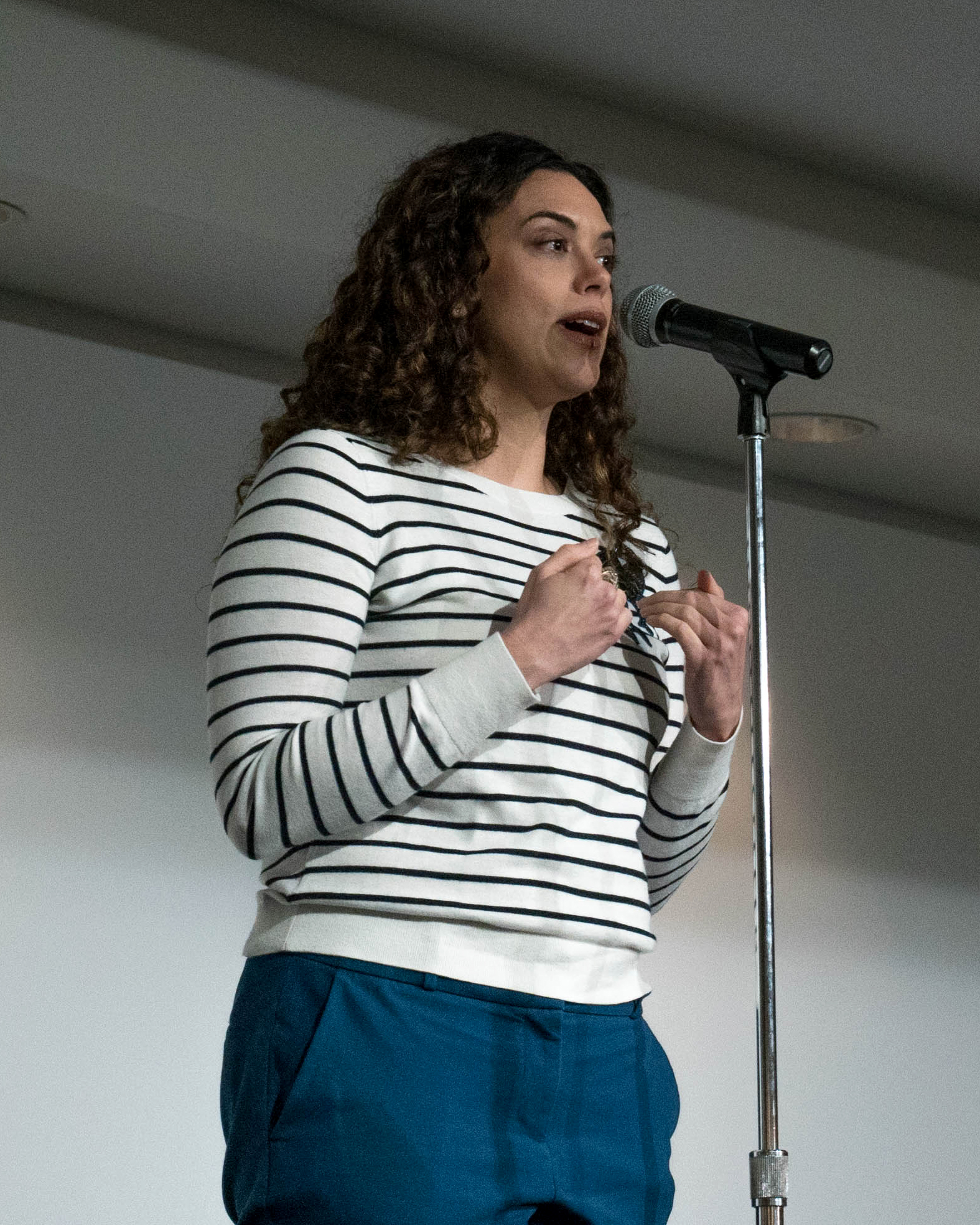 Estelle Robichaux is a Restoration Project Analyst at the Environmental Defense Fund. Her memory of hearing about the spill came when she was finishing a semester in graduate school, and preparing to travel to Europe. Her busy travel schedule didn't allow for her to catch up on the daily events in April and May, 2010, but her curiosity and concern for the Gulf's health caught up to her. With a loved one ill, and oil in the Gulf, Robichaux saw the people and places she loved change from what she knew.
While working at the Environmental Defense Fund years later, the BP settlement money came through to pay for large-scale restorations to the marshes. The empowerment Robichaux felt after the settlement give her hope for the recovery of the Gulf.
The Gulf of Mexico Research Initiative has provided a path towards recovery from oil spill. Not just Deepwater Horizon;  future spills too. The research produced by GoMRI centers provides recover and restoration agencies a better tools and resources to better understand Gulf dynamics and impacts.
---
---
Story Collider at Gulf of Mexico Oil Spill and Ecosystem Science Conference, Tampa, FL February 2016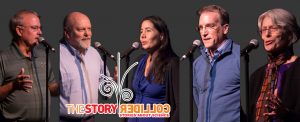 The Gulf of Mexico Oil Spill & Ecosystem Science Conference condensed four February days with nearly 500 scientific presentations and posters (C-IMAGE hosting 70 of these, and co-chairing eight of 18 sessions), making a busy week for all involved. The C-IMAGE Story Collider allowed the public to hear our researchers speak, but in a personal tone, connecting their own motivations with the work they do.
Hosted by Ari Daniel Shapiro and Erin Baker, the Story Collider featured five personal tales: four researchers from the University of South Florida-College of Marine Science, and one editor for the Tampa Bay Times. Each story was focused around the Deepwater Horizon oil spill. Which parts of their childhoods lead to their wonder of science? How has the 2010 oil spill affected their perspectives on the Gulf?
Jim Verhulst, Perspectives Editor, Tampa Bay Times
Beginning with Jim's wonder and awe of space, strapped into his makeshift cockpit of a lawn chair and a seat belt, going through his imaginary liftoff in his Illinois backyard, science gives Jim a way to ask and learn about the natural world. While taking a scientific track in college, he found that his ability to explain science to others gave him a unique advantage over his classmates. He changed his academic focus from science to journalism but still kept his inclination towards science.
For the 5th anniversary of Deepwater Horizon, Jim and his staff produced a two-page Perspectives piece breaking down five years of GoMRI & C-IMAGE research into a dynamic 4-page spread. 'The Dirty Blizzard' used to describe flocculated materials sinking to the sea floor, improving the public's understanding of how oil, clays, and algae sink to the sea floor.
Dr. Kendra Daly, Professor, University of South Florida-College of Marine Science, C-IMAGE Co-PI
Kendra studies the basis of the marine food web: phytoplankton and zooplankton. Understanding these foundations of the food chain led to discovery of a MOSSFA, or 'Dirty Blizzard' following an oil spill. Kendra has spent years of her life at sea including relief efforts during the Ixtoc I spill. Her experiences in the southern Gulf of Mexico and Ixtoc I brings back memories of constant oil fumes and headaches, heat from the burning oil slicks, and soot in the air.
Thirty years after the Ixtoc-1 spill, Kendra begins researching the base of the food web in the Gulf in oil impacted areas by planning several research expeditions into the northern Gulf. Her research has opened up a new discovery of oil attaching to sinking plankton on its way to the sea floor.
Dr. Ernst Peebles, Professor, University of South Florida-College of Marine Science, C-IMAGE Co-PI
From his childhood in Louisiana, miles from oil refineries and memories of his teen-age brother coming home from oil-field work with his teeth black from oil, Ernst draws a personal motivation towards studying oil spills as reprisal for the industries destruction of his home environment.
Dr. Steven Murawski, Professor, University of South Florida-College of Marine Science, C-IMAGE Director
The audience learns how this mid-western boy grew up with a love of fish.  Steve takes us on his journey that begins with carving out fish in a frozen lake in Kansas as a child to his role as one of the top science advisors during the Deepwater Horizon spill.
Isabel Romero, Researcher, University of South Florida-College of Marine Science
Isabel's perspective on the impact of oil spills on communities and the environment is initially through the eyes of a six year old in conflict-laden Colombia.  As a child, she remembers seeing images of spilled oil flashing on the TV and vows to one day be part of the solution.