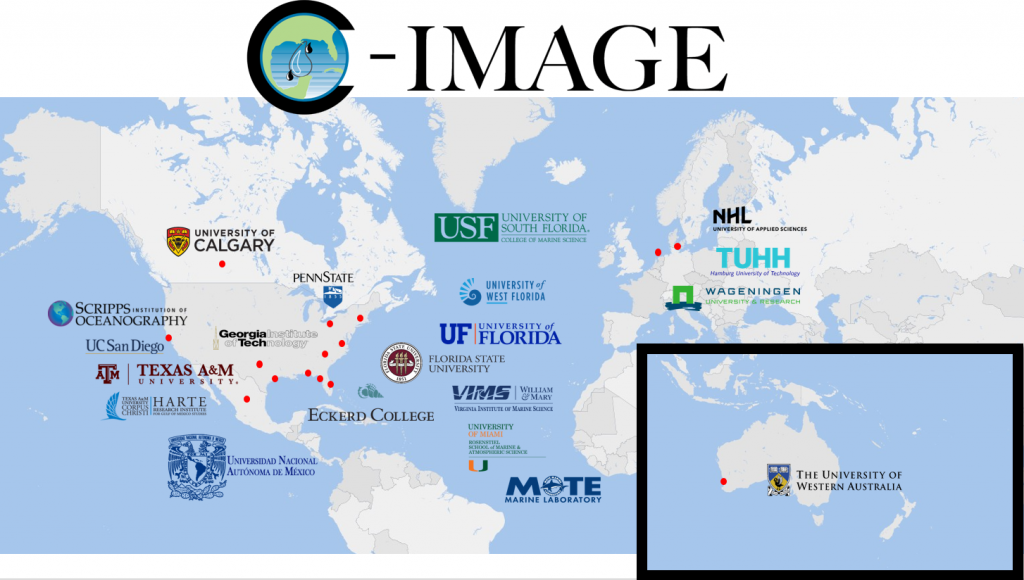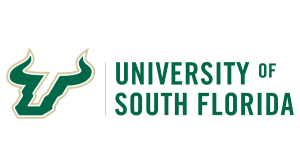 The University of South Florida serves as the host institution for C-IMAGE under the direction of Dr. Steven Murawski, Sherryl Gilbert and Chief Science Officer Dr. David Hollander. In addition, eight co-principal investigators within USF's College of Marine Science contribute to the team: Cameron Ainsworth (Ecosystem Modeling), Todd Chavez (Data Management), Kendra Daly (Plankton impacts), Teresa Greely and Liesl Hotaling (Education and Outreach), Chuanmin Hu (Optical Oceanography/Impacts), John Paul (Microbial communities), and Ernst Peebles (Fishery Ecology).
The College of Marine Science is located in St. Petersburg, FL. The USF's main Campus and data management team is located Tampa, FL.
---

Dr. Gregg Brooks is a professor of Marine Science/Geosciences and Dr. David Hastings is a professor of Marine Science/Chemistry  at Eckerd College. They are conducting trace-metal analysis of sediments in the Galbraith Marine Science Labs. Eckerd researchers and students study sedimentary oil deposition (Task 3).
---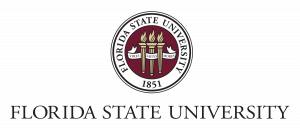 Dr. Jeff Chanton is an expert in radiocarbon analyses and will conduct 14C studies of Ixtoc-I oil and trace the origin of historical carbon flux from multiple sources to the sea bottom. Chanton's work focuses in sedimentary oil deposition (Task 3) and his other research follows the focus of either methane and carbon dioxide production, emission and cycling, and/or stable isotope analysis in several areas including wetlands and permafrost decomposition, trophic relationships in estuaries, designing landfill cover soils which promote the growth of methane-consuming bacteria, methane gas hydrates, pine forests, and groundwater discharge.
---

Dr. Joel Kostka is is a microbial geneticist who studies impacts of oil spills on microbial evolution. He will analyze Ixtoc-I cores for metagenomics and variability down-core and spatially. Kostka and his students will work primarily in sedimentary oil deposition (Task 3), but his labs interests cover arctic biogeochemistry, bioremediation, bioenergy, permeable sediments, salt-marsh nutrient cycling, and peat land carbon cycling.
---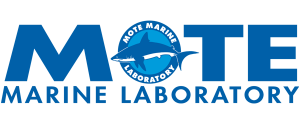 Dr. Dana Wetzel is a marine toxicologist who studies sublethal impacts of organic pollutants on marine species. Her expertise extends to marine mammals in the Arctic and impacts on marine and coastal fishes in the GoM, and elsewhere. Dr. Kevan Main is the manager and operator of the 200-acre field station marine and freshwater aquaculture park at Mote.
---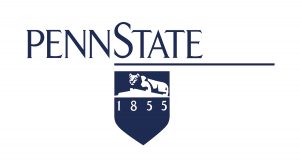 Drs. Kate Freeman and Sara Lincoln bring the capability of a full genomic, molecular organic geochemistry and stable isotope analysis of natural materials from waters, soils and sediments. Analyses of lipids and their C- and H-isotopic signatures, from microbial biomass and petroleum constituents are used to evaluate cycling of life-sustaining elements by microorganisms and the origin of petroleum and its degradation products.
---

Over the past decade, Drs. John Hildebrand and Kaitlin Frasier from Scripps Institute of Oceanography (SIO) have developed the capability to study marine mammal populations using passive acoustic monitoring. The High-frequency Acoustic Recording Package (HARP) has exceptional bandwidth and recording capacity to allow study of the full range of marine mammal species over extended deployment periods. During the DWH oil spill, five HARPS were deployed in the GOM and documented the presence of marine mammal near the DWH wellhead.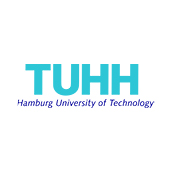 Drs.  Michael Schlüter, Andreas Liese, Dieter Krause, Rudolf Müller and Paul Bubenheim  are a part of the research center "Energy and Environment" in the Institute of Product Development and Mechanical Engineering Design and the Institute of Multiphase Flows at the Hamburg University of Technology (TUHH). This research team is at the cutting edge of experimental apparatus development for investigation of oil plume seawater interaction in the deep-sea environment (Task 2).
The pressure laboratory DL2 can reproduce the major environmental parameters of the deep-sea, forming either a segment of the sediment–water interface or of the water column inside an experimental volume of 100L. Natural samples (fluids, suspensions, biota, sediment cores) can be transferred from transfer units into the pressurized lab space. The system is mobile to operate on- and offshore. A suite of interfaces enables the scientists to monitor, manipulate, control and sample the objects of investigation and the environment inside the laboratory in real time by incorporation of latest laser technology for quantification of arising hydrodynamic and chemical processes. Scope of the studies at TUHH also includes the aspects of biodegradation under pressure.
---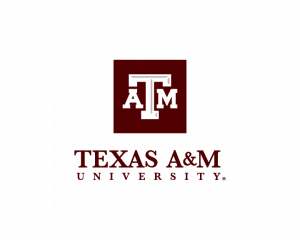 Dr. Scott Socolofsky is an expert in modeling the near-field plume of an accidental subsea oil release. Experiments will be conducted in the PI's laboratory to validate designed models in near-field oil distribution. Near-field dispersion refers to a mixture of oil and gas hydrates soon after exiting the well. As the near-field plume ascends in the water column, gasses dissolve and oil droplets remain (Far-field modeling).
---

Dr. Paul Montagna researches the influence of benthic organisms on marine and coastal environments and leads our benthic ecology research initiatives. Dr. David Portnoy is an associate professor at TAMU-CC and looks at the genetics of exploited marine fishes and examines the genomic connectivity between populations around the Gulf. Former HARTE co-PIs of the project include Dr. Wes Tunnell (in memoriam) who was a marine ecologist and an expert in implications of coastal oil spills on coastal ecosystems. In 1979-80 he tracked the evolution of the Ixtoc 1 spill and subsequently spent much of his research career studying its impacts on coastal ecosystems in Mexico and the USA. Dr. John Gold is a genomics researcher at TAMU-CC studying genomic variations in fish after oil spills. Dr. Greg Stunz researches population studies pertaining to oil impacts on fish. Dr. David Yaskowitz is an ecosystem modeler whose research focuses on ecosystem services instrumental in determining the Gulf of Mexico's productive value.
---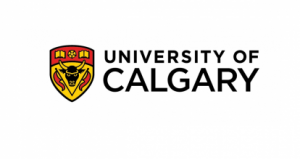 Drs. Steve Larter, Thomas Oldenburg and Jagoš R. Radović (Petroleum Reservoir Group) are a leading team in deep subsurface petroleum biodegradation research and have conducted successful petroleum geochemistry research for many decades. Analytical facilities are equipped for the analysis of bulk and trace, natural and pollutant organic constituents in sediments, oils, bitumens and rocks.
---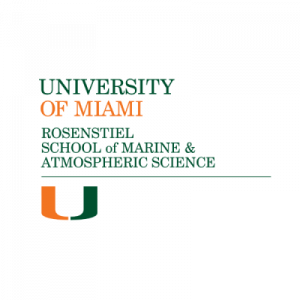 Dr. Claire Paris is Director of the Physical-Biological Interactions Lab and is an expert in integration of hydrodynamic and oil fate modeling, used to simulate oil plume behavior during the DWH oil spill. The oil fate model is an application of the Connectivity Modeling System, a framework that couples offline biological and chemical processes to the 3D output of circulation models and to benthic and coastal habitats, with a long track record of quantifying water-column physical-biological interactions related to larval fate and transport.
---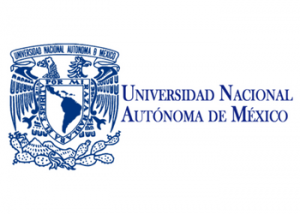 The Universidad Nacional Autónoma de México (UNAM) is instrumental in our research of the Ixtoc 1 blowout. UNAM provides C-IMAGE with decades of experience in oil impacts on invertebrates, and core geochronology, and vessel support with the R/V Justo Sierra, a 164-ft research vessel. Dr. Adolfo Gracia has been studying SWGoM shrimp fisheries and impacts of environmental contamination for over 30 years and is a member of the Mexican Academy of Sciences. Dra. Elva Escobar-Briones has expertise in infaunal benthic communities and the nutrient cycling and ecosystem services they provide to the Gulf ecosystem. Dra. María Luisa Machain Castillo studies micropalentology and paleooceanography focusing on understanding climate change history through evidence of marine seidments. Dra. Ana Carolina Ruiz Fernández studies isotope geochemisty and isotopes in heavy metals and nutrients. Dr. Joan Albert Sánchez Cabeza is a UNAM researcher studying global climate change, and environmental geochemistry and geotracers.
---

Dr. Will Patterson's research focuses on population ecology, population structure, and habitat requirements of marine and estuarine-dependent fishes. A recent research theme has been an examination of reef fish community and trophic structure at natural and artificial reefs in the northern GOM, with a goal of elucidating how these habitats differ in respect to their ecological versus fishery function. Patterson has worked extensively on the effects of shrimp trawling on fish and invertebrate communities on the northern GOM continental shelf.
---

Dr. Wade Jeffrey studies marine microbial ecology including analysis of microbial growth rates, production, microzooplankton analysis, and molecular analysis of microbial community structure and function. BP-FIO funded research (Jeffrey) is examining microbial response to oil and dispersants including effects on growth, production and the balance between bacteria and phytoplankton, as well as microbial degradation rates for petroleum constituents.
---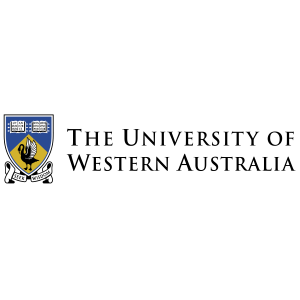 Dr. Zach Aman with the University of Western Australia studies the interactions multi phase systems with a focus on oil and gas flow assurance in near- and far-field modeling (Task 1). This research is critical in understanding the transition to a oil-gas plume into a oil droplet dispersion cloud.
---

Dr. Richard Snyder, Director of the Virginia Institute of Marine Science-Eastern Shore Laboratory, studies microbial ecology particularly eukaryotic microbes, from basic explorations of microbial diversity to applied aspects related to biofilm formation, water quality, disease, and response to pollutants. Dr. Snyder's expertise will incorporate hydrocarbon and dispersant impacts on the microbial community in the Ecotoxicology task.
---

Dr. Albertinka Murk is an ecotoxicologist working on the factors involved in the formation of oil and mineral aggregates and polysaccharide matrices as a result of oil and dispersant mixtures.

Dr. Edwin Foekema is the project manager, and focuses on ecotoxicological experiments using mesocosms to study the impacts on contaminants in the field.
---

Dr. Chris Reddy is an oil chemist with considerable experience in understanding the breakdown and resistance of oil compounds after spills.

---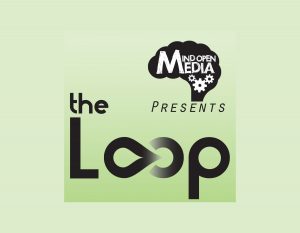 Dr. Ari Daniel Shapiro and David Levin are science journalists and producers. They have developed our podcast series describing the work of C-IMAGE. Dr. Shapiro received his PhD in biological oceanography in 2008 from MIT and the Woods Hole Oceanographic Institution before becoming an independent radio and multimedia producer. David Levin is a freelance science and technology journalist based in Boston. His current clients include C-IMAGE, Tufts University, Harvard School of Public Health, Woods Hole Oceanographic Institution (WHOI), Pellet Productions, and Humongous Media, among others. To listen to or download our podcasts, click here.
---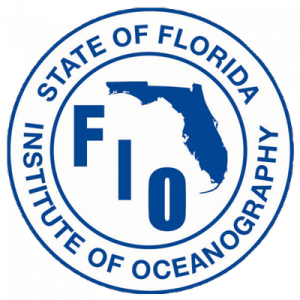 Dr. Nancy Thompson is acting Deputy Director of FIO and an expert in protected resource assessment and ecology. FIO is also responsible for coordinating ship time for the C-IMAGE project. FIO operates two vessels that are utilized by C-IMAGE institutions, the R/V Weatherbird II and R/V Bellows.
The R/V Weatherbird II, a 115-foot, 194-ton vessel, is the flagship of the FIO fleet and was critical in the initial research surveys immediately after the Deepwater Horizon. C-IMAGE employs the Weatherbird in our annual Mud & Blood Expeditions collecting fish toxicology samples and oil-affected sediment cores.The R/V Bellows, a 71-foot vessel, has been used by scientists and students for more than three decades to study Florida's estuaries and coastlines. It is considered a floating laboratory, and has 10 berths for scientists.
---