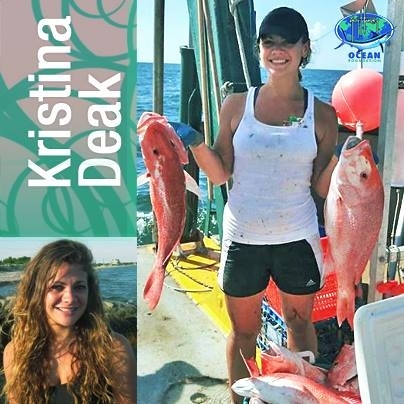 Kristina Deak, Guy Harvey Scholar
Florida SeaGrant has implemented a "Friday Interview Series" with the 2014 Guy Harvey Scholars.  What are the marine scientists of tomorrow doing?  See the full interview with our very own Kristina Deak from the University of South Florida and Mote Marine Laboratory.  
Who will be the marine scientists of tomorrow? 

It's Friday and that means it's time for another interview with one of our amazing 2014 Guy Harvey Scholars!

Meet Kristina Deak. She's a master's student at USF and is studying how the Deepwater Horizon oil spill affected the immune system of fish.
Q. Can you tell us a little bit about your research? 
A. I study how the oil spill affected the immune system of fish, particularly red snapper and golden tilefish. My primary focus is on cytokines, which are key regulators of the inflammatory response. 
Q. Is there a particular event or memory that made you interested in the ocean?
A. I read "Shark Lady," a book about Eugenie Clark, when I was a kid and became absolutely obsessed with sharks and other fishes. It still boggles my mind when I walk past her door at the lab now – she was the woman who built Mote and the reason we all get to do what we do there.
Q. What do you do in your free time? 
A. Between being a full time chemist at Mote and a full time graduate student at USF, I don't have a great deal of free time. When I do, I like to explore our beautiful state, scuba dive, run, and visit all of the local parks and trails. 
Q. What are your career plans?
A. I currently handle the Biomarker portion of the Environmental Forensics Lab at Mote Marine Laboratory. It's a great place to work and has reaffirmed my interest in being a research scientist and applying biochemistry to environmental problems.