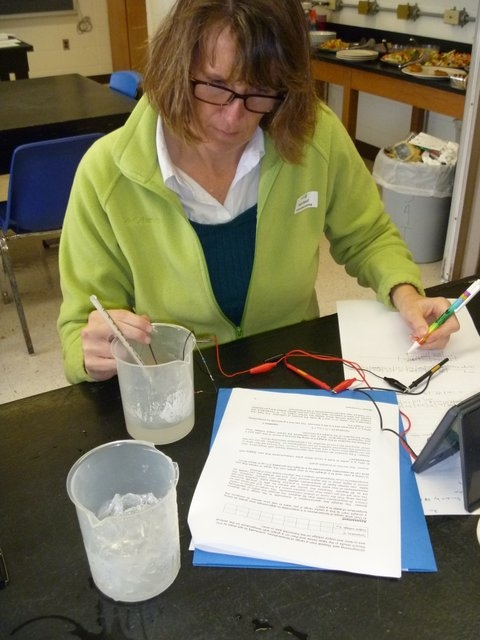 Sensors are everywhere. From smart phones, automobiles and appliances, sensors are integrated into objects we use every day. Sensors are also vital to studying the environment. Sensor based environmental research projects offer a highly engaging, interdisciplinary approach to teaching students a multitude of science, technology, engineering, and math (STEM) skills.
SENSE IT brings real world environmental sensor networks into the high school classroom. During the workshop, teachers learned how to construct and calibrate sensors using multimeters, thermistors, and other electrical materials. They also received supplies and instructions for building sensors with their students back in their classrooms where they will be challenged to design, build, deploy and interpret data from their own environmental sensors.
The sensor construction lessons incorporate a variety of disciplines, including science, engineering, math, and computer programming, and give students real-world exposure to the scientific process. Once teachers and students have gone through the initial water temperature sensor exercises, additional lesson plans are available through the SENSE IT website on how to make other types of environmental sensors.
For more information about SENSE IT and upcoming SENSE IT workshops, visit http://senseit.org/ or email Liesl Hotaling.
Past SENSE IT Workshops:
February 1, 2014: USF Clam Bayou Marine Education Center, St. Petersburg, FL
September 14, 2013: USF Clam Bayou Marine Education Center, St. Petersburg, FL
March 16, 2013: Canterbury School, St. Petersburg, FL
March 14, 2013: Florida Atlantic University's Harbor Branch Oceanographic Institute, Ft. Pierce, FL