Me (far left) and my fellow COMIT students (from left, Catalina Rubiano, Bea Combs, Steven Paul, and Rosemary Burkhalter-Castro), plus CMS research staff member, Heather Broadbent, PhD (far right). Photo credit: Sarah Grasty
Written by: Catherine Dietrick; Doctoral student with Dr. David Naar at the University of South Florida College of Marine Science and COMIT studying best methods and practices for nearshore surveys
On "trac" to learn:
As a student with COMIT, I have the opportunity to be a part of many operations put on by the team. Our group is made up of faculty, staff, students, and everyone we partner with from industry to government and even nonprofits. I especially appreciate being a part of the COMIT group because as students, we're involved from start to finish during projects like the Tampa Bay Nested Survey which started in mid-December. It is an experience which graduate level students aren't always afforded. This following blog is about my experience during our survey in December 2021 using an uncrewed surface vessel to map shallow regions of the Tampa Bay area in partnership with a group called SeaTrac.
This is the first nearshore mapping initiative done by COMIT in a nested format, and it is exciting as a student to be a part of such an endeavor. A nested survey mapping model uses many different sensor platforms to map a given area. The idea is that by using a combination of techniques and a suite of technology, a better, more informed map exists by the end of the data seaming.
Surveying for informative coastal maps is of high importance in the State of Florida, and really any region facing challenges of coastal resiliency. Knowing how these surveys will help aid in studies regarding emergency management, habitat protection, sea level rise, navigation, coastal construction, and other circuits of interest make it easy to come ready to go each day we are surveying.
As I am writing this blog, we have completed about two weeks of surveying for this project with SeaTrac and I have a fairly good understanding of the process. Day one for my part in the survey began in our computer lab at the College of Marine Science – this lab is what we call "Shore Support" and the group of people and computers act as a main hub for data. At this hub, members of the COMIT team monitor the data coming in from the field off the USV (Uncrewed Surface Vessel). We use a few different software programs to store the sonar data, plan lines where we want to collect data, and monitor the USV. These same programs are used to communicate with the USV out on the water to plot lines of where the vessel will survey. This is exactly what makes the vessel autonomous as it can follow given lines of coordinates to track and map the seafloor beneath it. SeaTrac's vessel is equipped with cameras providing a 360-degree view of the above surface surroundings for the vessel, a NORBIT lightweight multibeam sonar, and GPS.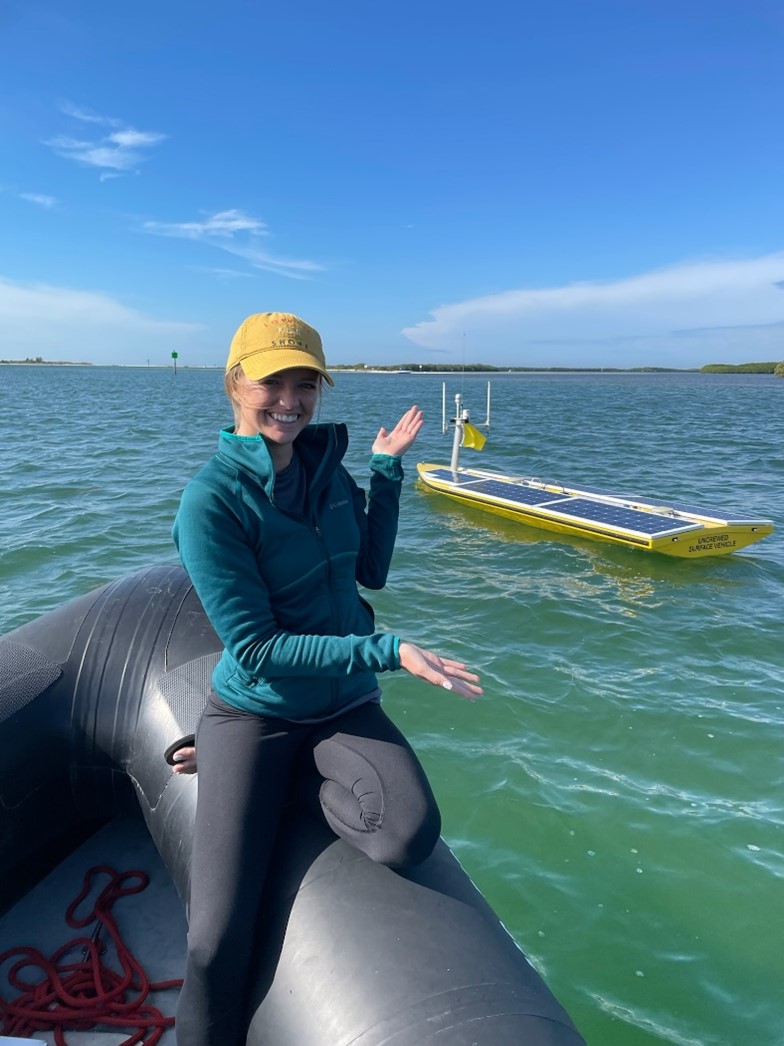 Blue Skies! This was taken during an enthusiastic morning helping the field support crew out on the RIB and seeing SeaTrac's Uncrewed Surface Vessel in action on a sunny day. Yes! Those are solar panels! The COMIT crew and SeaTrac aim to explore low carbon solution surveying, which is an accountable move when we are looking to preserve our environment and backyard. Photo credit: Steve Murawski
The boat is in constant communication with the software to follow the track, but working in the channels pose some challenges – perhaps the most notable of which is that Tampa Bay is one of the busiest waterways in the country! To better monitor our operations, we have another small team on a rigid inflatable boat (RIB) near the USV at all times. As a student I was able to join the crew out on the RIB and I learned about the surveying from field side and what it takes to operate a smooth mission. If there is one take-away I could provide, it is that communication is key. There are constant calls, emails, and check-ins with the field team and the shore team. Beyond informing the shore support team with navigation information; the field team also provides the shore support team with data such as a sound velocity profiles of the surveyed water column every so often. These data are imperative to collecting good soundings from the sonar in the area of interest.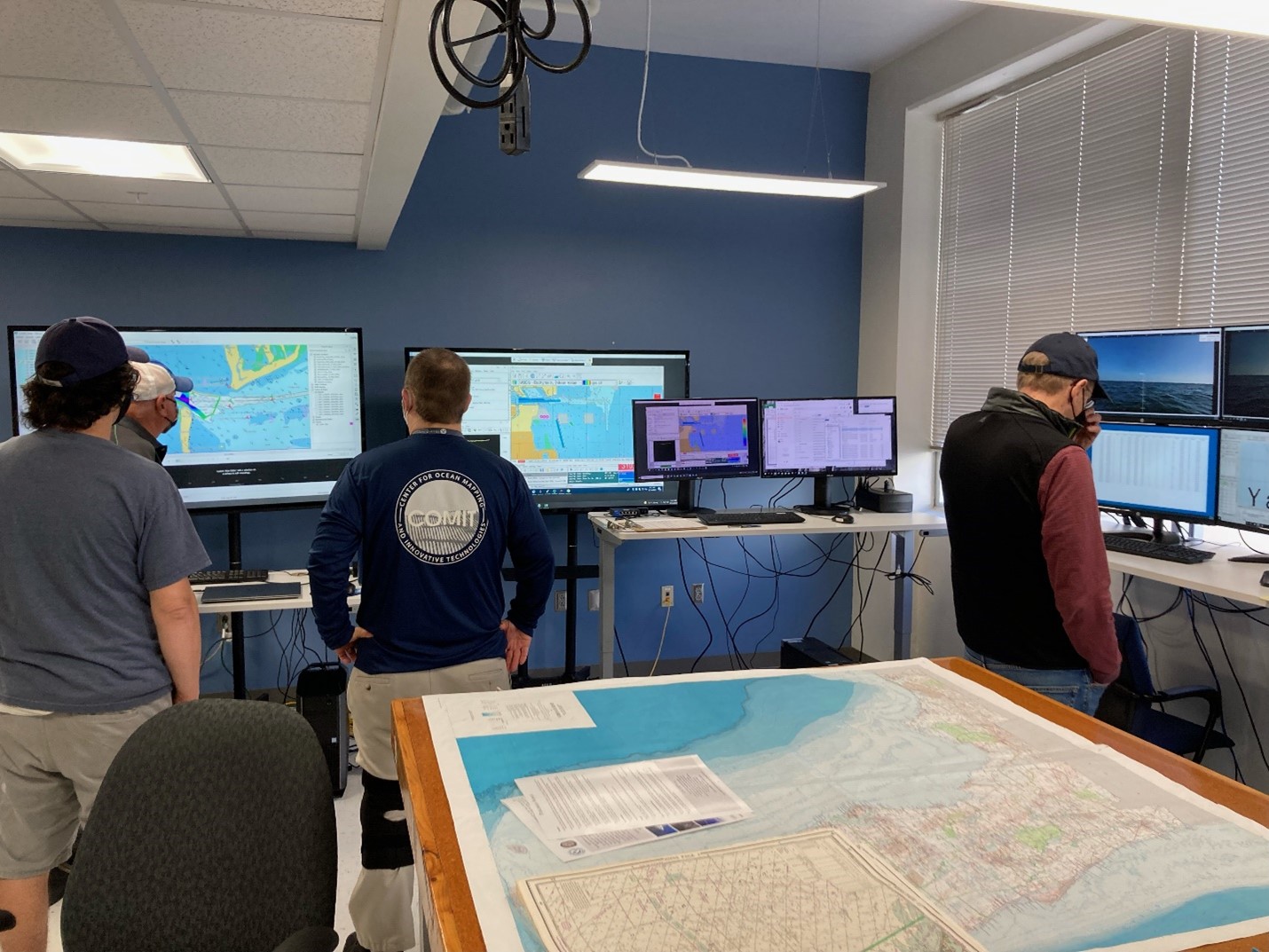 Command central where we control the multibeam sonar and USV. Photo credit: Garrett Miller
If you live in a coastal region or have any interest in learning more about how maps help a variety of people make informed decisions, COMIT is a great place start! As a student I have learned so much in the past two weeks with our most recent survey thanks to our team. I truly cannot be more grateful for this opportunity, so if you're reading this – thank you! The dedication and passion shown is inspiring. Our team has provided not only the students but the community with a lot of knowledge as well from formal press conferences at our College of Marine Science to on the fly, boat zoom interviews from some of our research professors and faculty. Beyond communication with the media, I think my favorite group of "learners" have been the fishermen, tourists, and other neighbors partaking in leisure activities out on the water who come by and ask what the "yellow vessel" is doing on its own out on the water. As the team informs them, they usually say something along the lines of "that's awesome!" – because it really is incredible, and it is just the beginning. These little moments are proof to me that people do care a lot about their backyard, and I am glad to be a part of a team dedicated to helping preserve it.
Check back for more updates from other COMIT students!