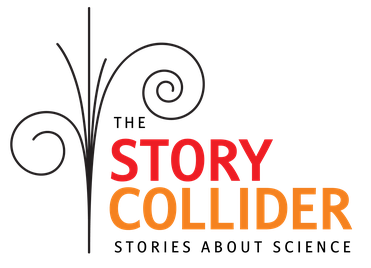 StoryCollider at the Fall 2019 AGU Meeting
During the Fall 2019 AGU meeting, C-IMAGE and Mind Open Media teamed up again with StoryCollider to host an evening of sharing and storytelling at the Table Top Tap House just across the street from the Moscone Center. Every day, scientists get up and go to work; what motivates them, and why? Where does that necessary drive to question and investigate come from? C-IMAGE PhD student and GoMRI Scholar, Simeon Pesch, and ECOGIG Director, Samantha (Mandy) Joye, joined scientists Jessica Moreman, Laura Guertin, and Paula Buchanan and shared their personal experiences at the 2019 American Geophysical Union's (AGU) Fall Meeting Story Collider event.
---
Simeon Pesch is a process engineer at Hamburg University of Technology in Germany. As a part of an interdisciplinary research group, he works on the investigation of physical processes during deep-sea oil spills. For his PhD he focuses on experiments in large-scale facilities and under high pressure. When not in the lab he spends much time outdoors or at the university's brewery plant.
Samantha Joye is a microbiologist, an educator, a deep ocean explorer, and a vocal ocean and environmental advocate. Samantha is a Regents' Professor and also holds the Athletic Association Professorship in Arts and Sciences at the University of Georgia; she is a Professor in the Department of Marine Sciences. After her first submersible dive to the Gulf of Mexico seabed in 1994, she was hooked on deep ocean exploration; she has been studying the microbiology of natural seepage of oil and gas in the Gulf of Mexico since then.
You can see the full story here and listen to each of their stories above.