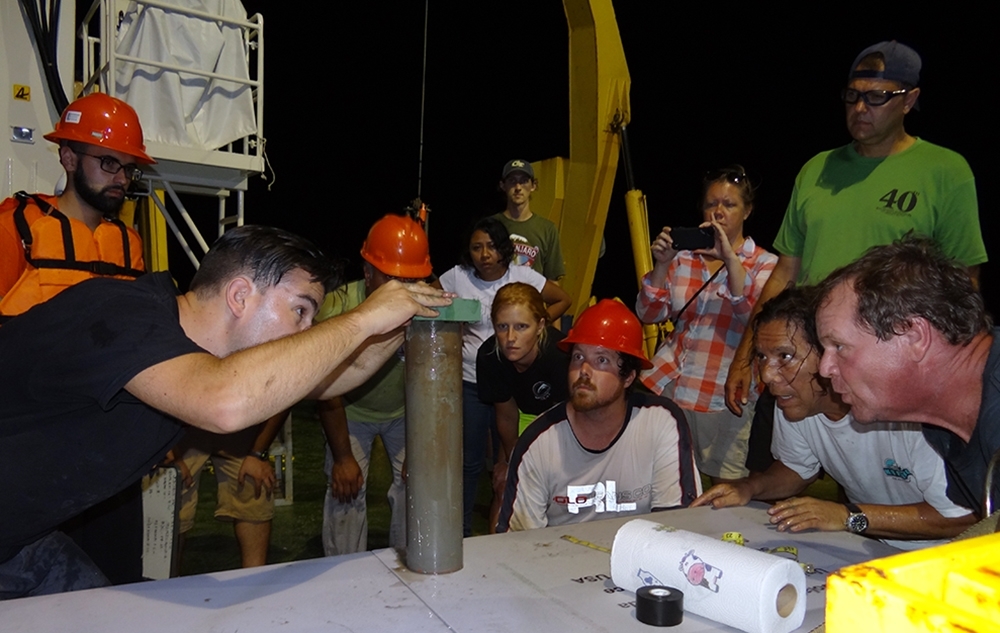 The Quest for IXTOC Oil – 35 years Later
Tuxpan, MX
It's well after midnight aboard the Mexican research vessel Justo Sierra, but an international team of scientists are busy securing marine water and mud samples brought aboard the ship off the coast of Campeche.
Digging 35 years into the past, marine researchers are looking to compare environmental impacts of the IXTOC-I oil blowout (1979-1980) with those from the more recent Deepwater Horizon (2010). Scientists will compare these spills by collecting water and sea floor sediment ("Mud") samples during a two-week research cruise to the southern Gulf of Mexico aboard the Justo Sierra, owned and operated by the Universidad Nacional Autónoma de México (UNAM).
"Return to Ixtoc" is a fitting title for the research cruise of the international team of scientists from the Center for Integrated Modeling and Analysis of Gulf Ecosystems (C-IMAGE), supported by the Gulf of Mexico Research Initiative (GoMRI) and UNAM. This is the first synoptic research cruise to the affected region in over three decades. Research findings from the cruise can help predict the future of the Gulf post-Deepwater Horizon by studying the chemical and biological consequences of what happened to oil that reached the sea bottom in the past.
The cruise departed Tuxpan (near Veracruz), Mexico on Thursday, 30 July 2015 with graduate students, post-docs, research technicians, and professors from the University of Calgary, UNAM, Georgia Tech, Penn State University, Florida State University, University of South Florida-College of Marine Science and Eckerd College.
Over the next 14 days, around-the-clock sampling of the biology, chemistry and geology of ocean sediments, including microbial communities and burrowing animals, and seawater provides a holistic approach to understanding the fate and effects of marine oil spills.
Not only does this cruise benchmark a 35-year hiatus of IXTOC research, it also symbolizes a renewed partnership between the U.S. and Mexican universities, in sharing expertise and interests in the dynamics of our shared ocean – the Gulf of Mexico.
"Bringing UNAM's knowledge, expertise, and perspectives to the C-IMAGE consortium benefits not only our students and researchers, but the overall understanding of how human impacts affect our valuable shared seas," said Dr. Elva Escobar, Director of the UNAM-Instituto de Ciencias del Mar y Limnologia (Institute of Marine Science and Limnology). "Studying the IXTOC oil spill in comparison to Deepwater Horizon allows us to better understand mechanisms that result in oil at the sea bottom, and to project what the Deepwater Horizon area will look like three decades from now."
While aboard the R/V Justo Sierra, marine geologists, biologists and chemists collect samples from the ocean floor and take measurements to see just how 35 years changes oil toxicity. Research topics include studying oil-degrading bacteria, organic chemistry of oil contaminants, microscopic shelled animals called "forams", radio and stable carbon isotopes, and macrofauna such as burrowing worms.
"IXTOC poses an array of questions for researchers," said Dr. David Hollander, Chief Scientist overseeing IXTOC cruise and Chief Science Officer of C-IMAGE.
"The diverse approach from each of our colleagues allows us to examine oil spills from many different perspectives. Ultimately, allowing us to be better understand the longer-term impacts of a release of large volumes of oil in the environment and to get a handle on the recovery rates of benthic ecosystems resulting from sub-surface marine oil well blowouts," said Hollander.
"This work at IXTOC will allow us to better predict, and hopefully, prevent some of the effects and unexpected consequences arising from any future marine oil well blowout."  Studies conducted onboard Justo Sierra are as diverse as the C-IMAGE consortium itself: nineteen research institutions in six countries.
The IXTOC expedition is the first of three major Gulf of Mexico research cruises setting sail this summer by C-IMAGE scientists. Known as "Mud & Blood", for sediment, mud and fish toxicology, C-IMAGE studies ecological impacts of oil on fish and sediments in the northern and now southern Gulf of Mexico.
C-IMAGE scientists and students aboard the Justo Sierra are sending pictures, blogging, and tweeting.  They are describing their experiences and reflecting on this incredible opportunity for building relationships and partnerships, something crucial for early career scientists.
For more information on C-IMAGE and their cruise schedule, visit the C-IMAGE Webpage, or follow C-IMAGE on Twitter or Facebook.