The 2015 C-IMAGE All Hands Meeting will be held just after the Gulf of Mexico Conference on Friday February 20, 2015 at the Westin Oaks Houston.  Please register to indicate your attendance. There will also be a hosted dinner that evening at 6:30pm across the street at Arcodoro.  We will post the agenda and other meeting details here when they become available.
---
Scroll down for information on previous All Hands Meetings.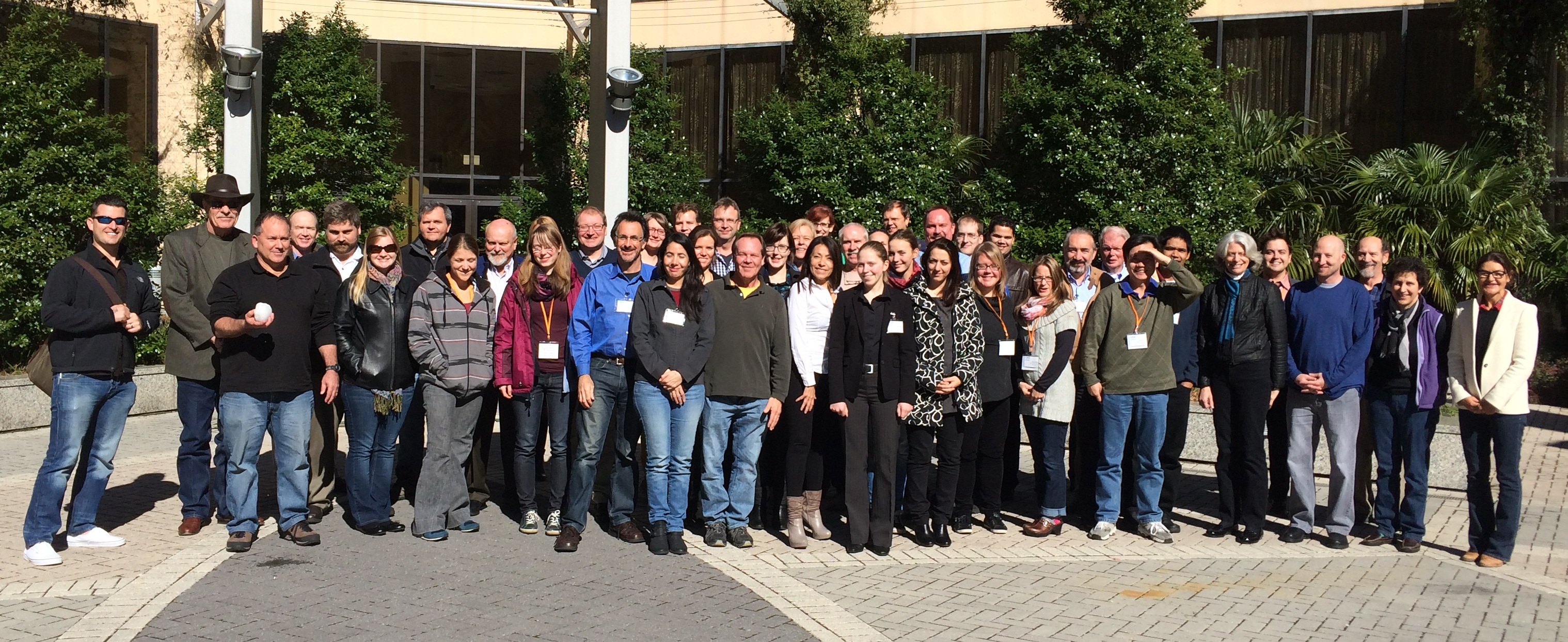 Thank you all for a great All Hands Meeting!  The cold temperatures and ice that descended on Mobile did not slow down the productivity.
---
Our 3rd Annual All Hands Meeting is scheduled for AFTER the Gulf of Mexico Oil Spill and Ecosystem Science Conference, Thursday afternoon (January 30th) and all day Friday (January 31st) in Mobile, AL.  The specific locations have not been decided on yet, but please check back here for details.
Draft agenda follows:
3rd All Hands Meeting January 30-31, 2014
The Battle House Renaissance Mobile Hotel and Spa
26 North Royal Street Mobile, AL 36602
Thursday January 30, 2014
Location: The Battle House Renaissance Mobile Hotel and Spa
1:00-1:30      Meeting Kick-Off, Opening Remarks: Steven Murawski
1:30-1:45      Introductions, Layout of Meeting Task Updates: 20 minutes each
1:45-2:05      Task 1 Update – Near and Far Field Plume Modeling: Claire Paris
2:05-2:25      Task 2 Update – High Pressure Experimental Research: Michael Schlüter
2:25-2:45      Task 3 Update – Surface Oil Dispersion, Degradation and Ecotoxicology, Indicators of Sedimentary Oil Deposition: David Hollander
2:45-3:05      Task 4 Update – Impacts on: Plankton, Benthic Ecosystem, Reef Fish and Marine Mammals: Steven Murawski
3:05-3:25      Break (coffee, tea)
3:25-3:45      Task 5 Update – Evaluate Toxicology: Dana Wetzel
3:45-4:05      Task 6 Update – Detailed and Spatially Resolved Ecosystem Modeling: Cam Ainsworth
4:05-4:30      Chill time
4:30              Meet in Lobby, Drive to The Estuarium for reception, Transportation Provided
101 Bienville Blvd Dauphin Island, AL
5:30-7:30      Dinner at the Estuarium
7:30              Return to Mobile
Friday January 31, 2014
Location: The Battle House Renaissance Mobile Hotel & Spa
8:00-8:30      Light Breakfast, coffee
8:30-8:50      Education and Outreach: Teresa Greely
8:50-9:10      Data Management: Todd Chavez
9:10-9:20      Charges for Breakout Groups (produce timelinefor your task for year 3, include publications in progress and planned)
9:20-10:30    Breakout Sessions
10:30-10:45  Break (coffee, tea)
10:45-11:45  Report out (10 minutes for each Task)
11:45-12:45  Lunch
12:45-1:30    Reconvene, Renewal Planning Letter Overview, Vision for C-IMAGE 2, Introduce New Concepts/Partners
1:30-3:00      Breakout Groups to outline and discuss Research Plan
3:00-3:15      Break
3:15-4:15      Task Leads Write 4-page Research Plan by Task
4:15-5:15      Present Work Plan (10 mins per task)
5:15-5:30      Closing remarks, Adjourn