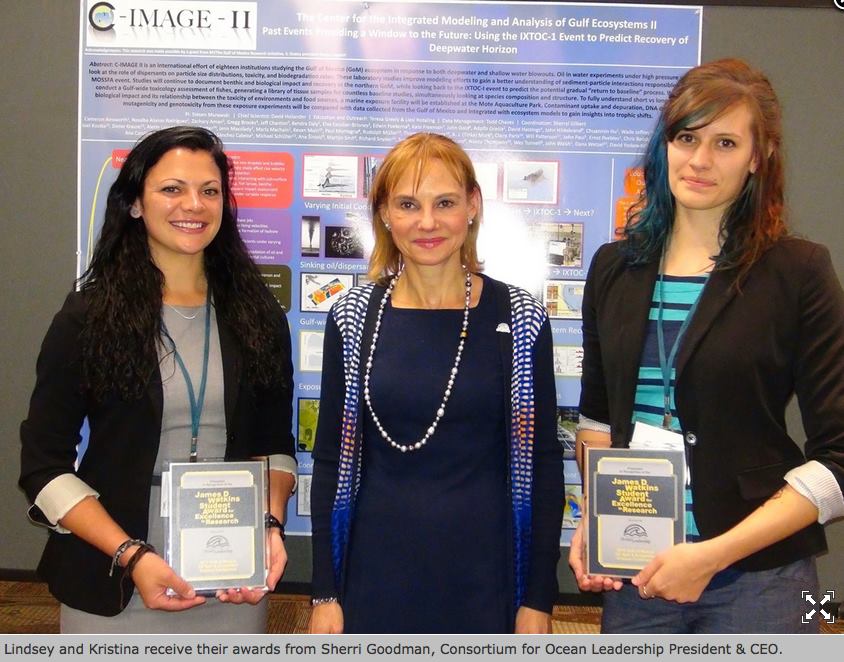 Lindsey Dornberger, Student of the Month, September 2016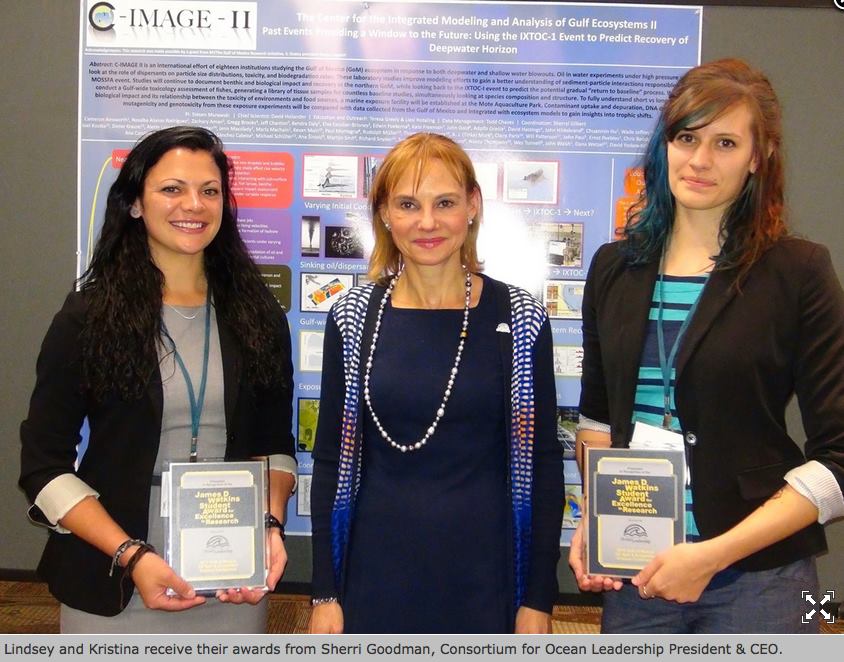 Lindsey is a PhD student at the College of Marine Science at the University of South Florida. She is a part of the Fisheries and Ecosystems Ecology Lab led by Dr. Cameron Ainsworth.
What path did you take to make it to where you are now? Bachelor's degree, internship experience, working experience?
I started my Bachelor of Science degree in Biology at the University of Texas at Arlington (UTA) with the intention of studying large land mammals. I'd always had a love for all things cute and fuzzy, and I thought I'd make a career out of it. While in school, I applied for and was selected as one of four biology scholars for the NSF Undergraduate Training in Theoretical Ecology Research (UTTER) program at UTA. This two year program combined biology and mathematics majors in ecological modeling coursework and research projects. Originally I was disappointed that none of the program mentors had a specialty in lion pride modeling, however I did not anticipate how enraptured I would become in epidemiological modeling. The creativity needed to make a mathematical equation that captured the dynamics of disease transmission among bees in a hive was the exciting challenge I didn't know I had been looking for.
Concurrently with my epidemiological modeling, I also became a research assistant in a coral immunology lab at UTA. I really enjoyed my work exploring dynamics in a marine system, but I wanted to combine this with my ecological modeling skills. After some literature searching, I discovered that fisheries modeling was a major component of marine research. Having never lived near an ocean, I was excited at the prospect of starting something new, and began applying to marine science programs. I ended up accepting a PhD position at the University of South Florida under Dr. Cameron Ainsworth, using Atlantis modeling to study the effect of the Deepwater Horizon oil spill on fisheries and the ecosystem as a whole.
What is your research focused on, how will your results contribute to improve understanding of oil spills? (What are your research questions?)
My research focus is taking the field and laboratory studies conducted on organisms in the Gulf relating to the Deepwater Horizon oil spill impacts, and implementing those impacts in our Atlantis ecosystem model. Scaling an organismal level response up to a population level, and then the synergistic ecosystem level, is a difficult task. So far, we've examined what impact one of the toxic components of oil, polycyclic aromatic hydrocarbons, have on fish growth, mortality, and recruitment. We've used both literature published oil studies and work coming out of the Gulf of Mexico to establish these relationships, and input them into our model. We are currently looking at another major portion of the food web, the invertebrates, and how the oil spill may have affected them. Once these relationships have all been established, we will run long term simulations to look at how the oil spill affects the ecosystem as a whole, what indirect effects could be possible, and what areas of the ecosystem should we focus our research efforts.
What initially interested you in working with Dr. Ainsworth at USF?
I found Dr. Ainsworth's research profile while I was applying to graduate programs, and was excited to see he worked on large scale marine ecosystem modeling. This was very different from the single species epidemiology modeling I had done in the past, and I was very intrigued. When I came to interview with Dr. Ainsworth, he described potential projects to me, revolving around his Atlantis model and the Deepwater Horizon oil spill. I was thrilled to have the opportunity to be part of such an important research group assessing the health of the Gulf of Mexico, and it made my graduate school decision easy.
What research tasks are you completing this week (or this month)?
I've started writing up the analysis we are conducting on invertebrate dynamics relating to the oil spill. We are still hoping to add other abiotic factors into our model describing their trends, like O2. Currently, we are using depth and petrogenic hydrocarbons as predictor variables. This paper is the second chapter of my dissertation, and will be submitted for publication this semester.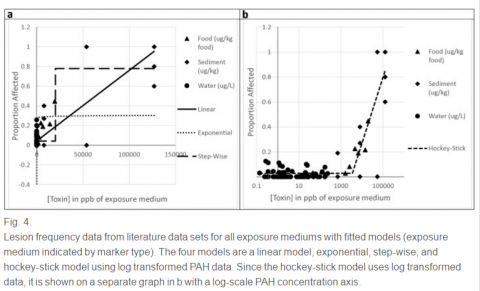 Which of your findings or research has been most eye-opening? Were there any moments or facts that just made you say "Wow! I did not expect that."?
I was very surprised when we first started comparing invertebrate abundance to oil concentrations, that initially abundance increases as sediment polycyclic hydrocarbons increased. Our findings are preliminary and have not been put into the model yet, but actually fit with published literature recognizing an initial enrichment in invertebrates from oil. I'm excited to see how this enrichment affects the rest of the food web!