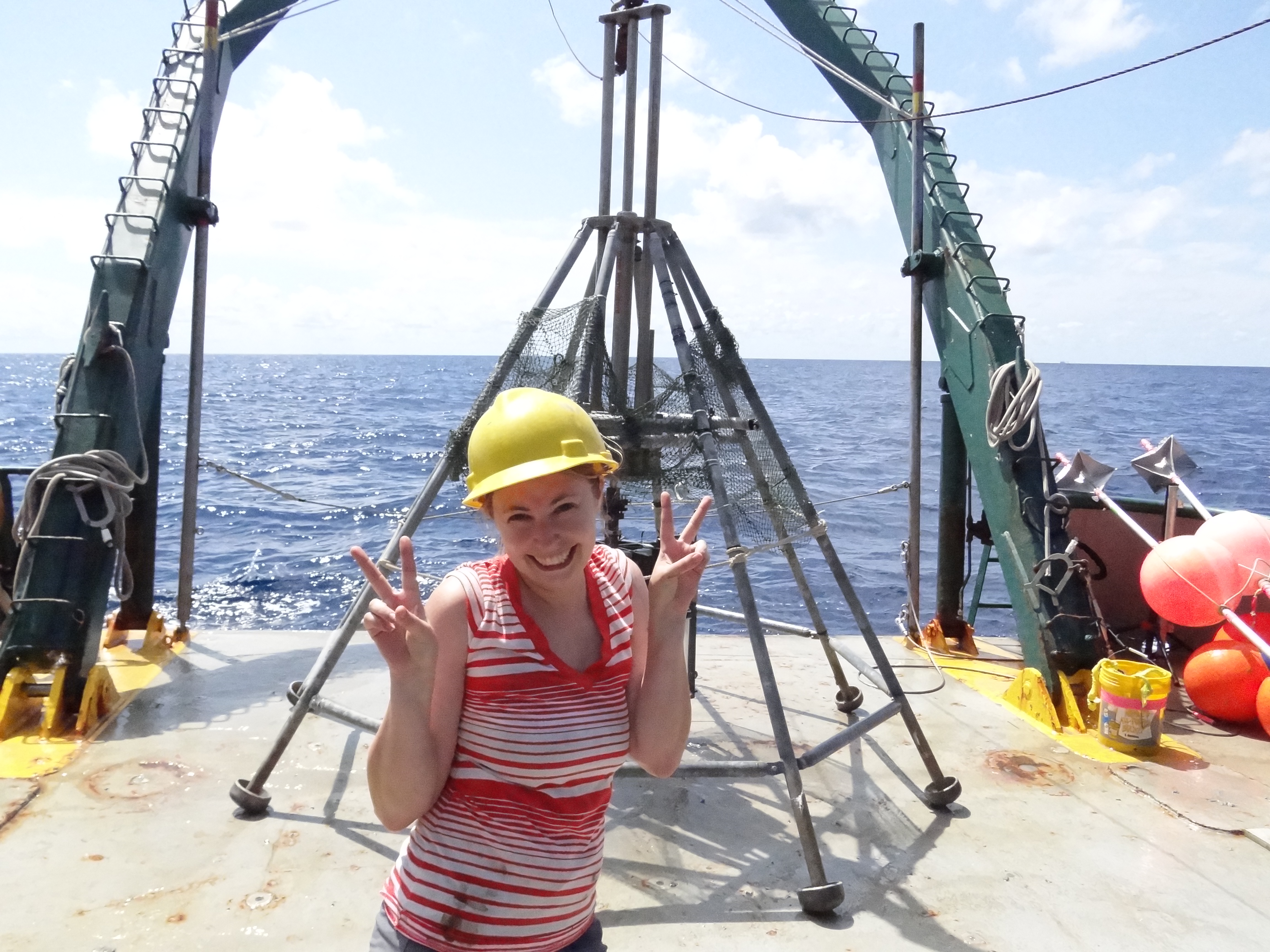 Melissa Rohal, Student of the Month, May 2017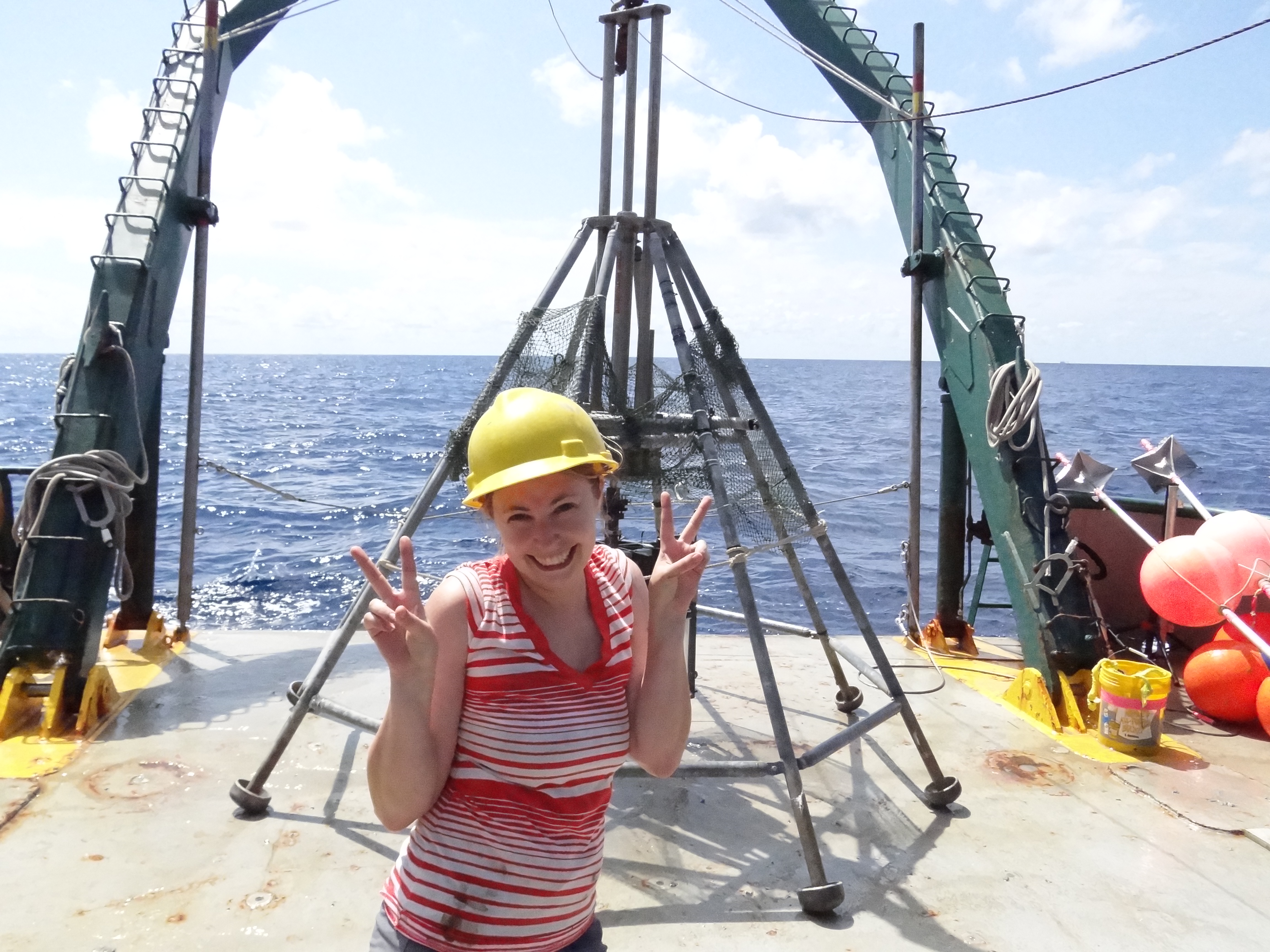 Melissa Rohal, a PhD student at Texas A&M-Corpus Christi, is on a mission to stick up for the little guys. They're not as attractive as dolphins or sea turtles, but benthic macrofauna are all the rage in the deep ocean. Small animals like worms, copepods and nematodes fill a key role in the food web and act as indicator species of the health of the ecosystem.
While working on her PhD at the Harte Research Institute at Texas A&M-Corpus Christi, Melissa works to understand the impacts of oil spills on deep-sea ecosystem services provided by meio- and macro-faunal communities. Her researcher and ability to 'stick up for the little guys' makes her the C-IMAGE Student of the Month for May 2017.
What path did you take to make it to where you are now? Bachelor's degree, internship experience, working experience?
When I started my education all I knew was that I wanted to study the ocean, so I took a broad approach and entered the Marine Science Program at Coastal Carolina University. The course work looked at all aspects of oceanography including physical, geological, biological, and chemical. As I progressed through my degree I took an internship at the Ripley's aquarium while also helping my professors with research. From these experiences I discovered that research was what I wanted to pursue. I was unable to get into graduate school right away so I took a job at the Columbus Zoo helping the keepers in the shores area.
Shortly after that I got a job as a marine mammal observer aboard seismic vessels in the Gulf of Mexico, and I discovered I loved being out to sea. At this point I had narrowed my interest to the deep sea as I was always wondering what was going on below the surface. While on the boat I applied to graduate school a second time and was accepted at Florida State University working with Dr. David Thistle. It was while working with Dr. Thistle that I discovered meiofauna, which are microscopic animals, but I like to call them my little aliens or monsters. Upon completion of my master's I decided to remain in the field of benthic ecology with a focus on meiofauna and was accepted to work with Dr. Paul Montagna at the Harte Research Institute for Gulf of Mexico Studies at Texas A&M University-Corpus Christi where I am currently working on my Ph.D.
What is the focus of your research? How will your findings contribute to the overall understanding of oil spills or oil spill response?
My research focuses on the importance of microscopic animals that live on or in the seafloor called meiofauna. These animals play an important role in the environment and have been used as indicators of ecosystem health.

Because they are so small and live in the sediment they have a relatively sedentary life. Therefore, when an incident like the Deepwater Horizon oil spill occurs the meiofauna are unable to escape the affected area. By understanding how the meiofauna were affected, what impact it had on the ecosystem, and how quickly they can recover it will help decision makers and managers to make better informed decisions, should another oil spill occur.
What initially interested you in working at Harte/TAMUCC with Dr. Montagna?
I first met Paul at a Benthic Ecology meeting I attended while working on my master's. I watched his talk on the effect of the oil spill on benthic macrofauna where he mentioned that he was looking for a graduate student. I introduced myself and continued to talk with him at following Benthic Ecology meetings. When the time came for me to graduate with my master's I looked into the Coastal and Marine Science program at Texas A&M University-Corpus Christi. The program is diverse, focusing on the skills needed to be employable such as statistics programs, GIS, and modeling. I contacted Paul and he accepted me as his final Ph.D. Student.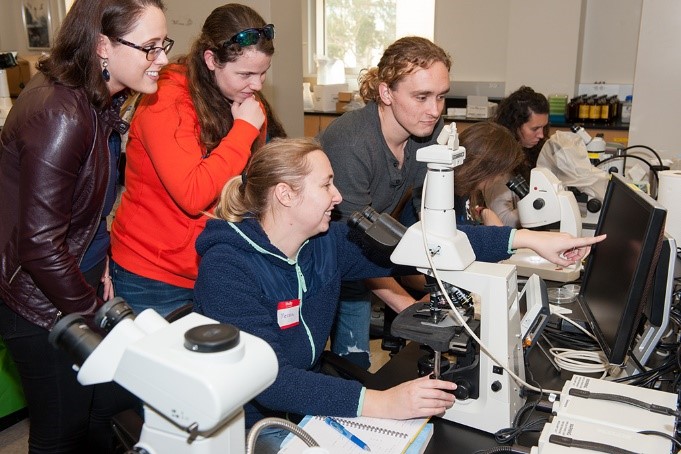 What research tasks are you completing this week (or this month)?
I have a number of things that I am working on, so I do a fair amount of juggling. The past few weeks I have been putting together supplies needed to collect benthic animals during an upcoming Cuba cruise. In addition, I am continuing to work on sorting and identifying meiofauna collected at the sight of the IXTOC and Deepwater Horizon oil spills. To date 44,733 meiofauna have been identified. Recently, I have begun working with Dr. Edwin Foekema and his Ph.D student Justine van Eenennaam at Wageningen Marine Research in the Netherlands on identifying meiofauna from their exposure experiments.
Which of your findings or experiences has been most eye-opening? Were there any moments or facts that just made you say "Wow! I did not expect that."?
During my time at the Harte Research Institute at Texas A&M University-Corpus Christi, I have had to opportunity to attend the international meiofauna conference twice. The first time in South Korea and second time in Crete. It was an amazing and eye-opening experience to be able to meet and talk with experts and students from around the world who shared the same interest.
I have continued to keep in touch with many of them and it has led to a number of international collaborations, a few in particular with regards to the taxonomic identification of the meiofauna, for which few experts remain within the United States.
Why do you study benthic meio/macro-fauna? What inspires you to continue to ask and solve questions about the deep sea?
I did not start my college career with the goal of studying meio/macrofauna. I did not know that these animals even existed. I just happened into it when I studied under Dr. Thistle for my master's. It was the study of the deep sea that first drew me towards his research. We know so little about the deep sea, and there is still so much to discover and understand. Many of the meiofauna we find in our samples are new species. These animals play an important part in the environment but there is still much that we need to learn and understand about their role and life in the deep sea. With focus shifting more and more to the natural resources in the deep sea understanding the importance of these microscopic animals is becoming more critical.
I have had the honor of being a part of the East Asian and Pacific Summer Institute sponsored by NSF. Through this program I was able to spend 2 months working with Dr. Wonchel Lee in Seoul South Korea. There are few harpacticoid copepod taxonomists remaining in the United States, and this opportunity allowed me to improve my understanding of these meiofauna, the second largest group.