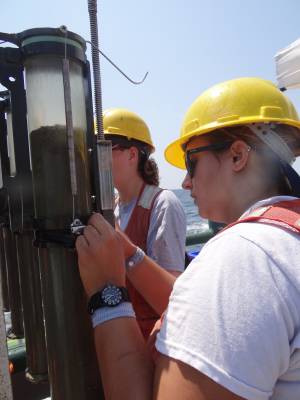 R/V Weatherbird Log-Jessie Heckman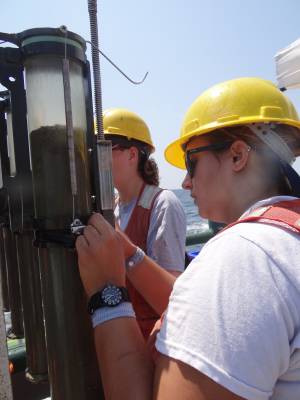 My name is Jessie Heckman and I am going into my sophomore year at Eckerd College majoring in marine science on a geology track. I have been doing research with Dr. Gregg Brooks for about a year now and I'm so glad I got the opportunity to go on this cruise and see the research I do in the lab come full circle. Today was our first day coring and my first time ever coring. Since we were at a shallow site, the whole process was pretty fast pace but a lot of fun.
Even though I went into coring not knowing much about the process, I came out much more confident. Everyone on the "mud" crew was super informative and helpful (and patient) whenever I had questions or was unsure about a step in the coring process. I can't wait for round two!
Photo: Jessie Heckman (Eckerd College) prepares to extrude a sediment core from the northern Gulf of Mexico and will study the 5 year impacts of Deepwater Horizion (Photo: Elizabeth Herdter)