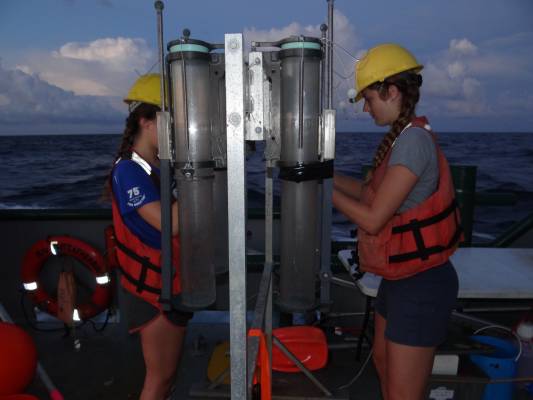 R/V Weatherbird Log-Erika Fredrik
16 August, 2015: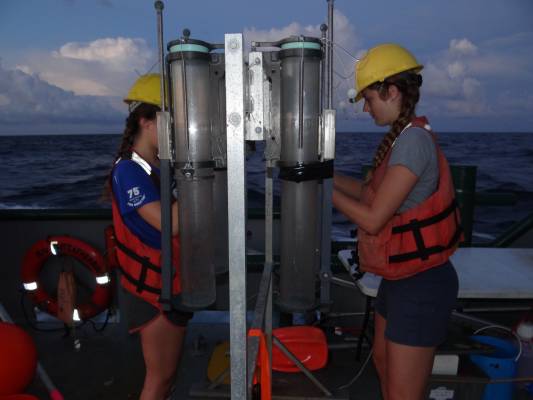 Night and day have become reversed roles to what I'm used to on a daily basis at work. During this research cruise, biologists longline during the day and geologists, like myself, core at night. As a scientist I have been condition research in the lab on BP oil spill samples for a little over two years now. Today, I got a hands-on opportunity to see how these samples are retrieved in the field.
Being able to work alongside experienced scientists made me appreciate science as a whole and helped me see how important it is to obtain complete core samples. At 7:30 am this morning, I deployed my first 8-core multicorer and moved these samples to a transfer post where I put a transfer collar on top of the coring tube-moving our samples into polytubes. After capping, taping and labeling a core, it was on to the next one!
'Strenuous, Muddy and Attentive' is how I would describe the field work on deck. Until today, I thought the majority of the effort dedicated to these samples was done in the lab. Turns out, I was wrong. Both these jobs are difficult; field work is simply more physically exhausting. While I may only be deploying an extruding for a relatively short period-I know that the stakes are high for samples taken at priority sites and it is crucial to remain focused and work together to get the job done.
I love forward to getting dirty with my fellow scientists and cannot wait to see what the rest of this research cruise has to offer!
Until next time, Seas the day!
Erika
Image: Brigid Carr (Eckerd College) and Erika Fredrik (USF-College of Marine Science) prepare cores for deployment in the northern Gulf of Mexico. (Photo: Liz Herdter)