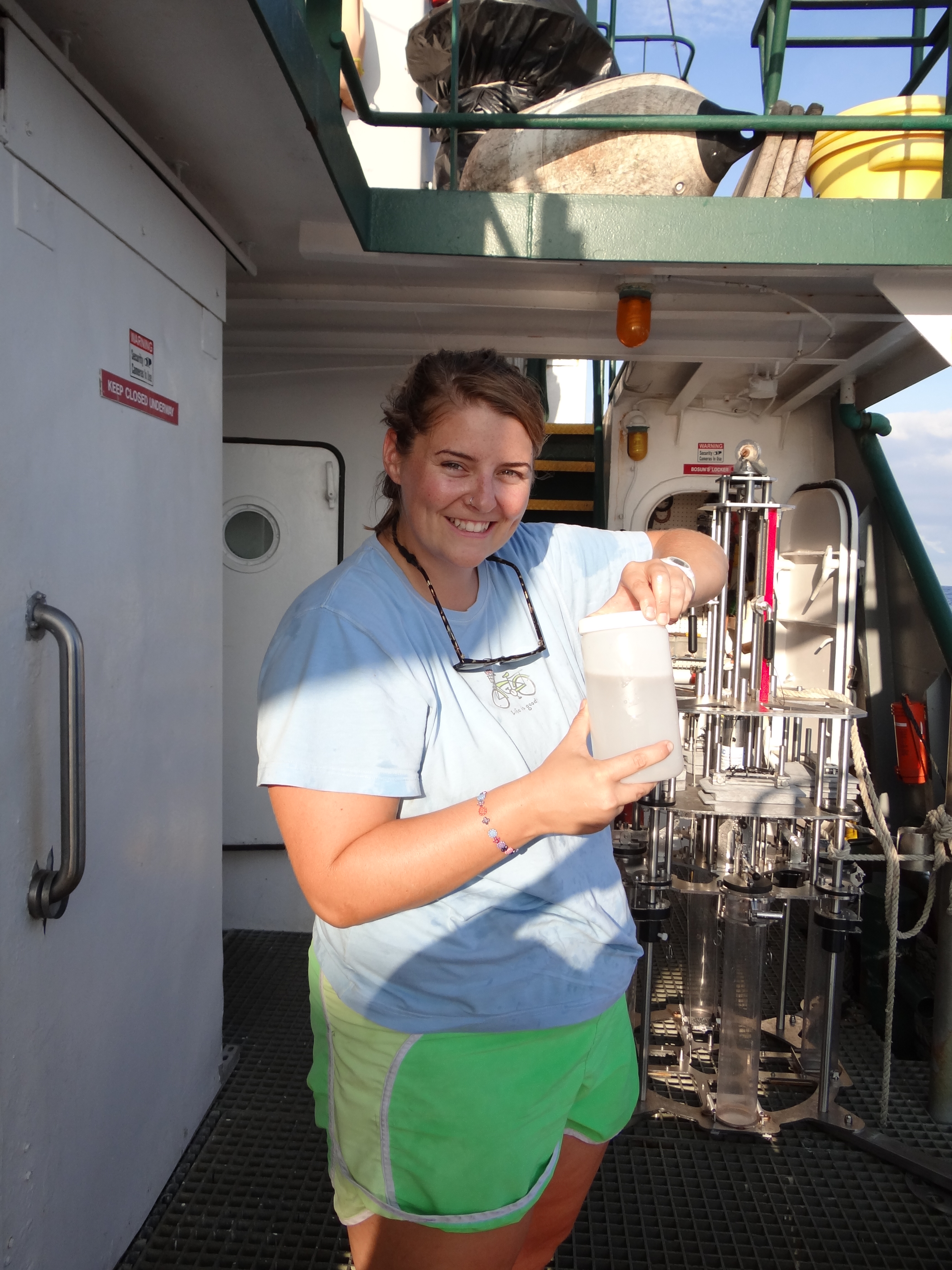 R/V Weatherbird Log-Kate Dubickas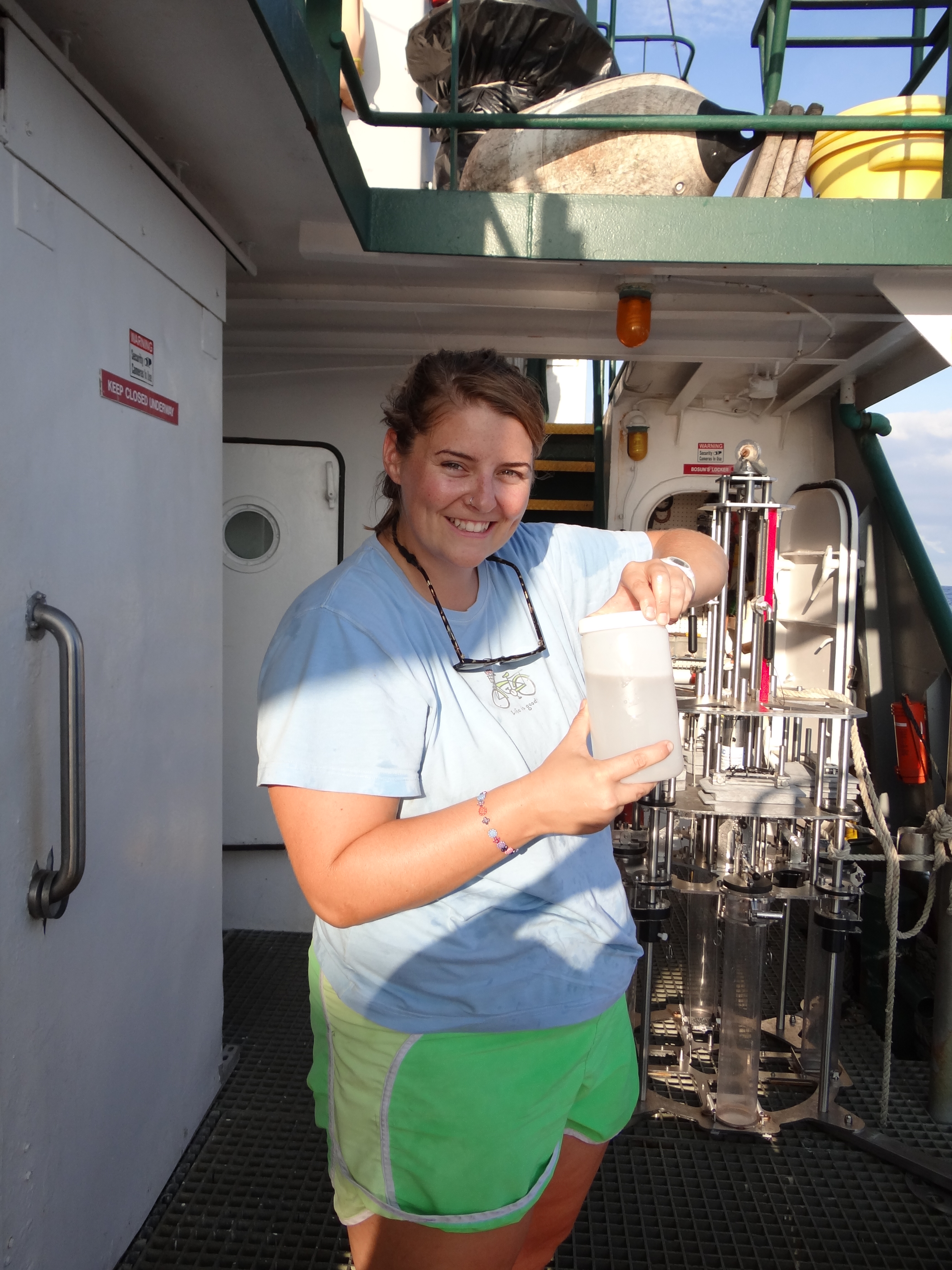 Not many places in the world does time stretch, compress, and become seemingly relative, but the middle of the ocean is one of them.
This includes my last four days aboard the Weatherbird II out here in the near middle of the Southern Gulf of Mexico. A group of five, including myself, Jeremy Browning, Dr. David Hollander, Dr. Patrick Schwing, and Dr. Isabel Romero met up with the Weatherbird II late morning on September 26 to exchange crew and begin our journey back to Saint Petersburg, Florida from Tuxpan, Veracruz.
I was invited on this research cruise as an opportunistic Zooplankton Ecologist. With the fish folks done with their sampling endeavors, our trek back to Saint Petersburg allowed for some Bongo Net deployments along the way; every 45 nautical miles or so. Every 45 nautical miles breaks down to about every 4.5 hours.
My name is Kate Dubickas, I am a second year master's student at the University of South Florida, and this is my first research cruise where my mission was focused on sleeping in increments of 4 hours and collecting zooplankton.
Aboard the Weatherbird II, Jeremy and I have been deploying the Bongo Net directly following a CTD cast every 4 or 5 hours, depending on the Bird's cruising speed. Needless to say, my concept of time, complemented with daily dosages of Dramamine, has drastically dwindled. Something spectacular about ship life though is the community finite space creates. A day on a ship can feel like two or three on land, so we've certainly learned how to help one another out when we can. It hasn't just been Jeremy and I deploying the nets, but the entire boat community has helped us out.
Dr. Steve Murawski and Susan Snyder have been instrumental in deploying the CTD—especially since the marine tech, Andrew, is not aboard this trip to operate the CTD computers. And Dr. Erin Pulster has also been the world's most helpful scribe, handling all the running back and forth between the wet lab and deck ensuring proper notes of latitude and longitudes of deploying sites. She has even has taken it a step further and notices when data looks funky and double checks with logs in the Bridge! A scribe who also heads quality control is a real asset.
Then of course, mega props go to the winch operators, Paul and Al, who have mastered the art of hanging a Bongo at such a height, that 5'5" me can successfully hose down the mesh sidings of the nets. During the Bongo, it feels like we're all part of a NASCAR race. Since we're in a bit of a time crunch to arrive back to St. Pete by October 2nd, we're working to get our Bongo-shaped Dale Earnhardt Jr. clean and back on deck, with all his zooplankton in the cod end as fast as we can so the Weatherbird can continue racing towards home. After our 8th sample, we were pretty much pros.
Aside from the sampling front, Kristina Deak, Shannon O'Leary, and Susan made the most delicious cinnamon rolls for breakfast. Additionally, Chris, the stand-in steward, fried up some bacon to have alongside the cinnamon rolls. I don't know if you have ever decided to stack a piece of bacon onto a cinnamon roll, but let me highly recommend it.
We have been sufficiently lucky weather-wise too (knock on this wooden lab bench where I type). The seas are flat flat flat with only the lulling swells with a relaxing period of 3 seconds or so. Although we
started our journey a day late due to Mexican Customs issues in Tuxpan, it seems it worked out for the best as the undesirable weather system plaguing the Gulf has since dissipated leaving us with these white cap-less seas. It has made for the most infantile sleeping conditions—just babies in bunk beds rocked to sleep in our massive ocean crib. Just thinking about it reminds me of our upcoming sampling at 22:00, so I think I'll go ahead and climb the ladder to my top bunk, wedge myself into the corner, and get swayed to sleep.
Goodnight from the Weatherbird II!