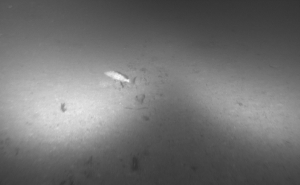 The objectives for this C-BASS cruise were to complete concurrent surveys in the Elbow with the FL Fish & Wildlife Research Institute (FWRI), collect towed video in the newly mapped areas southwest and west of the Florida Middle Grounds, re-image transects in the Florida Middle Grounds, the Elbow, and along the Gulfstream Pipeline, and calibrate the Simrad EK60. The R/VWeatherbird II left port at approximately 00:30 UTC on October 11, 2017 and returned to port on October 17, 2017. Unfortunately, due to rough seas, the concurrent survey with FWRI had to be postponed until Spring 2018 but the rest of the C-BASS operations proceeded as planned.
The C-BASS was operated in both daylight and nighttime hours, focusing mostly on small, low relief, rocky outcrops in the west and southwest Florida Middle Grounds (above). The towed video data showed that there appears to be fewer large schools of fish but the habitat still supported a large number of fish overall. Fish abundance was also lower compared to data collected in 2013 and 2014 in the same areas.
Calibration of the EK-60 was not completed due to poor weather conditions, but overnight multibeam mapping throughout the week was very successful; overall we added approximately 83 square-km of coverage with ~13 sq-km in the Elbow and ~70 sq-km in the west Florida Middle Grounds (below).